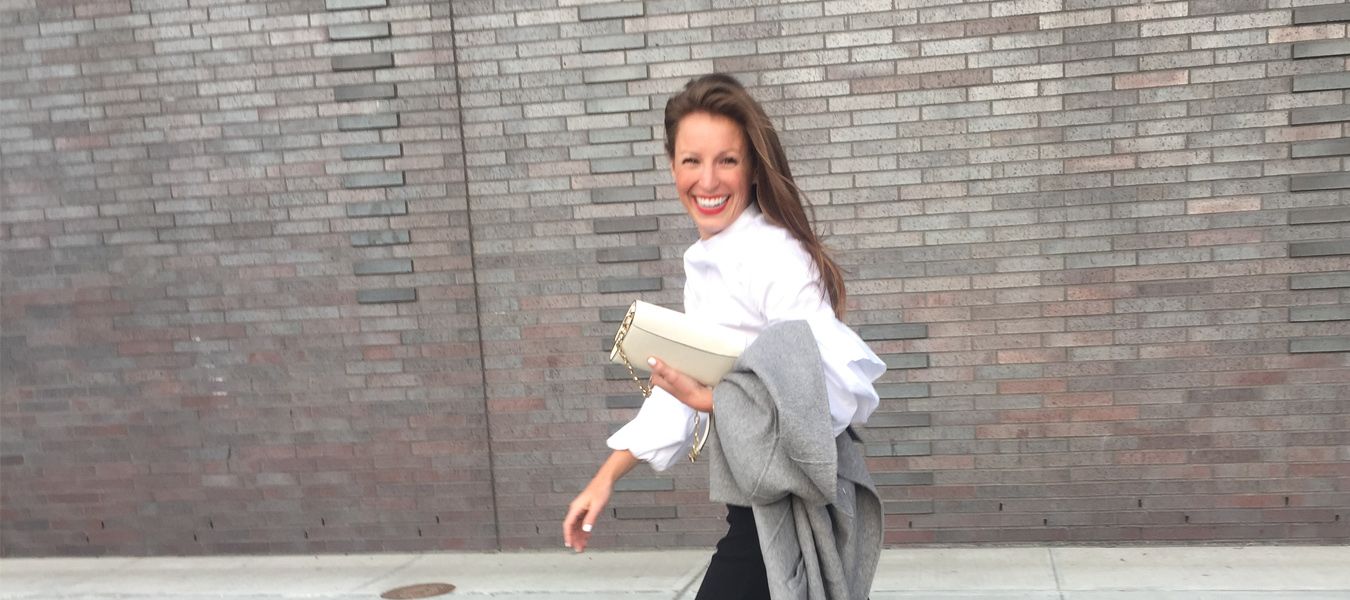 T'20
Elizabeth Davis
Investor, Female Innovators Lab, Anthemis Group
I saw an opportunity to make an impact by driving capital to female founders, and that vision aligned perfectly with Tuck's mission of bettering the world through business. Without Tuck, I wouldn't be a venture capitalist.
by Justine Crowling
Though Elizabeth Davis T'20 grew up in a household with two parents in finance, she never thought she'd go into the finance industry.
While studying at the University of Notre Dame for her undergrad, Davis first found her passion for sustainability, which led to her accepting a post-grad position as a global sustainability manager for The Coca-Cola Company. It wasn't until she began working on Coca-Cola's sustainability team that she discovered a new passion that would change the trajectory of her entire career: working with founders, and in particular, women founders.
"I was working with women entrepreneurs in India and China, and they were starting small businesses like bodegas or selling hand-made jewelry," she says. "I was incredibly inspired by them and the impact they were having on their communities."
In 2015, Davis left Coca-Cola to found her own purpose-driven company, ON PURPOSE, and then was recruited to join Worn, a mission-driven ad agency that works exclusively with women-led companies and allies. Both experiences exposed her to some of the challenges women entrepreneurs—who are still greatly outnumbered by male founders—face, including a lack of transparency in the investment process and investors who were quick to say "No."
With the importance of mission and impact over profit on her mind, Davis joined Tuck to get her MBA. It was at Tuck that she really began digging into the world of venture capital, working closely with both the Center for Entrepreneurship and the Center for Private Equity and Venture Capital, networking, and tackling three independent studies focused on investing and VC. She learned the importance of a solid pitch, the power of an ask, and how to lead with confidence when facing risk head-on. In her deep dive she also made an important discovery: she could marry her passion for social impact with a career in VC by driving positive change in an industry where just 12 percent of investors are women.
"I had witnessed firsthand the challenges that founders face. I saw an opportunity to make an impact by driving capital to female founders, and that vision aligned perfectly with Tuck's mission of bettering the world through business," says Davis. "Without Tuck, I wouldn't be a venture capitalist."
Now, at Anthemis Group, Davis serves as an investor for The Female Innovators Lab by Barclays and Athemis which is focused on investing specifically in female fintech founders who are in the early pre-seed and seed stages of their business. And, she's become an outspoken advocate for women in entrepreneurship.
Tell me a little bit more about Anthemis and your role with the Female Innovators Lab.
Anthemis is a global early-stage fintech and insurtech venture capital firm with over 100 investments and hundreds of millions of assets under management committed to cultivating change in financial services. I sit on The Female Innovators Lab team which was launched in late 2019 with a very specific mandate of investing in female founders in fintech. We make investments in the earliest stages and provide hands-on support for our founders, including everything from leaning in if they're hiring their first Head of Growth, to business development, to working with them on rebranding their company.
It really feels like the best of both worlds, where I can work for a larger investment fund, but also stay true to the impact I want to make in the world by working in the trenches with founders.
You've done a lot of research on the Gender Wealth Gap as it relates to the investment world. What findings can you share with us?
In my research, I found that overall, women own just 32 cents per every dollar that men own, and Black and Latina women own literally pennies. When I say "own," that can include everything from investments to real estate. The main reason for this astounding gap is debt, investing, real estate, life events, and earning and wages.
There is a real power in investing over time. For example, if someone starts investing in the public market at 22 years old versus 25 years old and compounded their returns at 7 percent annually, the 22-year-old would have $131,262 more dollars at the age of 65; despite just three incremental years and $7,200 incremental dollars invested.
I also looked at equity ownership in board representation. We recently saw a lot of startups going public like Bumble, CoinBase, DoorDash, Airbnb. When I looked at the founder equity at the time of their IPOs, I discovered that the male-founders on average controlled 52.8 percent of the vote versus their female counterparts who controlled just 15.7 percent, and as far as equity, male founders controlled 23.2 percent of equity in the company while women controlled just 14.1 percent.
This research reinforced the importance of both investing more broadly but also the power of entrepreneurship and the impact it can have on the gender wealth gap. And more specifically, why we need to invest in women, why women need to invest, and the importance of equalizing ownership.
Put simply, why do we need more women entrepreneurs?
First, there's a saying, "If you can't see it, it's hard to believe it." We need more women to start companies in general. If you look at the past 200 years, thousands of companies have gone public. Yet only 20 of those public companies are led by women, and only 7.4 percent of the Fortune 500 CEOs are women. There's this really exciting opportunity and need for women to start companies who can then have a profound impact across industries.
I feel fortunate every day, talking to women founders and hearing what they're building. I'm encouraged by how these numbers can change over time and the potential impact. We're seeing more and more funds setting an example and focusing on investing in women. It's exciting to witness.
What advice do you have for women entrepreneurs and budding investors?
Take the plunge, even if it's your side job. Start by looking at the problem you're trying to solve and focus on your unique value proposition. And, consider what you need to include in your initial pitch—there are really great resources out there as you build your deck and pitch your company.
For women who want to become investors, I want you to know that VCs come from varied backgrounds. There's this misconception that you need a specific background to become a venture capitalist, but there is no "right" path to become an investor. If you're interested in investing, you could start by reaching out to investors you know or have gone to your school to better understand what the day-to-day looks like. And I would be more than happy to speak to any Tuckies interested in exploring VC.