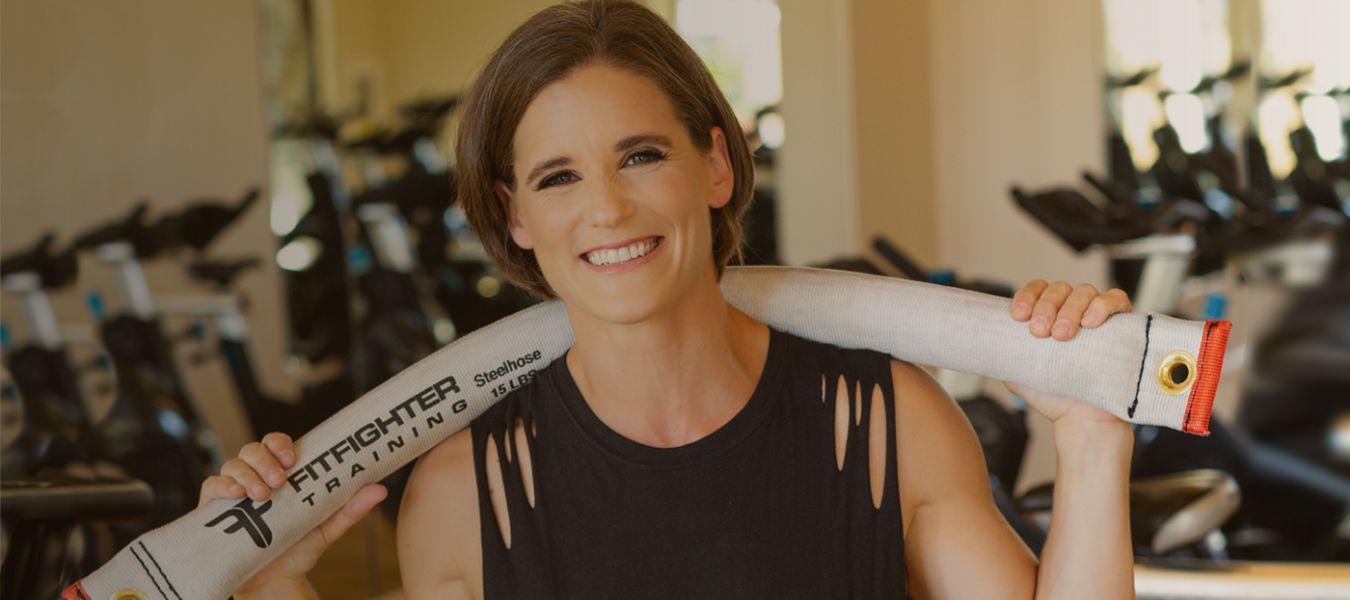 T'11
Sarah Apgar
Founder and CEO, FitFighter
My Tuck experience was pivotal. It marked this transition from my old life into the new. I still carry my military experience with me, but in terms of feeling, emotion, and lifestyle, it feels worlds away—and Tuck fits right in between.
By Adam Sylvain
A commitment to public service is a current that runs through T'11 Sarah Apgar's career and education.
In September, 2001, Apgar began her senior year at Princeton on an ROTC scholarship when the 9/11 attacks occurred. Just a few months later, she was commissioned as a second lieutenant, and by the fall of 2003, Apgar was deployed to Mosul, Iraq, as a member of the 52nd Engineer Battalion supporting the 101st Airborne Division's reconstruction mission.
Two months into that deployment, Apgar lost a 19-year-old soldier, whose memory she says she'll spend the rest of her life working to honor.
"It was surreal. I've never been able to fully internalize what happened," says Apgar. "It has always driven me to think about how I can honor his memory and impact as many people as I can."

Apgar's desire to honor the legacy of those who serve led her to launch FitFighter, a strength & conditioning system inspired by firefighting, with a patent-pending free weight called a Steelhose, made in the USA from real firehose and recycled steel. FitFighter serves trainers, athletes, coaches, gyms, health care and home fitness, and a portion of sales supports wounded Veterans, fallen first responders, and now front line healthcare workers through the Stephen Stiller Tunnel to Tower Foundation.

The pivotal middle point in Apgar's journey from second lieutenant in Iraq to the founder of a service-inspired startup was the decision to earn her MBA at Tuck.

"Tuck was the only business school that really attracted me," she says. "Right away I felt connected to the Veteran community. It felt like a place that would be really comfortable."

Despite feeling at home, Apgar recalls being challenged—in all the right ways—by the rigor and relevance of Tuck's core curriculum, which included a first-year economics course taught by current Tuck Dean Matthew Slaughter.

"My Tuck experience was pivotal," says Apgar. "It marked this transition from my old life into the new. I still carry my military experience with me, but in terms of feeling, emotion, and lifestyle, it feels worlds away—and Tuck fits right in between."
After graduating from Tuck, Apgar took an executive position at Warby Parker. Missing the camaraderie of the Army, Apgar drove past an Open House at the Halesite Fire Department in Huntington, Long Island in 2012. She stopped and lingered long enough to sense the community. Apgar joined the following week and trained as an Emergency Medical Technician (EMT) and volunteer firefighter. While fascinated by fire ground activities and movements, Apgar noticed there wasn't standardized fitness training in the fire service, so she began her own training routine using old firehose filled with unique material to mimic the feeling of a pressurized hose.

That old piece of firehose filled with sand became the first prototype of the Steelhose equipment that is now FitFighter's staple product, launched in the mainstream fitness market in 2019.

A turning point for the company came when the FDNY Fire Academy adopted her equipment to train candidates entering the NYC Fire Service. After sending additional prototypes of the FitFighter system to a few well-known pro-athlete trainers last spring, Apgar was eager to gauge the response to her product from the broader fitness community.

"The story is easy to love, but what I really wanted to know is whether this was the highest performance product," says Apgar. "My now-partners in the company loved both the story and our product."

Apgar has since spread the service-inspired fitness routine to not only other fire departments and individual firefighters, but also into gyms, boot camps, and living rooms in the U.S. and Canada through an iOS app based digital training platform.

As safety measures during the COVID-19 crisis force FitFighter's core market of fitness and training facilities to close their doors, Apgar is developing the company's direct-to-consumer strategy more quickly than she initially planned. Although the situation poses challenges to her growing business, Apgar recognizes an opportunity to support people who need to stay strong and healthy at home. She and her team have developed two Home Gym Sets, complete home workouts on its iOS App, a 4-week moms program with workouts and support resources, and her world class trainers offer Free daily workouts. And the world is taking note—Oxygen Magazine published a spread in April on FitFighter's equipment and workouts and celebrities are signing on.
"We can really help people during a time of crisis by providing a versatile fitness product they can use anywhere," says Apgar. "I'm sinking my teeth in and digging in my heels to communicate what FitFighter can offer."