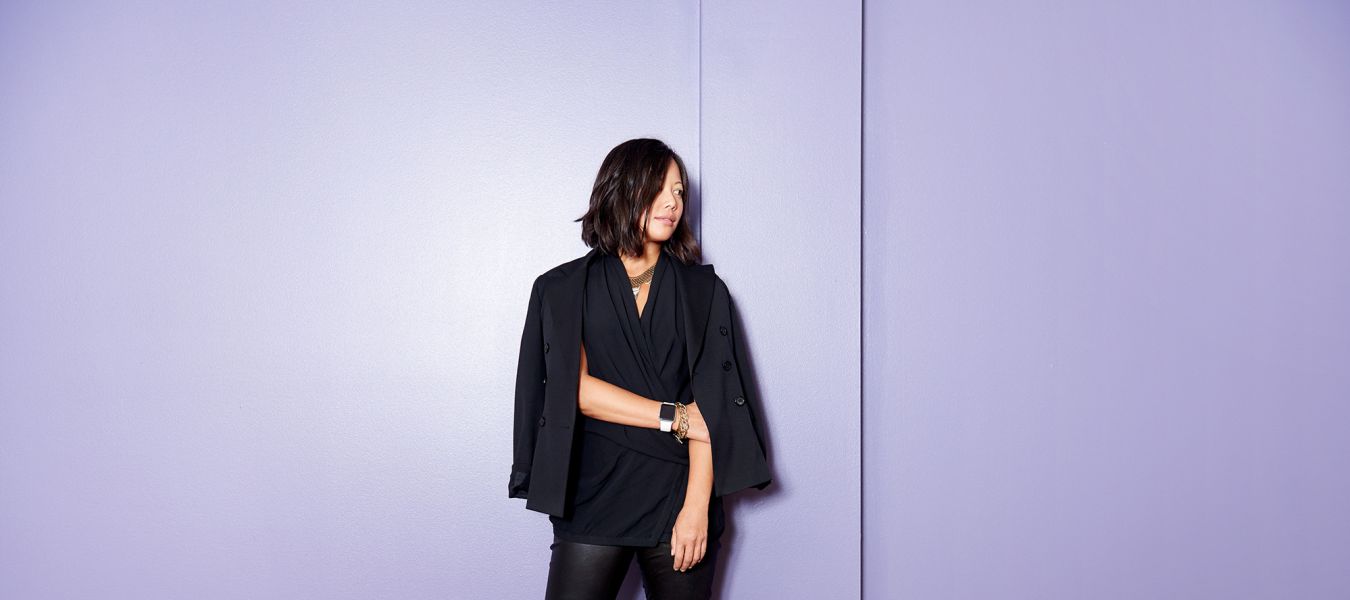 T'05
Tracy Sun
Co-Founder, Poshmark
To be a successful entrepreneur you need to maintain a healthy dose of delusion and an equally healthy dose of reason. And both of those were skills that I cultivated and developed at Tuck.
For Tracy Sun T'05, who studied psychology and biology at Columbia and has an abiding interest in fashion, how people choose their wardrobes was both a fascinating subject and an irresistible opportunity.
Five years ago she co-founded Poshmark, a mobile phone application that allows women to buy and sell clothes using only their smartphones. It was an idea perfectly in tune with the times. Recall that in the last months of 2011, smartphones were not yet ubiquitous, the photo-sharing social media platform Instagram had just launched, and the word "selfie" was just coming into common usage. Online retail was the hot ticket in Silicon Valley, but almost no one was talking about mobile as a channel for commerce.
Into that environment Sun and her partners launched Poshmark exclusively as a mobile app. That allowed users to indulge their fashion fixation wherever and whenever they pleased—coffee shops, airports, PTA meetings. Soon Poshmark's growing user base was checking the app seven to nine times per day.
Poshmark was among the first e-commerce companies to go mobile-first. By design, it didn't have a website for the first three years. Even now, 90 percent of the company's revenue comes from mobile, says Sun, who serves as Poshmark's vice president of merchandising. The app connects buyers and sellers, handles payment, and even generates shipping labels. This ease-of-use contributes to Poshmark's growth, but the real driver is the social component, Sun says. The app provides a forum for women to share and discuss items they like—and purchase them with a couple of swipes. It's a powerful combination.
"We had a lot of faith in the early days, and now we have data that show if we connect the right people, conversion will come," Sun says. "Poshmark is a technology company, a fashion company, and in many ways a grand social experiment."
The company is a fitting destination for Sun, who originally planned to be a neurosurgeon. When she began working in the field, however, she discovered that despite her love of science, the prospect of a career in academia was stifling. She went to Tuck looking for a change.
"At Tuck, I took advantage of the opportunity to meet with visiting executives. I would grab office hours with any visitor who would come, and what I realized was that it was the entrepreneurs who really inspired me," she says. "To be a successful entrepreneur you need to maintain a healthy dose of delusion and an equally healthy dose of reason. And both of those were skills that I cultivated and developed at Tuck."
Sun found her Silicon Valley opening in the unlikely marriage of data and fashion. Fashion had proven resistant to the data-first approach common in the e-commerce world, Sun says. "Fashion is a fast-moving industry, and if you don't rely on people you're never going to get it exactly right," she says. "There are a lot of sites that focus on influence and collaboration and style, and they're very beautiful and editorial. But the problem is there's no way you can editorialize enough to drive meaningful revenue."
Online shoppers often start with a search for a known product, let's say Tory Burch Reva flats. Those particular shoes are almost a commodity; they can be found on thousands of websites any one of which could make the sale. The challenge, Sun says, is getting that customer to come back.
"What happens on Poshmark is you search for Tory Burch Reva flats and you meet a person who is selling those shoes out of her closet, or a boutique owner who is selling those shoes on Poshmark," she says. "When you land on that profile you see all the other things that she is selling out of that closet or that boutique."
While most e-commerce sites sell so-called head brands that are top-of-mind for Google shoppers, half of Poshmark's sales come from independent brands that buyers discover through other Poshmark users. That's just how Sun and her co-founders planned it in 2011.
"We've stayed true to our vision of building a community of sellers and making them successful," Sun says. "We went from 50 sellers to 1.5 million sellers—that's one in 50 women in America who are selling on Poshmark."