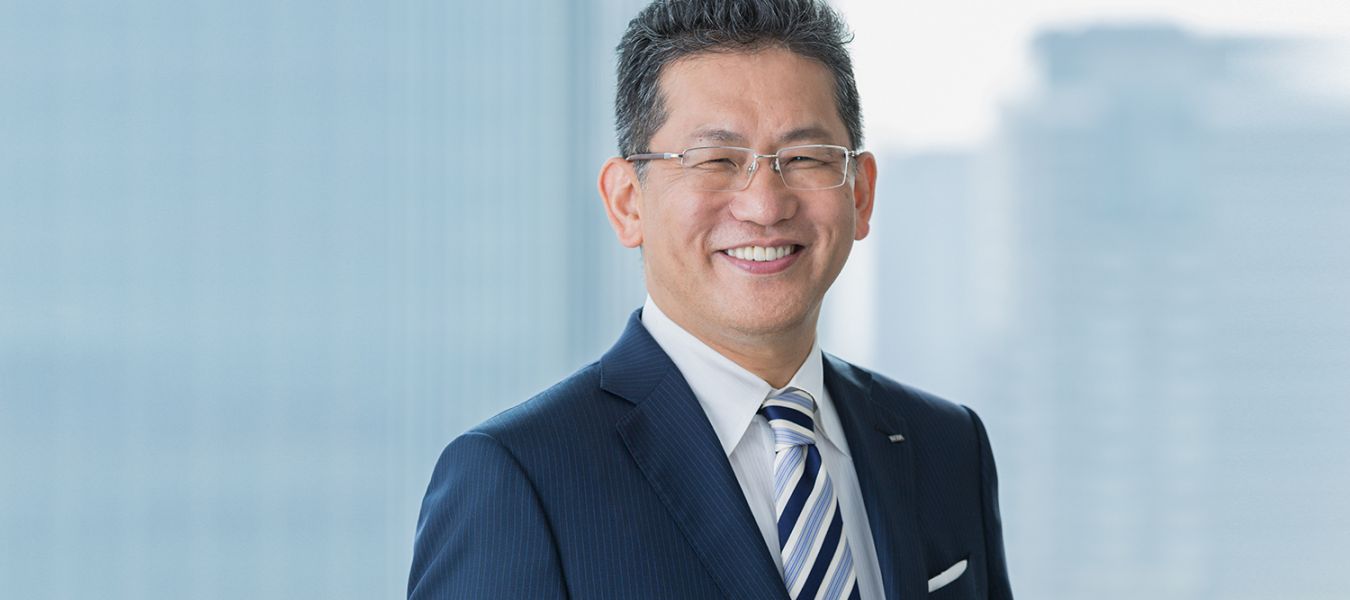 T'96
Kinya Seto
CEO, Lixil Corporation
If you can change that one thing, you might be able to change the world.
Last year Kinya Seto T'96 took the helm of one of the world's biggest housing and building companies, Tokyo-based LIXIL Group Corporation. It was a different type of challenge for the 57-year-old entrepreneur, who has started more than 10 successful companies around the world and would now lead a traditional Japanese company with more than 70,000 employees in 150 different countries.
As if the change in venue isn't challenge enough, Seto is positioning the company, which includes water technology products such as toilets and faucets at its core, to address the global sanitation crisis that claims the lives of 800 children every single day. The centerpiece of this effort is a line of low-cost toilets that cost less than $10 and require less than half a liter of water to flush. First developed by LIXIL's American Standard Brands with the support of the Bill & Melinda Gates Foundation, the SATO lineup of products is central to the company's commitment to provide better sanitation to 100 million people by 2020.
"LIXIL is in a unique position in that we have the innovation and experience to make a major contribution to the global sanitation challenge," Seto says. "This motivates us, but it also means we have a certain responsibility to play our part. As CEO it is important for me to be a leader on this issue."
The effort also will help Seto inject an entrepreneurial spirit and sense of purpose into a firm that had little shared culture when he took the helm. LIXIL was formed in a 2011 merger of five Japanese firms, and had recently scooped up U.S. rival American Standard and German bathroom fixtures giant Grohe Group when an accounting scandal surfaced in one of the German firm's Chinese subsidiaries. LIXIL inherited the problem, which resulted in an approximately $600-million write-down and the ouster of Seto's predecessor. When Seto assumed the role of President and CEO in June 2016, his first order of business was to set the house in order.
After its acquisition spree, LIXIL was rife with redundancies, yet Japanese labor laws limited Seto's ability to streamline his workforce. One solution is simply to bring in more business, and with his entrepreneurial track record, Seto seemed just the man for the job. Under his leadership LIXIL is working to expand the home-remodeling market in Japan with a suite of easy-to-install new products and leveraging its worldwide reach to introduce existing products to new markets, such as a stain-resistant ceramic that could keep a toilet looking new for 100 years. But one of the company's most revolutionary and socially impactful innovations is its approach to sanitation in developing countries.
The first SATO toilet was introduced in Bangladesh in 2013, and more than 1.2 million are now in place in 14 countries throughout South Asia, Africa, and the Caribbean. LIXIL is also developing new toilets tailored to the unique challenges of undeveloped rural areas, dense urban slums, and regions where water is scarce. The immediate goal is to help people in need, Seto says, but other benefits will accrue over time, including market share in regions poised for growth and a sense of pride and purpose for LIXIL employees.
"I think that doing the right thing, respecting each other, the value of experimentation—these things are all central to building the culture of LIXIL as one company," Seto says. "And SATO represents all of those things."
Seto attended a small private high school and earned his undergraduate degree at Tokyo University. He much preferred the smaller setting and felt that Tuck was a place where a young man who still struggled with English could make his mark while earning an MBA. "I would rather be Kinya Seto than an anonymous Japanese businessman, and I thought that at Tuck I would be appreciated for who I am and what I contributed," he says.
Tuck's reputation as a top general management school sealed his decision. "There were many good classes at Tuck, but one in particular really changed my life," Seto says, recalling a case study in Sydney Finkelstein's Strategic Leadership course. The case involved the acquisition of a chocolate business in England. Closing the plant was the only option that made good business sense, and Seto remembers the class being uncharacteristically quiet because everyone was already in agreement.
"Then all of a sudden the door opened and an English guy came to the podium," Seto recalls. The man introduced himself as a worker at the plant in question, and told the class that his sick sister and elderly parents relied on his support. "He asked us to consider what would happen to his sister and his parents if we closed the plant, and no one had an answer for that question," Seto says. "That class gave me a profound understanding of how the decisions we make as managers affect people's lives."
Tuck's cultural emphasis on treating each person as an individual also shaped Seto's career path and leadership style. "It is what led me to become an entrepreneur," says Seto, who has worked to foster similar cultures in the companies he's started. It's been a successful mod-el. In 2000 he founded MonotaRO, a direct marketer of maintenance, repair, and operating supplies, and grew it into a $3.3 billion company.
He's determined to apply the same approach to LIXIL, though he acknowledges that building an entrepreneurial culture in such a large conglomerate will take perseverance and some tweaking of the formula. With its potential to unite the company behind a good cause, SATO has an important role to play in the effort. Though Seto has put the full weight of his multinational behind the new brand, it remains a quintessentially entrepreneurial play. That means if it is to succeed, SATO must be sustainable from the outset.
"If you want to do lasting good, the effort must be sustainable," says Seto, who feels a sense of personal responsibility for the program. "Sanitation is a big problem, and if you are able to do something to improve it, you have to do it. Over 800 children die of diarrhea every day because they have no access to a toilet," he says.
"If you can change that one thing, you might be able to change the world."