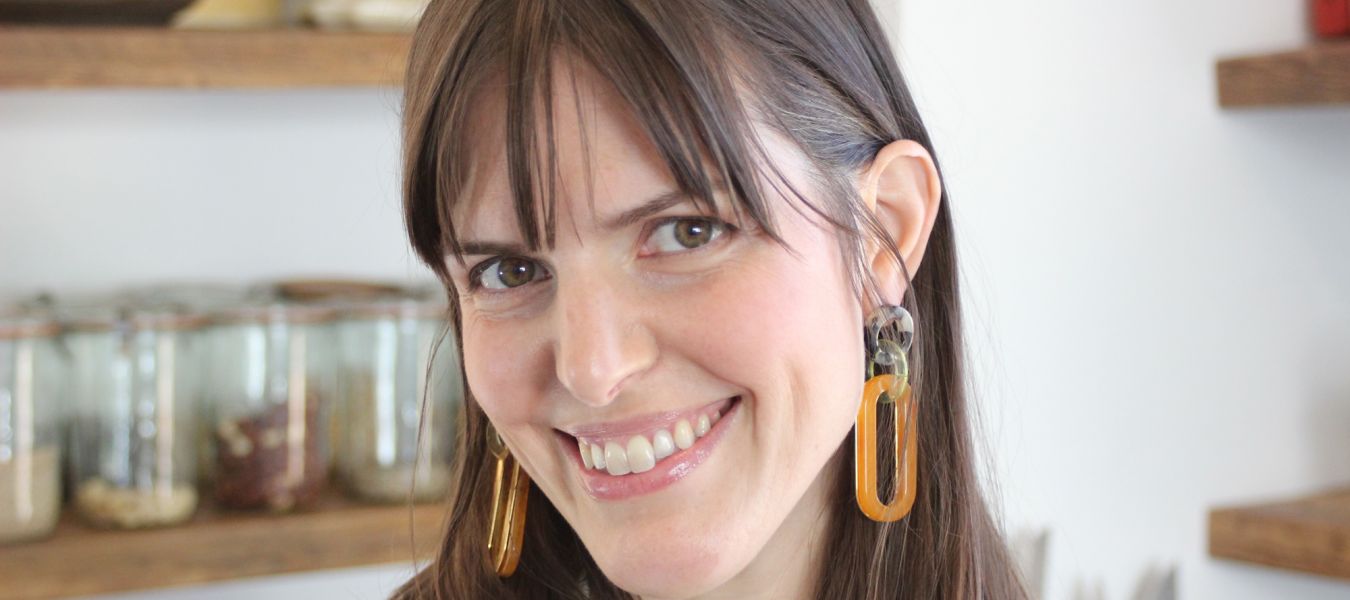 T'14
Sarah Bell
Cofounder, Spring & Mulberry
At Tuck you learn early on that there is more work than can reasonably fit into a day. Prioritization becomes essential for survival. That's true in starting a company as well.
By Rachel Hastings
For Sarah Bell T'14, running a startup is the sweet life. Naturally sweet, that is.
Bell, who says that launching her own business was "always the plan," cut her teeth working for consumer product brands like siggi's Icelandic yogurt and Harry's razors. With over a decade of experience—plus a Tuck MBA—under her belt, she took the leap into entrepreneurship in July 2020. Along with Kathryn Shaw, Bell cofounded Spring & Mulberry, a boutique, naturally-sweetened chocolate brand recently featured in Forbes.
What drew you to entrepreneurship?
My parents both owned businesses—my mother is an orthodontist, and my father is a lawyer—and when my sister graduated college, she started her own, too. Entrepreneurship was what I knew. I thought I would start a company when I left college, but when that moment came, I realized there was a lot I didn't know.
I used my time at other companies to round out my skills while I waited to discover an idea I was passionate about. Along the way, I focused on joining companies earlier and earlier in their life cycles.
It felt like the stars aligned with Spring & Mulberry. It made the leap feel more like a small step. A fellow Tuck alum introduced me to my business partner, Kathryn. Our skill sets naturally complemented one another, and she had started development on a product in the food and health space, an area I'm passionate about. We hit it off, and the rest is history!
What has been the most unexpected part of running a startup?
Holding conflicting emotions. On the one hand, things are going as well as I possibly could have imagined in terms of the response to the brand and the product. At the very same time, we're out of stock all the time, constantly facing supply chain issues and asking ourselves if this will ever work. It forces you to square conflicting realities as you assess how things are going overall.
Also, working through uncertainty on a large scale has proven challenging. The success or failure of the decisions we make today can be nebulous for a long time.
What lessons from Tuck have you drawn on throughout this journey?
One thing that's stood out is the necessity of matching organizational complexity to the needs and size of your company. Running a small startup, I've had to unlearn some of the systems from my days in bigger companies and quickly solve for immediate needs. There are a lot of situations where I know what might be the ideal way to do something, but it's not realistic at our size, so I have to figure out how to alter the system to make it work for us.
A lesson from Supply Chain Management on optimizing factory locations became abundant recently when our manufacturing hub narrowly escaped destruction from Hurricane Ian. We only had a day or so to react and were thinking through all the things that could go wrong—the factory could flood, power loss could cause the chocolate to melt—and trying to assess our options. It was entirely on us to figure it out. We were very lucky, and all our inventory was safe, but it definitely has us rethinking where to locate our manufacturing.
Launching a business at the height of a global pandemic isn't for the faint of heart. What other challenges have you faced?
My cofounder was pregnant when we started the business, and I have two young kids, so we've been running a business during a pandemic without childcare. It's been difficult not only because of the business climate, but because of our personal lives. We tell ourselves that we started at the worst possible time, and things have to get better from here.
At Tuck you learn early on that there is more work than can reasonably fit into a day. And so prioritization becomes essential for survival. That's true in starting a company as well. Not only do you need to matrix the importance and urgency of tasks, but you need to balance that with the priorities of your personal life.
What's next as you scale the brand?
Our focus is all on inventory. When you start out with a product, you have to work with manufacturers who are willing to make very small runs for you because you don't have the cash or the product confidence. Usually, those people who are willing and able to make small runs are not the same ones who can do the big runs for you. We're reaching an inflection point where we need to find new manufacturers or additional manufacturers.
Right now, in addition to selling our chocolate online, we're in over 100 stores around the country. We aren't in Hanover yet, but we're in Vermont and Boston—so hopefully we'll make it to the Upper Valley soon.