Undergraduate Business Training
DARTMOUTH UNDERGRADUATE COURSES
The new business courses, taught by Tuck School of Business faculty and developed in conjunction with the Dean of Faculty office at Dartmouth, are aimed at exposing undergraduates to core theories and principles of business behavior within the national and international socioeconomic environment.
Tuck's general management approach and emphasis on what its founder referred to as the "larger meaning of business" fits the liberal arts tradition and philosophy well. The study of basic business disciplines prepares students to be educated consumers and leaders in business and society and these courses have value to any student, regardless of major or career path.
The Undergraduate Business Course Initiative is made possible through generous contributions from Dartmouth and Tuck alumni.
TUCK BUSINESS BRIDGE PROGRAM
Since 1997, arts and sciences students and recent graduates from Dartmouth and other institutions have had the opportunity to prepare themselves to enter the business world by attending the Tuck Business Bridge Program. More than 500 Dartmouth graduates have attended Bridge. Bridge is a month long, career-focused program covering the basics of accounting, marketing, finance, and leadership. Using a total immersion approach, Bridge provides graduates with experiential learning opportunities that individual business courses simply cannot supply. Visit website.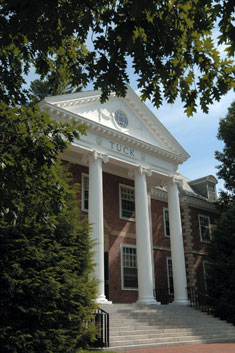 CONTACT
RELATED LINKS