T'90
David Perkins
Founder, High West Distillery
If you don't know, the thing to do is not to get scared, but to learn.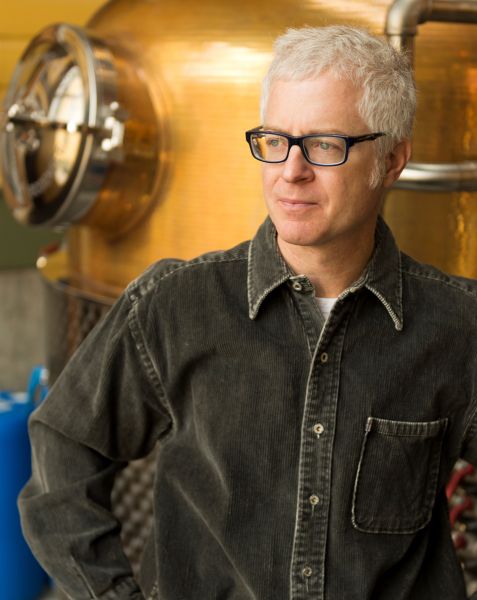 By Adam Sylvain
David Perkins T'90 had spent more than a decade building a successful career in biotechnology before a serendipitous visit to Kentucky kickstarted his entrepreneurial journey.
We were in town for a wedding and decided to tour the Maker's Mark Distillery, which opened my eyes to all the similarities between the industries, says Perkins. On the most basic level, there is a gene inside yeast that codes for a drug called ethanol. It is the key ingredient in any distilled spirit but is also a biotech drug.
The parallels continued. It takes about 10 years for a new drug to get to the market and much of the world's whiskey is aged at least that long before it is bottled and sent to liquor store shelves. Both industries must also navigate intense government regulation—overseen by the Food and Drug Administration (FDA) and the Bureau of Alcohol, Tobacco, Firearms and Explosives (ATF)—and effectively manage multiple distribution channels.
Following decades of over-indulgence in the mid-20th century—think Mad Men and three-martini lunches—per capita alcohol consumption in the U.S. bottomed out in 1998, Perkins says. When he made his Kentucky visit in 2001, there were 50 U.S.-based distilleries. Today there are more than 2,500.
In 2001, we were near the bottom of the S curve with alcohol consumption, says Perkins. In business school, or out in the business world, you learn pretty quickly that it is better to start something at the bottom of the curve than at the top. We were betting the industry would start to tip back which made it the perfect time to get started.
An avid skier, Perkins and his family were already planning a move to Utah from California when the idea of launching a whiskey distillery started to take shape. The timing made sense, but some questioned whether Utah was the right place. The vast majority of whiskey production was happening in the American South and Midwest and Utah was known for having a large Mormon population whose members do not drink alcohol. Still, Perkins felt the location provided some significant advantages.
In many ways, it seemed ideal to open in a ski town like Park City, Utah, that is a destination for people, explains Perkins. I call it the 'Corona Effect.' Similar to how you might sip a Corona at the beach, we could envision people coming to our distillery to sit and have a glass of whiskey and reflect on their ski visit to the region.
Perkins left his job at Genentech and spent two years meticulously crafting a business plan, enlisting the help of friends, past coworkers, as well as a couple of former Tuck classmates. He talked with someone who had opened a brewery in Utah and also called up the owner of Four Roses Distillery in Lawrenceburg, Kentucky, who flew out to Park City to share his advice. They all encouraged him to take the leap which first required raising substantial capital.
I think I wore out several pairs of shoes trying to raise money, says Perkins. Fortunately, having been a product manager, I knew how to argue for resources. It's a similar process of putting together a compelling case and showing that there is going to be a return.
He found the investors he needed, but it took time. Perkins moved to Park City in 2004, and after launching High West Distillery in 2006, the business first started to turn a profit in 2008.
The vision for the saloon-style distillery, housed in a historic livery stable and garage, was to provide the same level of service, education, and satisfaction that any wine enthusiast expects to receive at a Napa Valley winery, which is not an experience most whiskey distilleries were offering at the time.
We decided to open a restaurant with great food that would attract foodies and expand our education with food pairing, Perkins says. To build a brand around a high-end western whiskey we knew education would be critical. If you are expecting people to pay more for your product, you need to be able to explain why.
Ultimately, all the big bets Perkins made paid off. Exactly 10 years after it opened, High West Distillery sold for $160 million in 2016, riding a wave of surging growth in whiskey production throughout the decade. Since the sale, Perkins has stayed busy as an advisor, consultant, and coach for other startups in the liquor space.
Historically, the whiskey business has been in a boom or bust cycle and Perkins says it is anyone's guess when the current boom period will end. As he points out, each generation tends to think about alcohol differently.
The conditions we saw in the late 90s were a result of those differences, with the emergence of Mothers Against Drunk Driving (MADD) and other voices speaking out, says Perkins. Today, people tend to drink better, not more. They are more conscious of the things they are consuming with a focus on quality versus quantity. We'll see how that perspective changes over time.
For Tuck MBA students pondering an entrepreneurial career, Perkins encourages getting out of their comfort zone, taking the courses that scare them, and building relationships with people they can both count on and call on throughout their lifetime.
One of his favorite quotes with a clear message for aspiring entrepreneurs is from the novelist Ayn Rand: If you don't know, the thing to do is not to get scared, but to learn.