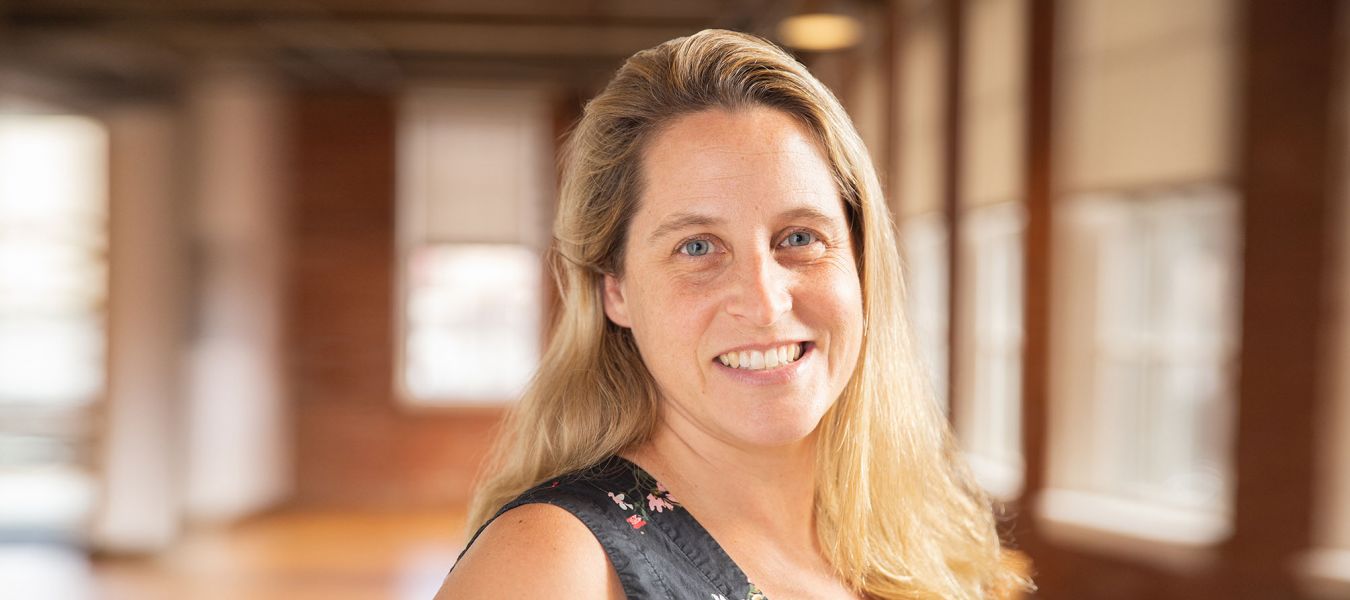 T'03
Laura Scott
COO at Alma; former VP, Wayfair
I'm building a company and I haven't done that before. But what Tuck gave me was the insight to see this higher bar that I could operate at; this ability to see what people are capable of if you give them the chance.
Laura Scott had just had a baby when she decided: Now would be a good time to apply to business school. So, while on maternity leave from her job as a sales manager at Woodstock Soapstone Company, a family-owned wood stove company in West Lebanon, New Hampshire, she filled out the application for Tuck.
The day after her son turned one, Scott started at Tuck. Coming from a non-profit and small business background, she says she needed all the help she could get at Tuck. "I was horrible at the decision science classes, but I took every single one," says Scott, who had studied environmental science at the University of Vermont for undergrad. "Tuck was such a special place. Being around such amazing, smart, talented people—and not just my fellow students but the faculty and administration as well—raised the bar in my mind of what I was capable of doing."
After graduating Tuck in 2003, she went back to Woodstock Soapstone Company to run the place as general manager, which she did for six years, adding another child to her family during that time. "After that, I wanted to go out and see what else I could do in the world," she says.
So, in 2009, she moved her family to Boston and got a job as director of supplier operations at what was then called CSN Stores, a collection of 250 small websites selling home goods, ranging from patio furniture to cookware. The company was making $250 million in revenue, but customer service was suffering.
"The reality was that the experience was not very good," Scott says. "Our lead times for shipping products was long—seven days on average—and still, our on-time shipment rate was only 75 percent. Ten percent of the time, we had to call the customer to say the item was out of stock. My job was to get the 2,000 suppliers to ship fast, on time, and without damage. Basically, I had to fix the customer service experience from an operational perspective."
She built a team and was responsible for building the company's drop ship supply chain and then their international business. In 2011, the company became what it is today: Wayfair.com. By the time Scott left Wayfair in April 2018, she had transformed its operations. They had 10,000 suppliers shipping direct to customers in two days, with 98 percent of orders delivered time and less than .5 percent on back order.
She had done everything she had set out to do, so it was time for her next move. Scott took the summer off in 2018 to spend time with her kids and then started looking for her next challenge. Through connections from Wayfair, she was introduced to a new Boston-based startup called Takeoff Technologies. At the time, Takeoff had no revenue and no operations, but it had a very smart idea and huge potential.
When Amazon bought Whole Foods in 2017, it sent a shockwave through the grocery industry. Stores were trying to figure out how to compete by selling groceries online. But having someone pick and ship groceries was time consuming and expensive. Enter Takeoff, with Scott as their chief operating officer. "The grocery players know they need to get online, but they don't have great ways of doing it without losing all their margin," Scott says. "Takeoff has an automated solution that fits inside the grocery store. We take 10,000 square feet of their store, put in a robotic fulfillment solution, train their people, and support them as they operate this business."
In her first two months with Takeoff, they launched two sites. In 2019, they'll open 10 to 12 sites, and by 2020, they plan to launch over 50, with an estimated $1.5 billion in gross merchandise value.
How did Tuck influence her career today? "It's all about confidence," Scott says. "I'm building a company and I haven't done that before. But what Tuck gave me was the insight to see this higher bar that I could operate at; this ability to see what people are capable of if you give them the chance."