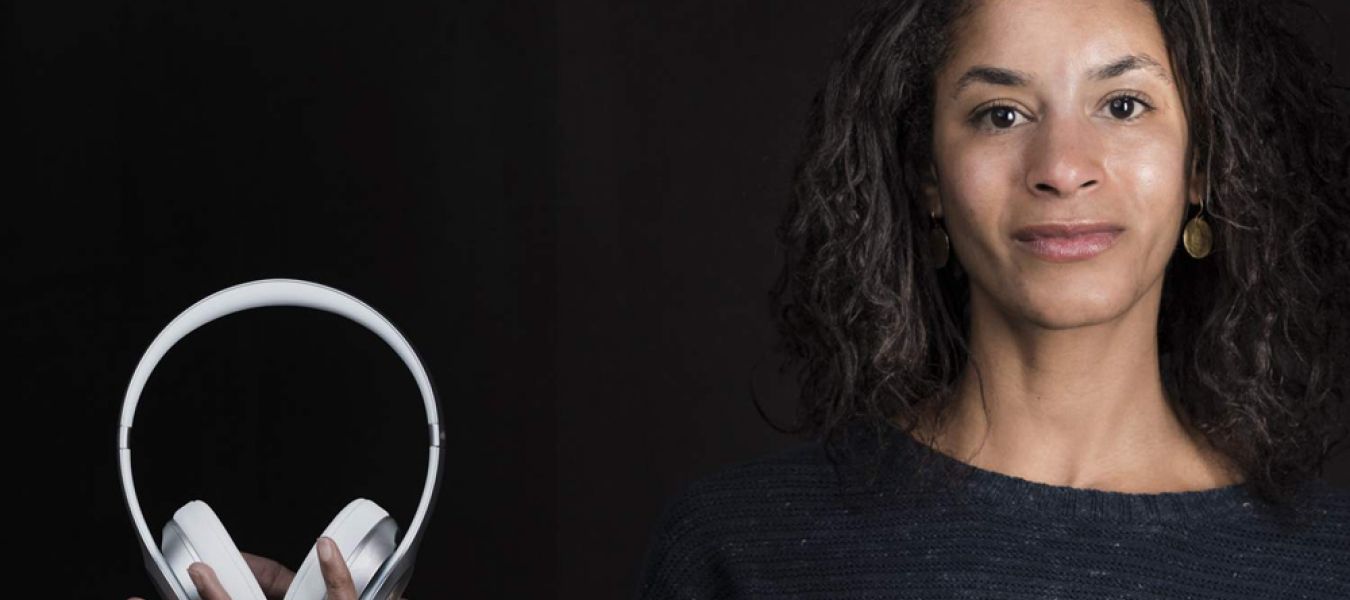 T'05
Elisabeth Hartley
Partner, Creator Fund, WeWork; Former Head of Strategy & Product Development, Beats Electronics
The core curriculum at Tuck set the foundation for the real-time problem solving I'm doing now.
Elisabeth Hartley T'05 was living in New York City, working a high-stakes job in consumer retail strategy for consulting firm Booz & Company, when she got the call that would change the direction of her life and her career.
It was early 2014. Hartley had just bought a house in Brooklyn and was in the midst of unpacking boxes. She'd been with the same firm for more than seven years and had climbed the ranks into a senior position. Then the phone rang. It was Matthew Costello, a former client of Hartley's and the recently appointed chief operating officer of Beats By Dre, the audio and consumer electronics company founded in 2006 by rapper Dr. Dre and former record producer Jimmy Iovine.
"He called and said, 'We need someone to run our direct retail business. We have e-commerce in 17 countries, a flagship retail store in New York, and a 30-person team. We want to grow that. What do you say?'" Hartley remembers.
The job was based at Beats' Los Angeles, California, headquarters, which would involve a cross-country move just weeks after Hartley had bought her first home in New York. She told Costello she'd come out to L.A. and consult for six weeks to design a plan for the business. "Sometimes an opportunity arises that you'd be a fool to pass up," she says.
But a few weeks after Hartley landed in California, there was more exciting news: Apple was bidding to acquire Beats, a first-of-its-kind brand acquisition for the tech giant—major news in the industry—and a mega deal for the audio company Hartley was now working for.
"They asked me if I would run the Beats side of the merger," Hartley, now 39, says. "So I went from having a dream job to having an even bigger dream job."
Beats got its start making premium headphones and had expanded to launch Beats Music, an online streaming music platform that was said to be a major draw for Apple, which bought Beats for $3 billion, the biggest acquisition in the company's history. "Apple is known more for acquiring technology that they want to integrate into products, and Beats Music was key to unlocking that arena," Hartley says.
Nine months of high-intensity integration followed where Hartley was at the epicenter. "It was like riding a bicycle in the Tour de France, while simultaneously trying to change the tire," she says. "How do we continue to scale while driving speed to market and product quality? Managing that balance was really the heart of the integration work. It took fine-tuning and testing. It was very much an agile, dynamic way of integrating."
Elisabeth Hartley never intended a career in the entertainment or tech industries. As an undergraduate at Stanford University, she majored in neuroscience and envisioned a move into medicine. But when she graduated in 1999, instead of going straight to medical school, she figured she'd try something different for a year. She got a consulting job at American Express' strategic planning group, working in an incubator for emerging technologies.
"That job exposed me to new types of thinking that piqued my excitement for strategy and picking apart really thorny problems," she says. "The intersection of design and consumer technology that transform how we live our lives is something that's always inspired and intrigued me."
After three-and-a-half years with American Express, Hartley was ready for the next move, and she knew it wasn't going to be medical school. Instead, business school drew her in. "I knew I was passionate about strategy but not that passionate about the credit card business and financial services," Hartley says. "So I chose business school knowing I wanted to do management consulting and apply all the tools I'd been acquiring."
Choosing Tuck was easy, she says. "Tuck is reputedly one of the most rigorous business schools, but it's not competitive at the expense of someone else's success," she says. "That team-centric environment is something I continue to look for in places where I work."
Tuck's small scale and culture of collaboration, her professors' wide-open office door policies, and the camaraderie she felt with her classmates exceeded her expectations. "I knew everyone in my class. I knew their families, their dogs," she says. "It was a charming experience in such a magical setting. I absolutely loved it." As a first-year, she helped bring in local yoga instructors to lead classes during lunchtime.
After graduating from Tuck in 2005, Hartley did what most business school graduates don't do: having already lined up a job upon her return, she bought a plane ticket to Southeast Asia and spent the next six months traveling the world.
She knocked around Thailand, Cambodia, and Vietnam for a few weeks with friends from Tuck, then boarded a flight to Costa Rica, where she signed up for a 200-hour yoga teacher training. She spent the next month moving from downward dog to savasana, hopping on her longboard at lunch breaks to surf the crashing waves outside her door. She slept in a thatched-roof hut that she shared with iguanas and snacked on fresh papayas from a nearby tree. Hartley then traveled around Europe and India for the next few months.
"My travels were the perfect counterpoint to having done more of the type-A business school thing," she says. "Really, I just needed a break before diving into the next chapter of my career."
After half a year of traveling, in January 2006 she landed at the New York office of Booz & Company—where she had interned while at Tuck— and began climbing her way to associate partner, until the call came from Beats.
Looking back on that transition, Hartley says she realizes she was itching for a new challenge. "I was ready to get my hands dirty in the operational aspects of a company," she says. "I wanted to know firsthand what it was like to build a business. I wanted to work in a smaller, more entrepreneurial setting, a little less corporate. And I've had a longstanding passion for disruptive business models, brands that do things in a novel way."
"There have been copycat brands, but it's been hard for others to replicate the magic of what Beats has done."
Beats, it turned out, was exactly the disruption Hartley was looking for. "What is so fantastic about Beats is not just creating the market for mass premium headphones, which didn't really exist before. The fashion and cultural aspects were instrumental and completely shaped by Beats," she says. "They moved the company at the speed of culture, tying the brand in real time to iconic celebrities, be it in entertainment or sports. There have been copycat brands, but it's been hard for others to replicate the magic of what Beats has done."
Beats tapped into popular culture to help accelerate the brand, getting musicians like Lady Gaga, designers like Alexander Wang, and athletes like LeBron James and Serena Williams to design their own headphones and become ambassadors of the Beats brand. It's a move that helped propel Beats into the mainstream market in a way no audio company had done before.
It's a typical Wednesday for Liz Hartley. She's been to her sunrise yoga class, followed by a quick trip to the Santa Monica farmers' market for fresh eggs and cauliflower from a nearby farm. Since she doesn't own a car in L.A., she uses ride-sharing apps to commute to work.
Hartley arrives at the Beats office by 8:30 a.m. and immediately dives in. Meetings with the COO to discuss operational measures or sales numbers. Regular check-ins with product developers to learn the status of a new headphone or speaker prototype. At day's end, she may even hop on a plane to San Francisco to meet with design teams at Apple's Silicon Valley headquarters.
Now that the merger with Apple is complete, she's been working in product development and strategic planning to drive the success of Beats as a line of business within Apple —applying the critical thinking skills she cultivated while a student at Tuck.
"The core curriculum at Tuck set the foundation for the real-time problem solving I'm doing now," she says. "Very quickly you have to implement a plan or a course of action or align to a decision."
Her current role as the company's head of strategy and product development is essentially the third job she's held at Beats. Hartley's first focus was direct retail and e-commerce, then the merger integration. This third chapter blends key aspects of strategy, business operations, and product development to create the vision for what future audio products should look like now that they're part of Apple. "I work very closely with our product team, our engineers, and our operations staff as we design the next two-to-three-year pipeline of what innovation will look like," she says.
Innovation at Beats could mean many things and Hartley, of course, can only divulge so much about what products the company has in store. (In typical Apple style, product secrecy pre-launch is strongly upheld. "I could tell you, but I'd have to kill you," she jokes.) She does offer a few hints, suggesting that the company intends to transform the way people experience audio, whether it's in their homes, cars, or through wearables, important touch points that are getting more sophisticated in today's tech-driven world. "There is a lot of ideation to design a vision for 'next gen,'" she says.
Apple and Beats are now one company, and Hartley says they're actually not that different from each other. "In many ways, Beats is reminiscent of the Apple of many years ago," she explains. "They both had iconic and visionary leaders at the helm who were maniacal about imagining what the future could look like that isn't based on what you're seeing today. That disruptive trait is embedded into the organizational DNA."
That's not to say combining the two brands was an easy task. It took months of negotiations and problem-solving, endless meetings with both sides, and hours of strategizing. But strategic thinking is what Hartley does best. That, and imagining a future that doesn't yet exist.
"Now that we have the two companies wired together and working together, there's this exciting opportunity to unlock the full potential," she says. "Rest assured, we're not satisfied with the status quo."