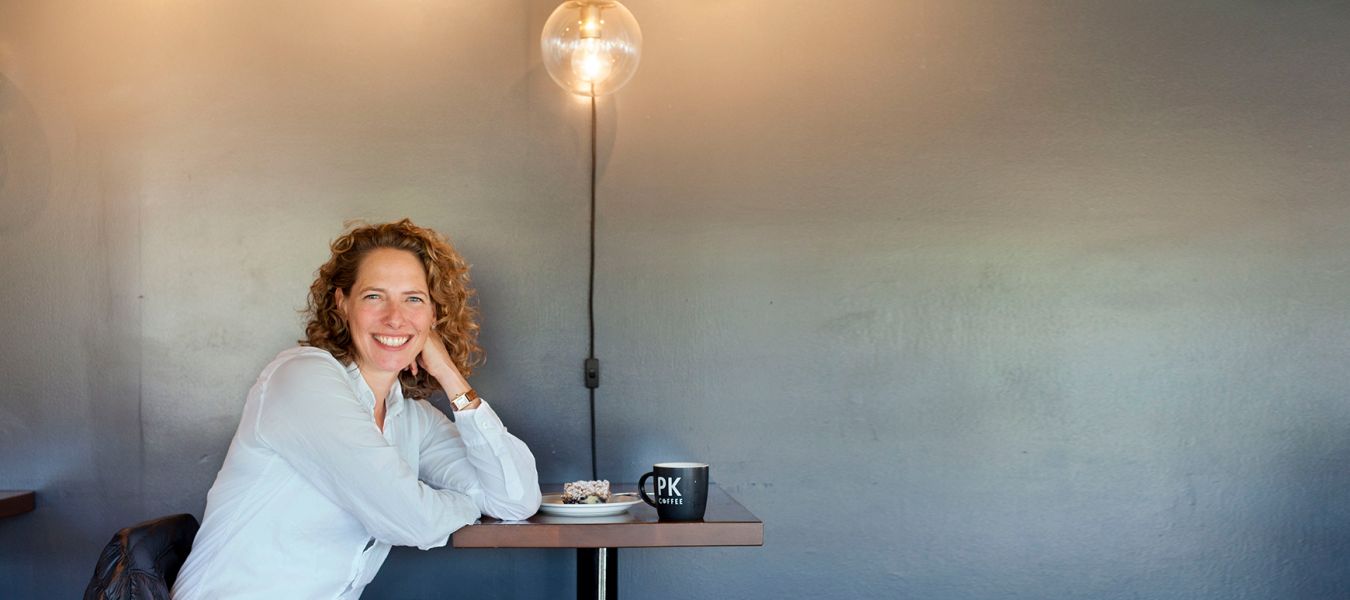 T'01
Katrina Veerman
Founder & CEO, PK Coffee; Director of Business Development, PatientWisdom
It's one of the most rewarding things I've done. My goal is that PK Coffee is a space where people can come together and just connect as human beings.
It sounds like a daydream: Move to a quaint small town in Vermont and open a coffee shop. The coffee would be perfectly on point, the food Instagram-worthy, the café light and airy—modern, but accented with warm hardwoods. But then the phone vibrates, the kids demand attention, thoughts of work deadlines intrude: back to reality.
Not for Katrina Veerman T'01. The co-founder and CEO of PK Coffee in Stowe, Vermont, Veerman is indeed living the dream.
Veerman had spent more than a decade post-Tuck bouncing around the alternative energy sector, launching a green building practice for a property developer, doing solar project development in the Bay Area, and working in sales for a fuel cell manufacturer. Like anyone in sales and business development, Veerman spent lots of time traveling and taking meetings. "You figure out pretty quickly that coffee shops are the best places to do that," she says.
San Francisco in the early- to mid-2000s saw the birth of third wave coffee, a movement that built upon the ubiquity of high-quality coffee by treating it as a craft to be mastered, the coffee itself an artisanal product with its own terroir. Blue Bottle Coffee, a chain of more than 50 shops which recently sold a majority stake to Nestle for a reported $425 million, got started in Veerman's friend's garage in Hayes Valley.
The idea for her own shop was still percolating in 2011 when Veerman was driving east from California and got word that her employer, solar panel manufacturer Solyndra, had declared bankruptcy. "I thought, 'Well OK! I now have some more free time,'" she laughs. "I'd always wanted to live in Vermont, so I'm going to go live in Vermont!"
Veerman had briefly lived in the Green Mountain State post-college as a rowing coach for Middlebury College, and a few years prior, she had connected with her birth father, who lived in Vermont. She'd also long had entrepreneurial ambitions, inspired by family—particularly her beloved great uncle Pierre Ketellapper, who had a coffee business in Belgium before and after World War II—and another brief post-college stint working for a nonprofit that supports women entrepreneurs.
New York and Boston were just starting to catch the third wave buzz, and Veerman saw the gap in the Vermont market. "There were only a few places in Vermont that understood that coffee is a product like wine," she explains. "Vermont also has some of the best milk on the planet."
Veerman worked on consulting projects while she waited for the coffee stars to align. She put out feelers for a business partner and eventually found Matt Carrell, a former teacher who she describes as "the most amazing human with the most amazing taste buds."
Together, they found a coffee supplier in Counter Culture and a small Vermont family dairy, Sweet Rowan Farms. (Even today with one coffee shop, PK Coffee is the dairy's largest customer.) The duo spent two years doing coffee pop-ups around Stowe as they waited for a space with the right combo of feel, price, and location, and then ultimately built out their shop. While the pop-ups didn't really make a profit, they served an invaluable marketing and research function.
"We learned how much evangelists help," says Veerman. "We built a network of visitors and locals who just fell in love with what we were trying to do and got it. We also learned it's hard to make good coffee. Coffee's influenced by humidity, temperature, age, how fresh it is. We needed a consistent product in a convenient location."
Their shop opened in 2016, at a good crossroads to attract locals, but also the skiers and tourists who frequent the area. Carrell focuses on service, spending a lot of time managing and nurturing the staff at PK Coffee—which is named after Veerman's great uncle—while Veerman handles the business side of the house and scouts additional locations for future shops, perhaps elsewhere in New England.
She recently also became director of business development at a startup called PatientWisdom, an online platform that is improving health and care by listening to patients and focusing on what really matters to them and providers as people. It gives her the flexibility to work part time while continuing to build PK.
How does the reality of owning a coffee shop line up with the fantasy?
"It is a dream," insists Veerman. "It's amazing to have created a physical location that I know has had a positive impact on me and on the town."
But she is also quick to point out the reality that few like to talk about—the need to do whatever it takes to get things going: taking out garbage, bussing tables, cleaning sinks—and the challenges of being in the service industry. She's grateful that her Tuck network has been so supportive.
"You're not going to make the money you think you're going to make, at least not right away," says Veerman. "But it's one of the most rewarding things I've done. My goal is that PK Coffee is a space where people can come together and just connect as human beings. Every time I walk in, it's awesome. In that way for me, it's totally lived up to the fantasy."