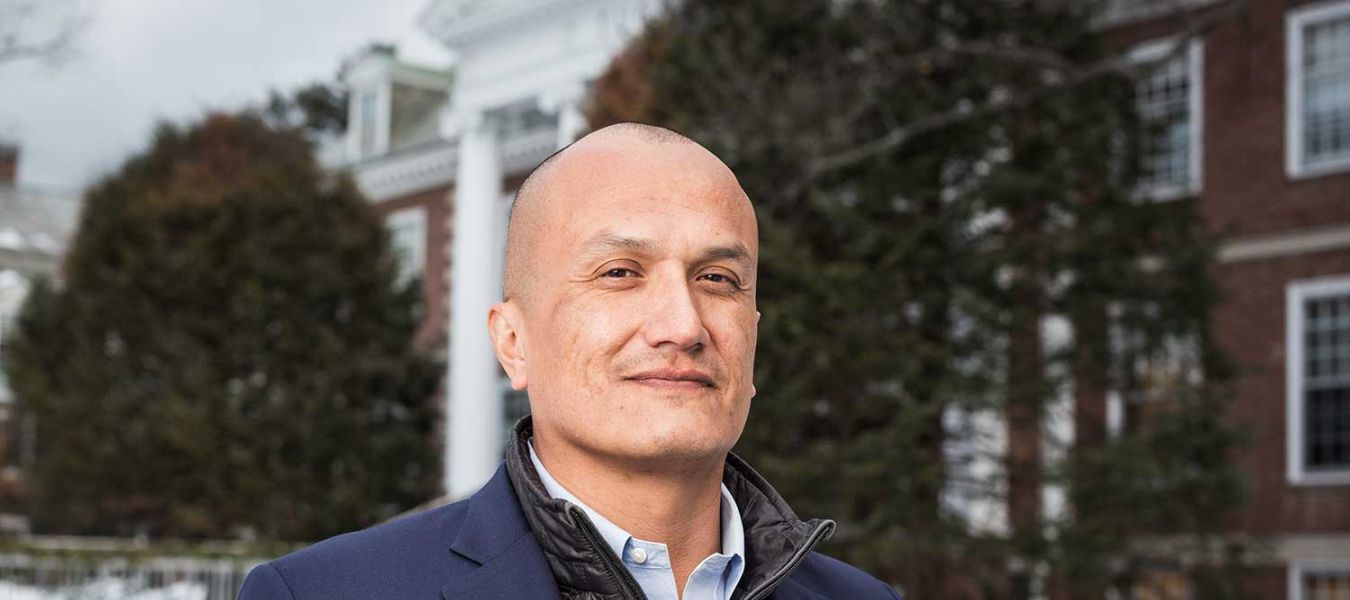 T'10
Dawson Her Many Horses
Senior Vice President, Wells Fargo
I'm using a lot of influence, building relationships, and leveraging teamwork to solve problems. That's the big thing I took from Tuck: building relationships to achieve objectives.
Growing up on the Rosebud Indian Reservation in the Great Plains of South Dakota, Dawson Her Many Horses T'10 was fortunate to be part of a Native American tribe that has held on to its ancient beliefs, traditions, and language. Dawson's parents were the first members of their families to attend college, and they impressed upon him the need to protect, preserve and improve the lives of their fellow tribal members.
Since federally recognized tribes are independent governments with a legal status akin to state and local governments, Dawson reasoned that an effective way to advocate for Native Americans was to become a lawyer. While pursuing a degree in political science at Columbia University, with plans to attend law school, he began working for the office of the general counsel at Merrill Lynch. Around that time, in 2003, there was a boom in Native American gaming—many tribes were building casinos and hotels as vehicles for economic development. So when he graduated in 2004, Merrill Lynch offered Dawson a position as the director of Native American business development for the investment banking, wealth management, and asset management groups. In that role, he worked with tribal governments and tribally-owned enterprises (casinos and hotels) on their financing needs. He later moved into Merrill Lynch investment banking, where he was an analyst focused on the gaming industry.
It wasn't law school, but he had stayed true to his cultural values. "I realized there was a need for people in finance who understood tribal communities and the histories and cultures of tribal nations across the U.S.," Dawson said. "There was only one other person with my background in Native American banking, so I thought, Wow, there's a need here. I can make a difference."
Since 2018, Dawson has been a senior vice president and Native American business leader at Wells Fargo & Company, where he leads the bank's services to tribes and tribally owned enterprises.
What role do tribally-owned casinos and hotels play in the wellbeing of Native American communities?
Tribal casinos are wholly-owned by tribal governments. After paying expenses, some tribes elect to take a distribution from these businesses, which fund the operations of the government, such as health care, elder services, housing, language preservation efforts, courts, everything that a typical government needs to do.
In addition to financing these tribal enterprises, how else does Wells Fargo work with the tribes?
As a bank, we've worked with tribes in the lower 48 and Alaska for more than 50 years. We have over 200 relationships across 27 states, and provide our clients financing, risk management, investments, retirement, depository and traditional banking products. We also spend a lot of time focused on helping tribes manage the resources and the wealth these casinos are generating. Bringing in our wealth management people to help them come up with strategies to invest money and create portfolios that help these tribal governments in perpetuity. Our tribal clients are also interested in economic diversification, and we're helping them think about future business opportunities.
In your 15 years in Native American banking, have casinos made a positive economic impact on reservations?
From a macro level, yes. Native American gaming has been the biggest driver of economic development for tribes across the U.S. A lot of tribes have been able to create programming and implement services for their members who didn't have things like health care and housing or elder care. And yet, challenges remain. Gaming markets are maturing. Some new casinos and hotels are being built, but it's not like it was when I started working in 2004. Markets are starting to flatten. The number of tribal members continues to grow, so the demand for services continues to grow. Gaming has been great, but we're going to need new enterprises and businesses to continue to help our community and members in the future.
Why did you choose Tuck as the business school that would make you the best possible advocate for Native American communities?
I wanted more than an education; I wanted an experience. As I was looking at my options, Tuck ended up being on the short list. It wound up being the only place I applied. And it was compelling for me because Tuck is at Dartmouth, and in the 1970s Dartmouth president John G. Kemeny recommitted Dartmouth College to recruiting and retaining Native American students. In the 40 years since, there have been more than 1,100 Native American and Alaska Native Dartmouth alumni. They are leaders in every field you can imagine, from elected tribal leadership to state and federal governments, business and art. I wanted to be a part of that broader alumni network.
How did your Tuck experience help you grow as a business leader?
I came to Tuck as an individual producer, as an analyst putting together presentations and building models. One of the things I've taken away from my experience at Tuck is the importance of relationships and working in teams. My role is as a Native American business leader, but I don't just do it from a commercial banking group; I have an enterprise-wide focus. I'm using a lot of influence, building relationships, and leveraging teamwork to solve problems. That's the big thing I took from Tuck: building relationships to achieve the objectives that you want to achieve.
---
Dawson Her Many Horses, an enrolled member of the Rosebud Sioux Tribe, leads Wells Fargo's services to tribes and tribally owned enterprises.
Her Many Horses began his finance career in 2002 at Merrill Lynch. In 2004, he was appointed Director of Native American Business Development for the investment banking, wealth management and asset management groups at Merrill. Her Many Horses later moved into Merrill Lynch Investment Banking, where he focused on the gaming industry. Her Many Horses has also worked in the Capital Markets Group at the Securities Industry and Financial Markets Association ("SIFMA"), a trade association representing over 650 securities firms, banks and asset managers.
Her Many Horses serves as Chairman of the Native American Finance Officers Association (NAFOA)'s Corporate Advisory Board. He also sits on the Board of Trustees of the American Indian College Fund, where he is the Vice-Chair of the Finance and Investment Committee. Her Many Horses is the founder of the Native American employee group at Bank of America.