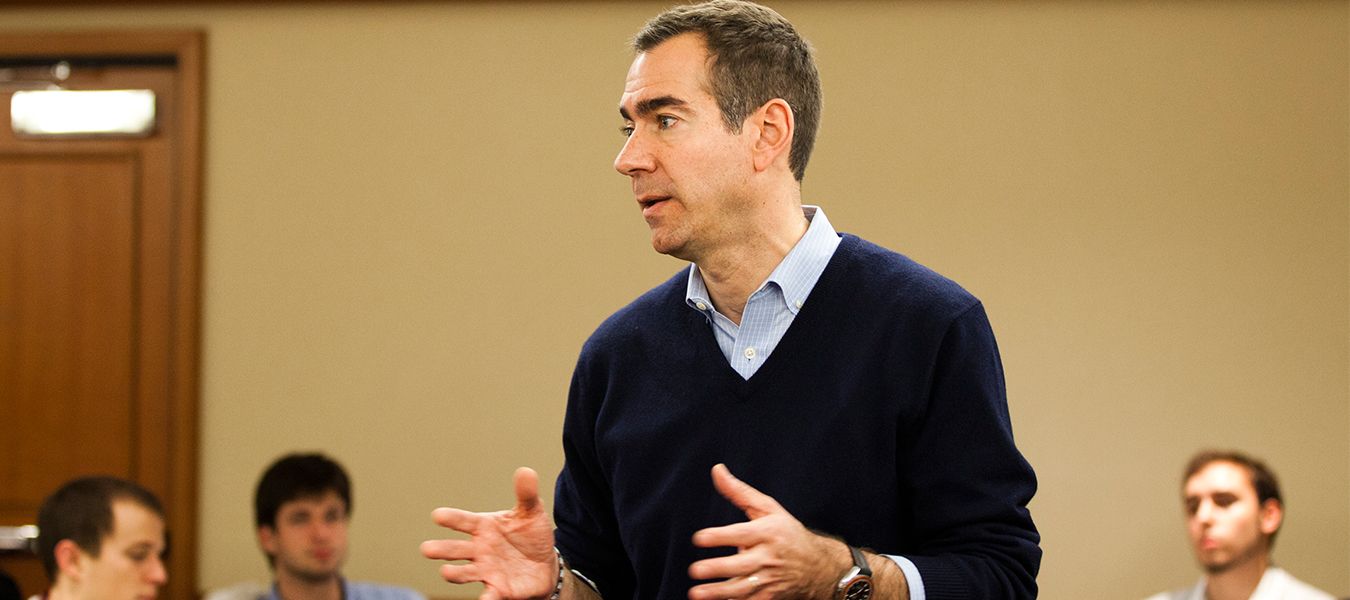 T'93
Michael Carusi
General Partner, Lightstone Ventures and Advanced Technology Ventures
I went to Tuck thinking I was challenging myself—it became clear right away that there were more options in front of me than I ever realized, and that maybe I needed to think bigger.
Not many people in ball bearing sales finish their careers in venture capital. For Mike Carusi T'93, now one of the most successful health care investors in Silicon Valley, that unlikely journey started with two eye-opening years at Tuck.
"I had never thought about consulting or venture capital and, frankly, didn't really know what those things were. It was Tuck—and more so my classmates—that showed me those opportunities because they were all from different fields and had experiences that were different from my own."
Carusi had studied mechanical engineering as an undergraduate and began his career selling industrial equipment. He was good at it, but wanted something more.
"I always liked a challenge, and that's part of what drew me to Tuck," he says. "I went in thinking I was challenging myself, and it became clear right away that there were more options in front of me than I ever realized, and that maybe I needed to think bigger."
After Tuck, Carusi weighed a good, safe offer from a big pharmaceutical firm, but at the 11th hour chose to join the Wilkerson Group, "a quirky little consultancy that did nothing but health care." He took an opportunity to help open the Wilkerson office in London, then did the same in San Francisco. He repeated that pioneering pattern in his venture capital career, both at Advanced Technology Ventures (ATV) and his new health care-only fund, Lightstone Ventures. He's now a general partner in both firms.
"I always chose the satellite office or the startup even within the big company," Carusi says. "You can fall on your face when you do that but also, if you succeed, it's very visible. That creates opportunity, and it certainly did for me.
In 2001, he invested in a biotech startup called Plexxikon. "It was just a tremendous team and a piece of paper," Carusi says with a laugh. "I was a new venture capitalist and I had to scrape and claw my way in." Once he got a grip he didn't let go. By 2011, when the company sold to Daiichi Sankyo for just under a billion dollars, he was the largest investor.
That same year another venture that Carusi had backed, Ardian, sold to Medtronic for $800 million. One of the bankers in the deal was a Tuck classmate, Michael McIvor T'93. Soon after the high-profile transaction closed, Michael Zubkoff invited them both back to Hanover. Zubkoff is Professor of Health Economics and Management at Tuck and director of Dartmouth's MD/MBA program.
"He thought it would be neat if it two of us would do a class together—myself as the venture capitalist who invested in the deal and then Michael as the banker who helped to sell it," says Carusi, who has now taught the 5-week "mini" course for four consecutive years. It's Carusi's way of passing on the lesson that changed his life: to think bigger.
"Having people in the classroom that have been there and done that adds a different element," he says. "It's something that students can draw on."
---
On Networking
When Carusi wants to discover the next new thing, or figure out if a startup company's revolutionary heart stent really is revolutionary, he taps into his network. Here Carusi shares networking tips gleaned during his two decades of meeting people and making deals.
It's OK to network. Some people hear networking and think "slimy" or "cheesy." I define it as trying to continue to meet and get to know as many people as possible. And also learning from them. What are they interested in? What areas are intriguing? What strategies are they pursuing?
Not just a foot in the door. Part of networking is how you get a job, but in a lot of professions, networking is a critical success factor in keeping your job and performing well. Especially in venture capital.
Make a connection. Sometimes it's cold calling. Usually you look for linkages to get introductions, and there's a whole technique to how you do that. A lot of this is done using the Internet, Facebook, LinkedIn. But I'm old school, so I still tend to pick up the phone, send an email, or have coffee.
Find the right person. Make sure you're reaching out to the right people. I work in health care venture capital, but I often get calls from people interested in IT venture capital. Well, I'm not really the right person.
Do your homework. Before you have a meeting, you need to have an agenda. It may not be written down. What is it you want to talk about? What do you want to learn? What do you want to get out of it? What are the next steps?
Baby steps. The goal of the first meeting might just be to get to a second meeting that's longer and in person. It doesn't need to be a lofty goal. It's a process; don't rush it.
Be curious. Ask lots of questions, and listen. Sometimes there's a tendency to want to talk. There's a time and place for that. But if your agenda is to get information, there should be a lot of questioning and listening.
What can you offer? Try to think if there's anything you can offer in return. Sharing what you're learning that is interesting, sharing different points of view you've heard. I will be more engaged because you're giving me something. It's a two-way street.