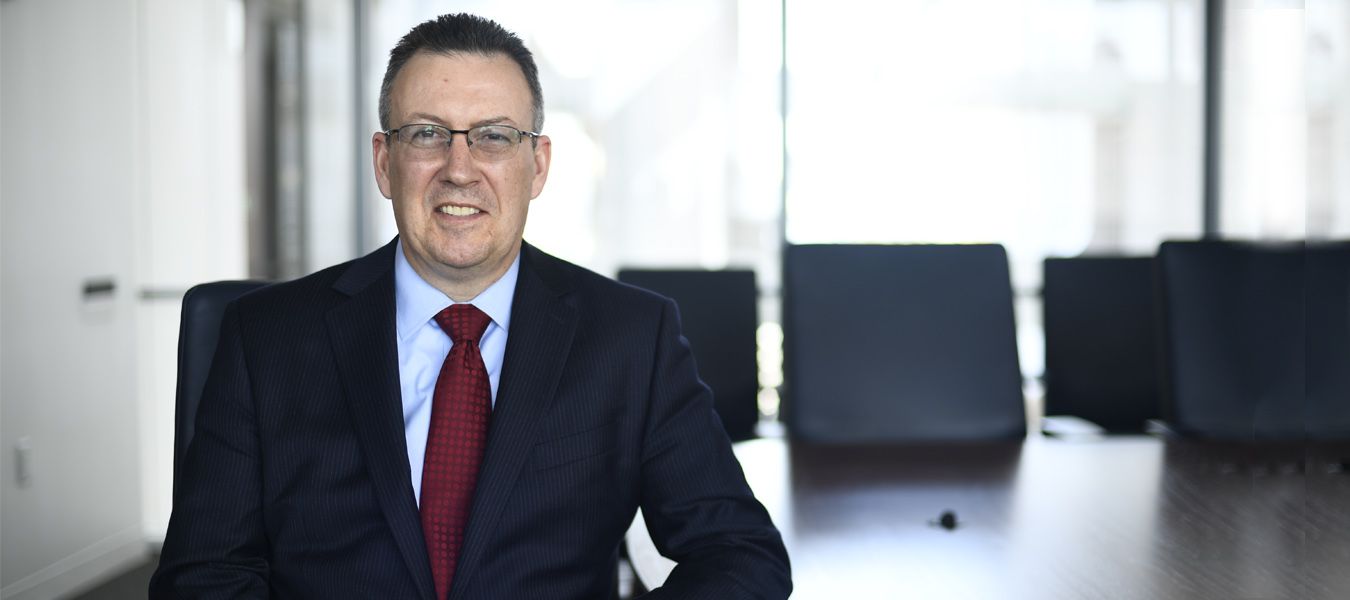 T'94
Jamie Kalamarides
President, Prudential Group Insurance
Servant leadership has been a key thread throughout my career.
By Justine Crowling
JAMIE KALAMARIDES T'94 has now navigated two recessions during his time at Prudential, where he's spent the past two decades protecting Americans' financial wellness. During the global financial crisis, Kalamarides led a small team that, with scarce resource of capital, stabilized retirement accounts and emergency savings during a historically volatile market. During that time, he learned a valuable lesson as a leader: the importance of prioritizing people over profit.
"Servant leadership has been a key thread throughout my career at Prudential," says Kalamarides, who still calls upon leadership lessons and corporate strategy from his days at Tuck, including professor Vijay Govindarajan's three-box-solution for innovation. "When you put your people first, you're only going to improve the wellness of your business. To me, it's a no-brainer."
This ethos has proved even more critical as the Prudential Group Insurance president faces a different kind of financial recession: one of income disparity. As top earners have grown in wealth, middle and bottom earners are decreasing. "COVID-19 has only further exposed the real systemic barriers facing Americans—against our Black and Brown citizens, and poor White Americans as well," he says. "Unfortunately, these barriers are also the social determinants of health; the best predictor of your health and financial situation is the zip code that you were born in."
In the U.S., the only country in the world that does not offer universal paid leave, more than half of workers cannot afford to stay home when they're sick. And just 37 percent of American families have enough emergency savings to survive at the poverty level for three months. This statistic is staggering to Kalamarides who says it's time for businesses, and the financial services industry in particular, to step up to address systemic challenges for Americans. "Gone are the days when employers' sole priority is to make a profit," he says. "Employers must play a role in improving financial wellness for all Americans."
In his own words, Kalamarides offers a call-to-action plan for how employers can contribute to improving financial health during the COVID-19 recession.
My Advice for Employers
Employ a profit with purpose strategy. Businesses' sole purpose cannot be just to make money. Profit is an important measure of the health of a business, but it has to be profit with purpose, as measured by the impact of the business on the common good. Are you exchanging profit for value for your clients? I don't think those two things have to be in contradiction.
Do well and do good. Recognize the human dignity in your employees. Use the tools that your business has available to provide employees with a path toward the middle class. Offer a competitive wage, but also employee benefits, such as a retirement plan. We know that individuals with access to a retirement plan have 13 times more savings than those without access to one. Small businesses often say it's too expensive, but new laws passed will allow small businesses to pool their purchasing power substantially. Workers need emergency savings pro-grams. There have been innovations that incorporate emergency savings into 401K plans.
Offer paid leave. We've seen paid leave challenges exacerbated by the 2020 pandemic. Employers shouldn't want workers who are sick to come into the workplace, and workers who are caregivers to the sick also should stay away from the workplace until everyone is healthy. We're the only developed country in the world that doesn't offer universal paid leave. It doesn't have to be another social security safety net, but it would be best served through a private-public partnership between the government and private sectors.
Complement traditional benefits with financial wellness resources. If you're offering a 401K plan, there are options to supplement it with emergency savings solutions. Also your employees can take advantage of the free financial wellness solutions that many providers like Prudential offer with-out bearing fiduciary responsibility.
A business case for financial health. Whether you're operating a for-profit or a charitable organization, you need productive teams. When paid leave is an option, employees have the opportunity to address their health issues and return to work faster. In addition, emergency savings and other financial wellness solutions can help create a more financially resilient, and therefore more present and productive workforce.
My Advice for Employees
Build emergency savings. Emergency savings helps you weather unexpected life events, such as illness, lack of work, or costly repairs. Your emergency savings fund should have, at minimum, three months of savings in it. Your next goal should be to have six months of savings.
Save for the long term. Prioritize saving for retirement and providing financial security for your dependents. Depending on your circumstances, guidelines suggest 10-15 percent of your income should be saved for retirement. You can work with a financial planner or utilize some of the many free tools designed to help you meet today's expenses while also saving for your long-term goals.
Live within your means. This sounds obvious but cannot be stressed enough, regardless of one's income level. Spending beyond your limits is how many Americans find themselves in financial distress. If you have any, pay down your high interest debt as quickly as you can.
Take care of yourself and your own first. Financial stress and the resulting mental health issues it can create are among the most serious stressors for Americans—between 50 and 75 percent of us are stressed about finances in a particular moment. If that stress isn't resolved, it creates anxiety and tension and reduces our productivity. That is why it is so important to prioritize our wellbeing and that of our families and our employees—because if we aren't taking care of ourselves and our people, then we cannot possibly do what is necessary to care for our customers, our shareholders, and our communities.