T'00
Jose Minaya
CEO, Nuveen
Tuck took a chance on me and brought me into an environment where I could grow and be challenged. I want to repay that tenfold, twentyfold, and so that is what I'll continue doing.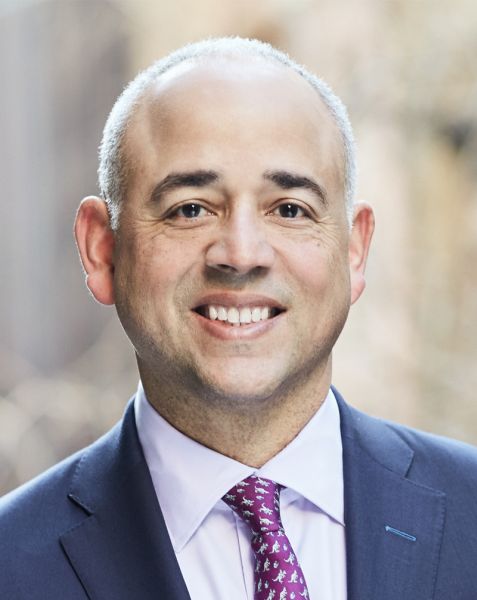 By Adam Sylvain
Jose Minaya T'00 became CEO of Nuveen, the investment manager of TIAA, in January 2020, just a few weeks before the COVID-19 pandemic began its spread. Rather than lament a case of unfortunate timing, Minaya embraced the moment as an opportunity to prove his leadership.
"When people see you under fire and how you respond to a difficult situation, that's how you build confidence and earn their trust," says Minaya, now in his 17th year at TIAA. "Whenever we came out of this pandemic, I knew I would be judged by my employees, customers, and stakeholders."
As manager of a company with roughly 3,000 employees and nearly $1.2 trillion in assets, the stakes were high for Minaya and his leadership team to make the right decisions. They committed early on to transitioning their global workforce to a fully remote environment and became one of the first major investment firms to report on the projected impact of the pandemic on client portfolios.
Minaya also led efforts to rethink how Nuveen communicates with both their employees and clients. When the pandemic began, this included almost daily Zoom calls with employees, often in the early morning and throughout the day as he connected with teams in different time zones. By ramping up their digital capabilities, Nuveen witnessed the highest client engagement scores in the company's history in 2020. Investment performance and the influx of new clients also exceeded benchmarks.
"We were able to turn challenges into opportunities for broader and richer engagement with our clients and our people," shares Minaya. "Watching my team and employees rise to meet these challenges and grow together has easily been one of the proudest moments of my career."
In addition to his role as CEO of Nuveen, Minaya serves as executive sponsor for the Inclusion and Diversity Initiative at TIAA and is a board member of the Robert Toigo Foundation, an organization that fosters the career advancement and leadership of underrepresented talent.
A commitment to building diverse, inclusive, and equitable structures across organizations is personal for Minaya, a first-generation college student who attended Tuck as a Robert Toigo Fellow. He says it is not enough to claim diversity and inclusion as a core value. There needs to be action and follow through.
"I have not found a lack of will or desire to improve, but there is often a lack of understanding of how to improve diversity and inclusion," explains Minaya. "It's about accountability and backing that desire with the right resources."
At TIAA, actionable steps include launching a D&I Council and diversifying their employee pipeline through an expanded internship program. They have also worked to combat biases and improve diversity across all phases of the hiring process.
"We found that we did a great job attracting a diverse candidate pool," says Minaya. "But when you looked at who were the people in the room interviewing these candidates, there was a lack of diversity that we also needed to improve."
Reflecting on his own career path, Minaya says his Dominican-born parents instilled the importance of education at an early age, but the particulars of applying to schools and planning a professional future were mostly unknown.
"I was not well-oriented. I didn't really know what the SAT was," recalls Minaya. "I remember eventually buying an SAT book from a Hallmark store and splitting the cost with one of my friends."
Becoming a doctor or engineer always seemed like the most practical career paths, but after realizing he despised both engineering and the lab, Minaya's interest shifted to finance.
After graduating from Manhattan College, he joined J.P. Morgan as an associate, providing merger and acquisition advisory services to clients in consumer products, health care, retail, and energy. It was a vice president at J.P. Morgan who introduced Minaya to the Robert Toigo Foundation, an experience that Minaya says left a lasting impression.
"This was the first person I ever worked for who looked like me and had a similar background," says Minaya. "It was an eye-opening experience to receive guidance from someone who had taken a similar path."
It was after four years at J.P. Morgan that Minaya began applying to MBA programs.
At first, Tuck was not one of the schools at the top of his list. Having spent his entire life in the city, Minaya gravitated toward schools located near metropolitan cities like Wharton, Booth, and Harvard Business School. He took a visit to Hanover at the urging of another supervisor at the time, Mark Davis D'81, T'84.
Accompanying Minaya on the trip was his then-girlfriend and now wife, Romy Minaya T'00, who was also working on Wall Street and applying to many of the same business schools.
"By the time we drove back to New York, I said to her, 'I need to go here,'" recalls Minaya. "For me it was perfect. As a city kid, it opened my eyes to the outdoors and felt like a true college experience that in some ways I never had. Tuck represented this playground of all these different things I could try and experience."
They both chose to enroll at Tuck and when they eventually married their wedding party included several Tuck classmates. In addition to nurturing some of the most important relationships in his life, Minaya's Tuck experience gave him renewed confidence as he continued in his career.
"When I first arrived at Tuck and was surrounded by all these classmates who had graduated from top undergraduate programs, I had to fight this initial feeling of 'Can I cut it here?'" says Minaya. "What I found out was, 'Yes, absolutely.'"
After earning his MBA, Minaya admits he initially took a more traditional path. He arrived at Tuck from J.P. Morgan and took another job in investment banking when he left. But within a few years, he transitioned to the "buy-side" as a portfolio manager at TIAA where he grew to manage a team responsible for investing globally in real assets, including agriculture, energy, and infrastructure.
Today, Minaya enjoys being on the people side of the business, where he can stretch some of the soft skills he learned at Tuck. To give back to the institution that transformed his life, Minaya serves as a member of Tuck's MBA Council, a commitment he takes to heart.
"Tuck took a chance on me and brought me into an environment where I could grow and be challenged," he says. "I want to repay that tenfold, twentyfold, and so that is what I'll continue doing."