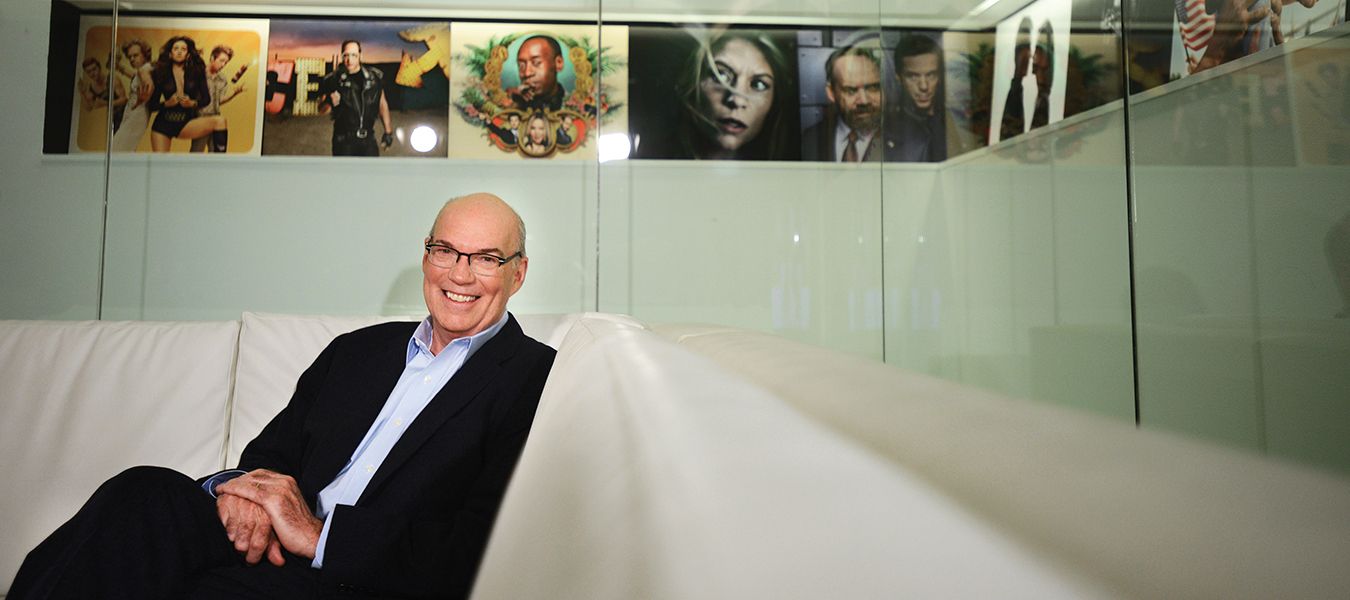 T'85
Tom Christie
COO, Showtime
If you get the design of the org chart correct, and you fill the slots with the right people, and then you create the right incentives, a lot of things will go right for you.
In the early 1980s, Tom Christie T'85 was probably the most overqualified door-to-door cable television salesman in Columbus, Ohio. Maybe the entire United States. With an English degree from Princeton and a naturally smooth delivery, those homeowners didn't stand a chance. This wasn't his full-time job—he was a teacher and a coach at a private high school—but he took to it well, and before long his boss at Warner-Amex (the precursor to Time Warner Cable) asked him to join the company as a sales manager. It took Christie a few months to decide, but he ultimately said yes. He still finds this turn of events a little hard to believe. "Honest to god, I started out managing a team of door-to-door salesman," he laughs.
Christie spent three years climbing the ladder at Warner-Amex before his desire to go to business school, and his love of New England, landed him at Tuck. "It was a tough academic experience for me," he recalls, "coming at it as an English major. But I muddled through." During the spring term of his second year, he got a piece of wisdom that made all the muddling worthwhile. It was in Human Behavior and Organizations, a course taught by the esteemed John Hennessey, the Charles Henry Jones Third Century Professor of Management, Emeritus. Hennessey addressed the students near the end of their MBA experience, after they had digested challenging courses like accounting, finance, operations, and management science. "I'm going to tell you something you may not believe today, but it'll end up being true," Christie remembers Hennessey saying. "You'll spend more time thinking and talking about personnel issues and how to design your organization than almost anything else you studied here."
For Christie, who was recently named the chief operating officer of Showtime, where he started his career after Tuck, those words have been something of a North star. "As I matured as an executive," Christie says, "I realized Hennessey was right. If you get the design of the org chart correct, and you fill the slots with the right people, and then you create the right incentives, a lot of things will go right for you. That is really one of the fundamental things I took out of my experience at Tuck."
A lot has changed in the entertainment business since Christie joined Showtime as the director of special markets in 1985. At that time, Showtime and HBO were basically vehicles for showing Hollywood movies, and it was difficult to differentiate between the channels. Christie moved into business development in the mid-1990s, when the digital age allowed for a massive increase in the number of channels that could be sent over a wire. Showtime joined the fray by spinning off new channels, such as the Sundance Channel, which Christie led as a joint venture with Robert Redford. After almost 10 years at Sundance, Christie returned to Showtime to be the director of affiliate sales.
Now we are on the other side of the television revolution. It's the age of "cord cutting"—with millions of households disconnecting from cable television services in favor of streaming movies and original TV series from the likes of Showtime, HBO, Netflix, Hulu, and Amazon. "I had no idea it would evolve into what it is today, where the cable industry has laid a lot of the hard wire that has helped us form the internet," he says. "And that has really exploded everything."
Showtime, Christie says, is well-positioned to thrive in the world of streaming entertainment. That's because it's a premium subscription television service, not a broadcast network that relies on advertising revenue. "It's a model that looks a lot like a Netflix or a Hulu," Christie explains. "What we've had to do to get ready, and what we're exploiting now, is create a service that can be distributed over the internet. Now you can go to an net-top box like Apple TV or Roku, and purchase Showtime by itself."
Christie has a C-suite position in a large corporation, but this is still show business, so he's having plenty of fun. He has attended the Golden Globes, visited the set of "Dexter" and had ringside seats for the Pacquiao-Mayweather fight in Las Vegas. And no one will ever fault him for watching too much TV. Which is good, because "I'm absolutely hooked on "Homeland," he says.