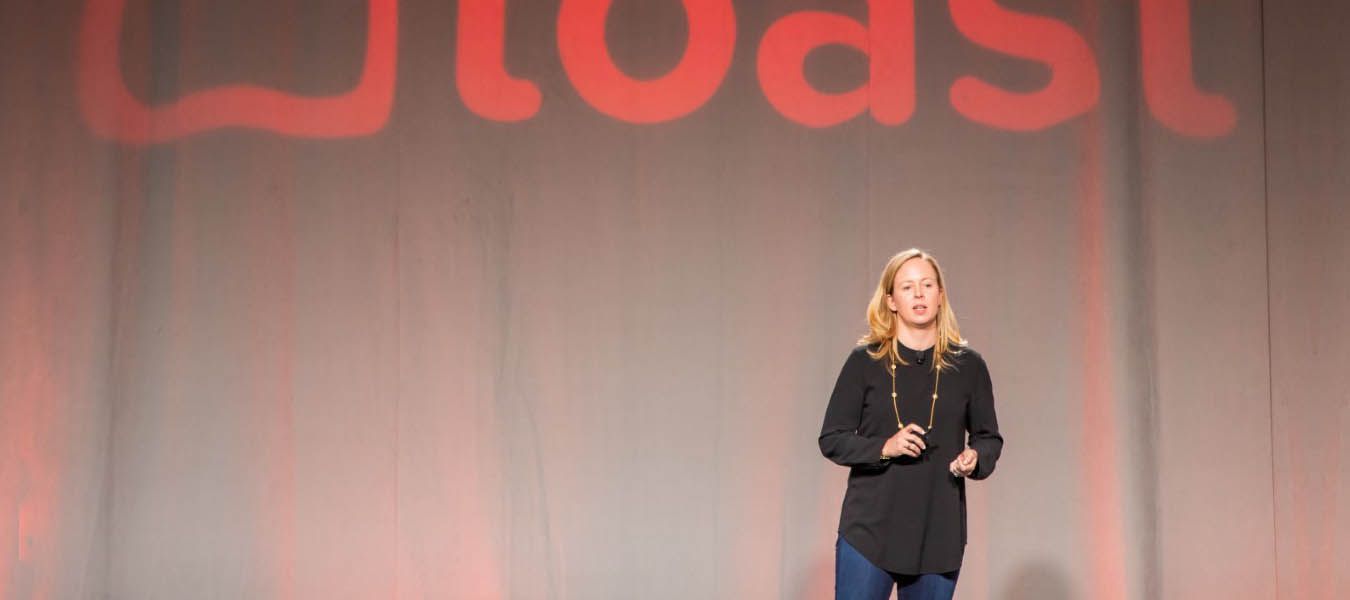 T'12
Kelly Sennatt Esten
VP of Product and Partner Marketing, Toast
Tuck was an opportunity to come home. It felt like home, and I knew it was an environment where I could thrive.
By Jeff Moag
Kelly Sennatt Esten D'05, T'12 had just overseen the launch of a new line of point-of-service products for restaurants when the COVID-19 pandemic brought that industry to a shuddering stop. Suddenly, the vice president of product and partner marketing at Toast, Inc. found herself navigating the crisis from her home office, as she and her husband Jordan Esten T'12 juggled two demanding careers and the one client who won't take no for an answer, their 3-year-old son.
With no childcare and preschool closed indefinitely, Esten and her husband took turns looking after the youngster, who promptly photo-bombed one of her video conferences. "I spend half my day really focused on work and the rest with him, trying to answer Slacks when I can," says Esten, whose creativity has often been tested in a career that has included senior roles in banking, energy, and now restaurant technology, though never quite like this.
While a toddler's guest appearance in a Zoom meeting is something many working parents can relate to, it also signals a paradigm shift in business culture. A generation ago such shenanigans would have been unheard of, but now, 50 years after the first cadre of Tuck women received their degrees, dual-career relationships are the norm for business school graduates of both genders.
For Esten, it helps that she's not alone. She stays in close contact with a circle of Tuck friends who are also starting families at the same time they and their partners navigate critical stages in their careers. "A lot of us have young kids, and we're at that moment where we're making partner, we're making VP and moving into that executive level in our careers," she says. "You're really trying to build this 50/50 relationship. There's not an obvious person who's playing the lead role at home."
Esten's own parents met at a Wall Street firm, and tell a cute story about sneaking downtown for dates before they were married. Her mother had a finance career ahead of her but chose to stay home after Kelly and her younger sister were born. "My mom was sure she wanted to stay at home with us," stresses Esten, "and I was just as sure I wanted a career."
At school Esten was a standout athlete. She was drawn to the camaraderie of field hockey and lacrosse, but her passion was squash. She competed nationally, and narrowed her college search to top schools with squash programs. Among that select group was Dartmouth. She visited during mud season, and as she and her father drove home in the pouring rain she surprised him by announcing her college search was over.
"I just fell in love with Hanover," says Esten, who still enjoys spending time outdoors, no matter the weather. At Dartmouth she majored in environmental earth sciences, thriving in a small department that provided a very personal academic experience. She spent a semester on a field study in Belize and loved it, but at her parents urging also took an internship with UBS. She found that she loved banking just as well, and accepted an offer to join the bank's rotation program after graduation, learning the ropes of wealth management, investment banking, and sales in different parts of the organization.
A lot of us have young kids, and we're at that moment where we're making partner, we're making VP and moving into that executive level in our careers. You're really trying to build this 50/50 relationship. There's not an obvious person who's playing the lead role at home.
One of those rotations brought her to Zurich on a three-month appointment, which stretched to nearly four years as she rose to become chief of staff to the firm's managing director of wealth management in Europe, who was responsible for managing 750 people across 13 countries. The work was engaging and fast-paced—the perfect job for that stage in her life, but not what she wanted for the rest of her career.
"Tuck was an opportunity to come home," she says. "It felt like home, and I knew it was an environment where I could thrive." Hanover was familiar and welcoming, and a sense of intimacy infused the academic experience at Tuck. "In a small community, you're very accountable. Everyone on campus is invested in having that important experience together," says Esten, who co-chaired the school's Entrepreneurship Club and served as commissioner of Tuck Women's Hockey.
"I could skate backwards, so I was a hot ticket," she jokes. Esten joined the league because it was fun and social, but the former squash champion also notes that her team won the league title.
Esten forged some of her deepest friendships at Tuck, and met Jordan, her future husband, at orientation. By October they were dating. That same fall she took Professor Paul Argenti's general management course, and later assisted him on a project around corporate social responsibility, and helped research one of his books. During spring break her first year, Esten joined Professor Peter Golder's Global Insights Expedition to China, where she learned she'd made the cut to interview for a promising internship.
"He spent the entire flight back from China prepping me for my interview," Esten says. "I think I monopolized him for 10 hours, but that really shows how invested the professors at Tuck are in students." She won the internship with the Boston-based energy distribution firm EnerNOC and parlayed it into an offer to join the company full-time after graduation.
The position promised stability and room for career growth, which allowed Jordan Esten to begin his post-Tuck career with a tech startup, Clear Ballot Group. He didn't take a salary for the first six months. The arrangement isn't one for the faint of heart, but leveraged a key advantage of two-career households. She and Jordan, who married in 2014, were able to manage their collective career risk—to "balance their portfolio," as she puts it. As she climbed through the ranks at EnerNOC, Jordan became CEO and helped Clear Ballot Group become the fastest-growing company in the booming elections technology segment.
In 2017, it was Kelly Esten's turn to stretch her wings, joining Toast Inc., a young tech company that provides cloud-based restaurant management and point of sale solutions built on the Android operating system. As vice president in charge of marketing, she now finds herself on the front lines, helping clients confront the biggest economic calamity in the history of the restaurant business.
From her home office, sometimes with a toddler tapping her shoulder, Esten organized the fastest product launch of her career. The Toast Now product suite allows any restaurant—whether a Toast customer or not—to use the company's digital ordering, delivery and digital gift cards at no charge. Toast Now is a critical complement to the company's Rally for Restaurants social campaign. The program quickly became the motive force and organizational nexus behind the nationwide surge in gift card sales that provided a financial lifeline to tens of thousands of cash-strapped restaurants.
These are big picture measures designed to help the entire industry, but Esten has seen first-hand how important they are to real people. Many she knows personally. One is a high school friend who recently opened a restaurant outside of Boston. Another is Jarett Berke T'17 and his wife Cailin, who own the iconic Lou's Restaurant & Bakery in Hanover. Berke is a classmate of Esten's sister, Kaitlin Sennatt T'17.
Before the COVID-19 crisis, Toast completed a round of recession planning and concluded that the restaurant industry is remarkably resilient. Still, no scenario anticipated a shock so jarring as the Coronavirus, or a response so creative and impactful as Esten and her team have mounted. She knows what's at stake though. "Most of our clients are independent restaurants," she says. "They're someone's dream."