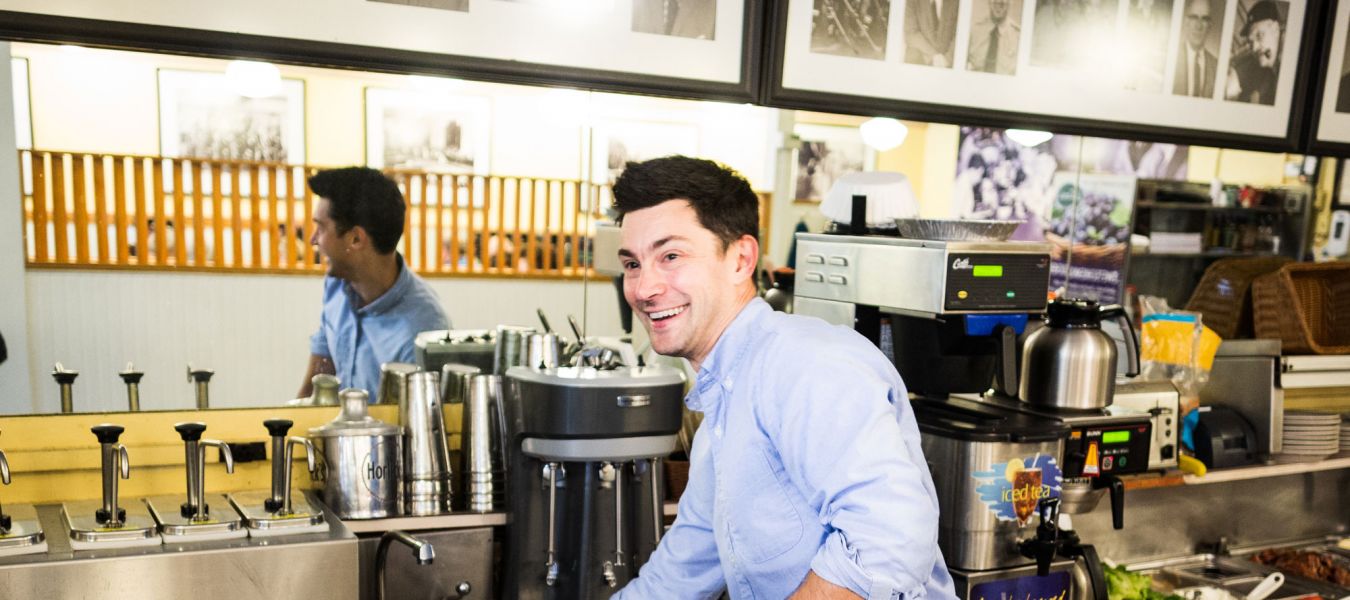 T'17
Jarett Berke
Owner & CEO, Lou's Restaurant & Bakery
I'm a hands-on type of person. I've done everything I can to learn the business and do every job here.
Like many devoted patrons of Lou's Restaurant, Jarett Berke T'17 remembers his first encounter with the Hanover eatery that's been a landmark on Main Street for 71 years.
It was the summer before his first year at Tuck, during Math Camp. The professor, Peter Regan, sweetened the task of mathematical learning with a huge box of Lou's doughnuts. "I thought, 'Wow, I've got to check this place out,'" Berke recalls. "Little did I know that three years after eating that first cruller I'd be buying the place."
On July 1, 2018, Berke and his wife Cailin purchased the restaurant from Toby and Pattie
Fried, who had owned the establishment since 1992. Lou's was founded in 1947 by Lou Bressett, a Marine and a World War II veteran who endured the infamous Battle of Guadalcanal. Bressett purposefully called it a restaurant, not a diner, and he created and curated an extensive and high-quality menu. After 35 years, the restaurant's reputation for good food and fair prices was cemented into the local culture, and Bressett retired and sold the place to Bob Watson D'59, who added authentic Mexican food to the menu. Toby Fried, an engineer with a penchant for baking, grew the bakery operations at the restaurant, adding many varieties of cakes, pies, and cookies to the offerings.
Berke, a graduate of the United States Naval Academy who flew CH-53 helicopters for the
Marine Corps, grew up in the restaurant business—his parents and his uncles owned several restaurants in New York City—but he never imagined he'd continue the tradition. He's running the restaurant like a responsible steward of a historic institution that also happens to be a profitable business. "I'm still thinking of the flavor I want to bring," he says. "I know this is a winning recipe, so I'm going to do everything I can to maintain and preserve it, while at the same time taking advantage of opportunities to make it even better."

What do you like about running Lou's?
I'm a hands-on type of person. I certainly have a chance to be hands-on here. In the first two months, I've done everything I can to learn the business and do every job. I cook on the line, I've made the crullers at night with the night bakers, I make cakes, and I talk to customers face-to-face every day. I love that most of my day is not spent in front of a computer.
How does your job now compare to your role in the Marine Corps?
From a management perspective—especially in the back-of-the-house—there's something that's very similar to leading Marines. The back-of-the-house staff are extremely hard workers. They're passionate and they like to have fun, and it really reminds me of being on deployment or hanging out in the shop with the aircraft mechanics. Just being in a leadership position again has been incredibly rewarding.
What surprised you about Lou's?
One of the things I was amazed by was the efficiency of the use of space. On a busy day, we'll serve over 500 guests. The bakery is pumping out cookies, pastries, and pies. Hundreds of crullers a day. The volume that's produced in that small of a space is just incredible. Which, from a business perspective, is really, really good because of the high-fixed cost of the real estate on Main Street.
Why did you decide to leave the Marine Corps and attend business school?
As a captain finishing up my tour with a squadron, I had maxed out on the fun I could have. Future jobs would have been as a staff officer, so I decided it was time to hang it up and go do something else. During my last two years in the Marines I was a product manager for flight simulators, so I had time to figure out what I wanted to do and get an application ready for an advanced degree.
I realized that business school was a great way to prepare myself for the next stage of my life.
Why did you choose Tuck?
I'm good friends with Wade Barnes T'12, a principal at Boston Consulting Group. We were in the same company at the Naval Academy. I followed him as he went through Tuck and it looked amazing. When I came up for the military visit weekend in the spring, I just fell in love with the place. The people I met were nice and genuine. The culture was unique and special. It was exactly the type of place I wanted.
How has your Tuck education helped you in your role at Lou's?
I've used so much of what I've learned at Tuck. Without those two years, I don't think that I would be able to do this. I use managerial accounting every day. Leadership is a constant focus. Operations: this place is a land of opportunity for operations improvements. Marketing, economics, the list goes on and on. I use the core skills that I learned at Tuck almost every day.