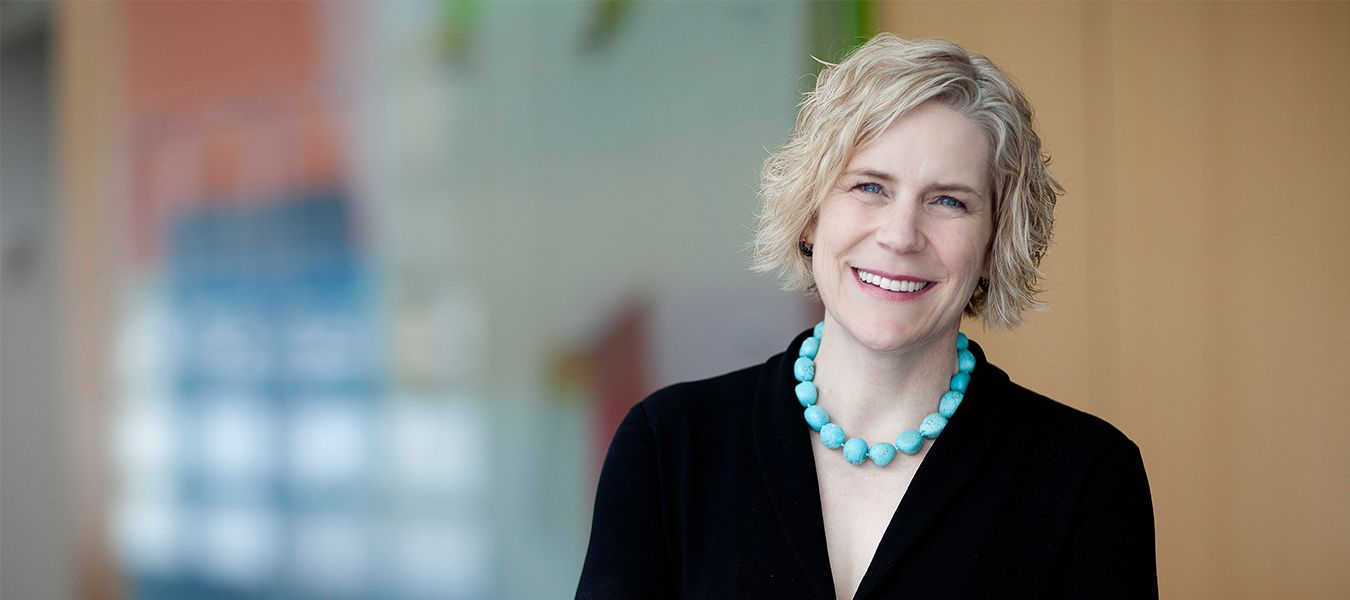 T'97
Helen W. Kurtz
Chief Marketing Officer, Senior Vice President, Foster Farms, Inc.
Your values and essence may be steadfast, but your purpose and branding may need to flex as you advance in your field or change industries.
Kurtz led General Mills' efforts to determine and design marketing that resonates across all mediums, or, as they call the initiative, "remarkable brand building." "When you're thinking about establishing your personal brand, think of it in the same terms we do at General Mills: brands have purpose—they exist to solve a consumer problem," she says. "What problems do you solve? And what is your purpose?"
Here she talks how to establish your personal brand.
Recognize why brands matter. There's been a lot of press recently as to whether the idea of a brand is obsolete. Consumers, the argument goes, trust each other's reviews more than they trust a brand mark. It's true that consumers' word of mouth has never been more important, but brands remain highly relevant. People pay over 300 percent more for Starbucks coffee than they do for no-name coffee. Strong brands make you feel something; some even become badges of who you are. Brands stand for something and they exist to serve a need. There is trust inherent in them. Keep this in mind as you begin to establish your own.
Discover who you are. On a personal level, the principles of branding require you to understand what you stand for, while also being flexible and finding the balance between staying true to yourself and growing. Brand relevancy has never been more important. Brands need to be agile and flex to new competitors and new needs that consumers may have—so, too, for your personal brand. Your values and essence may be steadfast, but your purpose and branding may need to flex as you advance in your field or change industries. If you discover you're not on the right track, think about ways you can change and explore, such as taking on different projects, either at or outside of work.
Find your advocates and advisers. Sometimes having someone else articulate your brand and what you stand for helps. When I was in the dating world, I had a hard time writing my Match.com profile. Everything I wrote on my own sounded either too braggy or too humble. It took a close friend to encapsulate who I am and help me "position" myself in that competitive world. Often, people see us in a way that's clearer and truer than what we feel comfortable articulating ourselves. And it worked: Nine years and two kids later, my husband and I are glad to have found each other.
Articulate your purpose. Every successful brand has a purpose and so should yours. Wheaties exists to fuel the champion inside. Trix exists to celebrate the virtue of silliness. Patagonia, whose purpose is to build the best products while causing no unnecessary harm, asks their customers to fight consumerism by reusing their stuff for longer by saying, "Don't Buy this Jacket." This hit consumers—and the industry—by surprise, and is an excellent example of how living your purpose only strengthens your image and your success.
Be. Do. Say. In his book on brand purpose, Joey Reiman shares his philosophy of "Be. Do. Say." You can't just tell people what you stand for—you have to stand for it. You have to really embody your purpose; your actions must reflect it; you have to back it up with your words. The way you know if you're doing it well with your brand is if you can genuinely be it, do it, and say it with conviction and clarity.
Establish and maintain integrity. McDonald's in Canada had a whole campaign about answering consumers' questions, even down to why your burger doesn't look as good in person as it does on TV. This kind of transparency is demanded in today's hyper-connected world. On the personal brand front, while you don't have to broadcast your weaknesses, I believe in owning up to them. Try to fix the ones that might damage you and move on from the ones that are just bothersome. With a strong personal brand—focusing on what you do offer—you can own your weaknesses but not be felled by them.