T'86
John Chandler
CMO, MassMutual
Presenting marketing investments and returns in the language of the business, and not just the language of marketing, is a big cultural change to make, but done the right way, you build credibility with the business.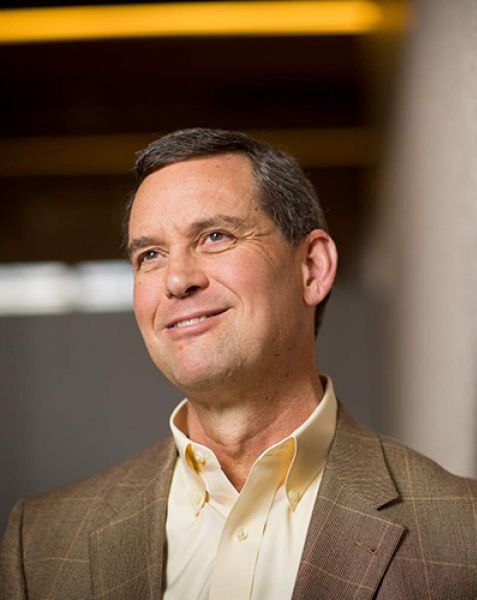 On a Tuesday in October 2012, John Chandler T'86 walked into a board of directors' meeting in the MassMutual Learning and Conference Center in Chicopee, Massachusetts, with an audacious plan. Chandler, chief marketing officer of MassMutual, had built a strong track record at the life insurance and financial services company since joining in 2006. He had overseen winning advertising, social media, and public relations campaigns, but perhaps most important, he had built a program to track the effectiveness of MassMutual's marketing efforts, showing that they had a very real impact on sales. Now he wanted to build on that success and make an even bigger investment.
Chandler, dressed in a suit and a trademark bright blue tie, wasn't nervous. He and his team had done their research, consulted with leadership, and refined their proposal. The board of directors listened intently as Chandler outlined a three-year marketing game plan, dubbed the Strategic Brand Investment, which would turbocharge advertising, revolutionize the MassMutual.com website, develop a retail-store concept, support an agency branding program, and better translate Internet traffic into leads for life insurance agents. The price tag was $100 million, a significant sum in an industry that rarely makes big bets on branding and marketing.
When he gives a presentation, Chandler, a brilliant storyteller and a confident speaker, pays attention to subtle feedback—the occasional head nod, the light of curiosity in people's eyes, thoughtful questions. The board was clearly interested, but he didn't know how interested. By that Friday, Chandler had an answer: Not only would his team get $100 million, they had permission to move the funds between tracks and between years to see the Strategic Brand Investment program to completion. It was a tremendous responsibility—and a golden opportunity.
Ten years ago, when John Chandler was hired at MassMutual, it would have been outrageous to ask for $100 million for a branding plan. The life insurance industry was still operating as it always had, treating agents, who sell life insurance directly to consumers, as their customers rather than their business partners. Increasingly, the industry was falling out of relevance as consumer demographics and habits changed, among many factors. MassMutual was emerging from a period of diversification, but the company's leaders wanted to return to its core identity as a mutual company selling life insurance. To stay relevant, however, they had to think differently.
With a background in marketing packaged goods at companies like Frito Lay and Hasbro and only two years of financial services experience, Chandler was an industry outsider. But unusual ideas were exactly what MassMutual was looking for in a marketing executive. Over nearly 10 years, Chandler has helped guide a sea change in the way the company approaches marketing, supporting the transformation of this financial stalwart into a nimble digital company. At the same time, MassMutual has soared from 14th in the life insurance industry to No. 5; to No. 2 in whole life insurance sales; and to the top 10 in retirement plans. This year marked the 10th year in a row of record sales.
"I am a proud member of an incredible leadership team and I have the honor of leading a fantastic marketing organization, and all of us take pride in stretching and pushing ourselves to continuously improve our performance and our results. We've made great strides, and yet for most of us, our belief is this is just a plateau before we really go big," says Chandler. "The simple message is that in two or three years, our hope is to become the top selling life insurance company in the United States."
Chandler didn't originally set out to work in financial services, but his past experience made him a uniquely good fit. After graduating from Trinity College in Hartford, Connecticut, he worked as a wellhead service technician on land and offshore oil rigs, eventually working up to the engineering team. It wasn't until he was asked to work on a strategy project that he realized there might be a professional field he could get passionate about. He still remembers asking one of the project's consultants, Harvard Business School professor Michael Porter, for his advice. Porter sat back in his chair, looked at young Chandler, and said bluntly, "If you want to get into marketing, what are you doing here?" Porter advised him to go to a top-10 business school and to get an internship at a leading packaged goods company. The next day, Chandler started studying for the GMAT.
Tuck was precisely what he and his wife, Pam Chandler T'86, were looking for: an intimate setting with a high degree of rigor. The couple lived in Sachem Village, and John biked to Tuck every day, even in winter. Tuck not only stoked his passion for marketing, it also schooled him in the intricacies of data analysis, culture, and leadership, which would inform the rest of his career.
"I had marketing professors who had a big influence on me. But interestingly enough, it was the management accounting professor, John Shank, who had the biggest influence on me of anybody because he was great at really challenging us," says Chandler, laughing. "He made me study harder for a case because I was terrified he was going to call on me, and that made me study harder for every case."
After graduating, Chandler trucked off to Texas to work for Frito Lay, which, even in the '80s, had the creative energy, work ethic, and playful irreverence of today's startups. "Anywhere I've worked ever since, I've asked myself: Are we building that kind of culture or not?" says Chandler. "That was one of the big influences." By his mid-40s, after stints at Cadbury and Holiday Inn Hotels, Chandler was working at Hasbro, leading marketing efforts for their board games unit, but he felt a calling toward more personally meaningful work.
"I started networking, thinking, if I'm not having a good time working on products for kids, maybe I want to work on more serious things for adults, right?" says Chandler. He connected with Fred Eppinger T'85, who had just become the CEO of Allmerica, an insurance company, and hired Chandler as vice president and chief marketing officer. After Chandler completed a two-year rebranding of the company as the Hanover Insurance Group, a recruiter from MassMutual called.
"The interesting thing I like about financial services is it involves important decisions that people are making about protecting their families or businesses," says Chandler. "At the same time, it plays a really important role in society because people who save for retirement, who have life insurance, are protected against life's uncertainties and are prepared for changing life stages. So you're doing an important service for people and societies."
Chandler believed in MassMutual's mission and saw that it had a strong, time-tested brand. But like many similar firms, it was not marketing outside of financial services. There was a huge audience it could still reach. What, Chandler wondered, would happen if he applied marketing techniques from his packaged goods experience to this industry?
One of Chandler's biggest challenges was to prove the value of marketing. He knew he would need to speak a language the finance gurus would understand. So, with his team, he set about establishing a marketing metrics program to track leads MassMutual was generating for agents through the website, marketing materials, and seminars—and reporting how those leads translate into purchases.
"Too often, marketers fall into what I call the shiny object syndrome, which is they get very excited about their work product—I made this video, I made this commercial, I made this brochure—but what the business wants to know is what's the business result produced by the shiny object?" asks Chandler. "Presenting marketing investments and returns in the language of the business, and not just the language of marketing, is a big cultural change to make, but done the right way, you build enough credibility with the business that you can ask for $100 million."
Chandler's team also launched an acclaimed advertising effort, the Good Decisions Campaign, right into the headwinds of the recession in 2008. It presented MassMutual, a long-time stable company, as the sign of a good decision in times of uncertainty. The public relations team also published articles and supplements on how to manage for retirement in an unstable economy, giving agents reprints to share with customers, and Chandler's product marketing team built a customized retirement supplement sales concept for whole life insurance, which accounted for almost 50 percent of MassMutual's whole life product sales.
Chandler realized he had made headway in 2012 and 2013 when the company launched the Brand Ambassador Program, one of the signature programs of the Strategic Brand Investment. MassMutual had been structured around a system of general agencies and career agents who operate under independent brand names but sell MassMutual financial products directly to the consumer. The new program allowed agencies to rebrand themselves as MassMutual agencies for the first time. Chandler figured that if they were lucky, 10 or 12 out of their over 80 agencies would go for it. In the first year, 40 signed on. Now, 65 percent are fully branded as MassMutual and the balance are co-branded with MassMutual.
"I was stunned," says Chandler. "It was one of those watershed moments because it meant the culture of the field organization was changing based on their belief in our marketing value proposition."
The early success of the Brand Ambassador Program empowered him to move ahead with confidence on the other tracks of the Strategic Brand Investment. As part of that effort, Chandler's team revamped the website, listing 4,000 agents with photographs and profiles and allowing customers to reach out directly to them. They also put more effort than ever into driving traffic to the website through targeted and highly measurable advertising campaigns such as "Who Matters Most?" The message was that the people who matter most to you say the most about you, and it used real human-interest stories to illustrate how MassMutual can help policyholders navigate life's challenges. Instead of running the ads during football or golf programs, MassMutual ran them on network news and CNN, when, Chandler presumed, viewers were thinking about serious issues. Tested head to head against their competitors' ads, they were about twice as effective.
The company also tackled new ideas to reach out to millennials, whom they knew wouldn't embrace filling out forms in a stuffy office like their parents and grandparents. MassMutual partnered with Ideo, a design and innovation consulting firm, to develop a retail store devoted to financial education, not sales. In October 2014, The Society of Grownups opened in Brookline, Massachusetts. A hip, playful space with couches and a coffee bar, it offers classes, supper clubs, and events that pair topics like getting your first post-college job with fun activities like wine tasting. The concept is so successful that The Society of Grownups will open 10 new locations over the next three years.
MassMutual is also reaching out to other new demographics through creative social media efforts. After the June 2015 U.S. Supreme Court ruling in favor of gay marriage, the firm released a video, "Vow to Protect," showing committed gay couples talking about their love for each other and the value of marriage. (Marriage is one of the top three triggers for purchasing a life insurance policy.) "The Ellen DeGeneres Show" picked it up, and to date the video has garnered some 4.5 million views. It was not exactly what one might expect a well-established insurance company to do, but this is precisely, Chandler might argue, why it worked so well.
"I call it disrupting ourselves," he says. "Half the things we do will probably fail, but in the process of doing that, we'll learn something really interesting that we can apply to another part of our business. Always have the courage to try something new, communicate, communicate, communicate, but don't compromise because you think it might be disruptive to what you do today. Somebody could come in and disrupt you a lot worse and you won't be prepared for it."
Not everyone, of course, could pull this off. Chandler owes part of his success to the fact that he is so focused on backing up successes—and failures—with data. (MassMutual is now supporting data science programs at Mount Holyoke College, Smith College, and the University of Massachusetts in order to train the next generation of scientists.) But his success also owes to his personality. Over six feet tall with an athletic build from a passion for road cycling and a healthy crop of peppery hair, he has a charismatic presence. But his thoughtful, easygoing nature and a sincere interest in people make him uniquely relatable.
"Even though he may be presenting to a group or talking to a larger audience, you still feel like he's talking to you—just you," says Marc Johnson T'86, a classmate of Chandler's and a managing partner in finance for a private family. "He's got that ability to really hone in and engage directly. It's a talent. And it makes him very good at his profession."
Today, many of the initiatives that were part of the Strategic Brand Investment are permanent fixtures, simply because they work. And their success is encouraging MassMutual to think even more innovatively. One of the company's current directions is something that would have been unthinkable 10 years ago: selling directly to the consumer. Chandler argues that there are certain consumers who simply won't buy through an agent—and capturing that business makes the company stronger as a whole.
Already, MassMutual launched Haven Life, a middle-market online insurance company. And by 2017, Chandler and his team will transform MassMutual.com to include a direct-sales experience for consumers. At the same time, the company is bolstering its agency system. In March, they announced the intention to acquire the Premier Client Group, the retail sales force for MetLife, which will add as many as 4,000 agents to MassMutual's 5,800. In light of these developments, Chandler believes they have a legitimate shot at becoming the best-selling life insurance company in the country.
"What he's been able to do as a marketing executive is help this company think completely differently and do it in a way that has been quite successful," says Jim Kerley, chief membership officer for LIMRA, a financial services trade organization. "He's done a really good job of bringing the company's key constituents together to demonstrate why they have to change and to create change that integrates with their core business."
This February, Chandler was invited to give one of the keynote speeches at the LIMRA Distribution Conference for Financial Services. Wearing jeans, an open-collared shirt, and a sport coat—his new uniform in line with MassMutual's updated dress code—he stood on an imposing stage in a conference ballroom at the Miami Hilton and told the MassMutual story to 450 industry professionals. More than anything, he said, they had to be willing to disrupt themselves—or risk being disrupted. They had to approach new customers in dynamic ways. At the end, applause erupted, the attendees eventually shifted and bustled about, and John Chandler left to catch a plane to his next engagement. But his message didn't leave their minds. Even the next day, they were still talking about how MassMutual is embracing the future with all of its uncertainties—and how they could too. Chandler, once an industry outsider, is transforming into a thought leader.
"What John's presentation was able to do was to illustrate what contemporary financial services companies have to do to reach out to today's consumers. It is an amazing story in the context of a company that's 165 years old," says Kerley. "Certainly MassMutual is benefitting by his leadership in this category and I would say the industry is winning because he's showing how to lead in a new way. That's pretty cool, don't you think?"