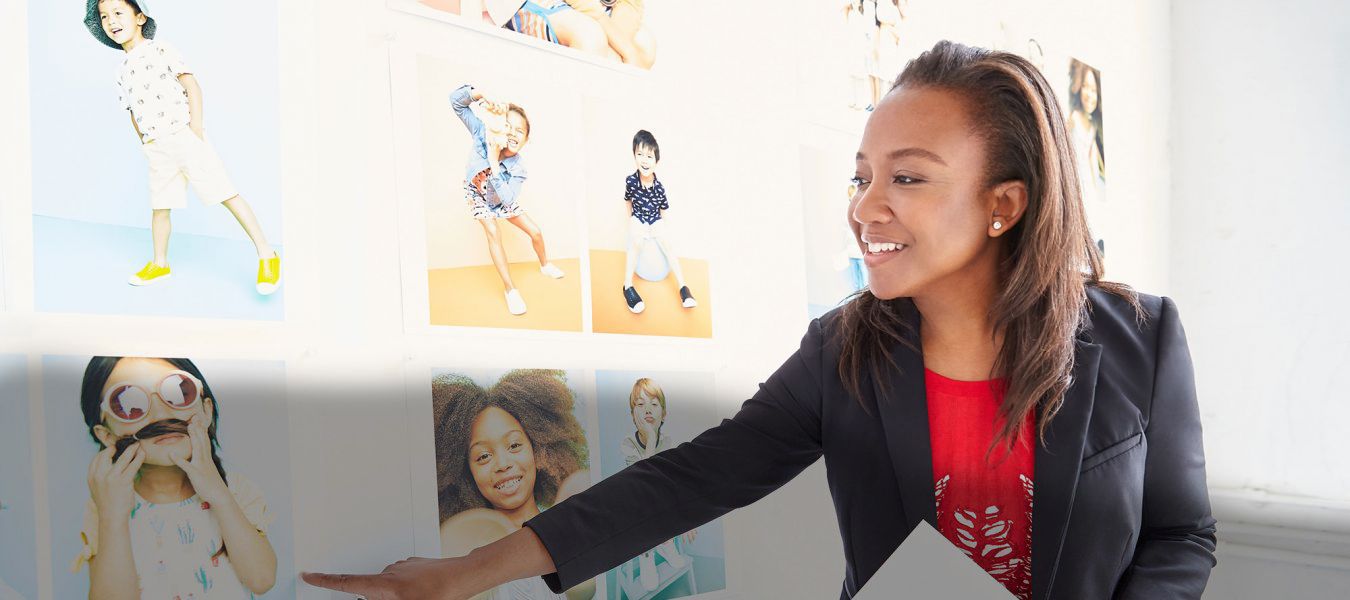 T'00
Deirdre Findlay
Global Chief Marketing Officer, McAffee; former Chief Marketing Officer, Stitch Fix
I'm building a world-class marketing organization that brings together bright, curious, and motivated people and challenges them to disrupt traditional approaches to marketing.
By Jeff Moag
Deirdre Findlay T'00 once served as chief marketing officer at Stitch Fix, a company poised to disrupt the retail industry with personalized clothing packages delivered directly to customers' doors. It's a billion-plus dollar company with plenty of room to grow in the $345-billion retail apparel industry, but coming from her previous gig as global marketing chief for Google's home group, it feels almost like a startup.
She took on the role in June 2018 and set about transitioning Stitch Fix's messaging from explaining what it is (an algorithm-driven personal shopping service that seems to know your style better than you do) to how it can change your life. The company's first integrated brand campaign launched in February with a big push centered around the Oscars.
With a passion for both the arts and sciences in digital marketing, Findlay has quickly become a leader in the tech industry. | Photo courtesy of Stitch Fix
The challenge is uniquely suited to Findlay's deep experience in digital marketing. After Tuck, she spent 11 years at digital marketing innovator Digitas, coming of age as an executive during the same years online marketing sped through its childhood and adolescence. Her cutting-edge work attracted the interest of then-Dean Paul Danos, who invited her to join Tuck's MBA Advisory Board, on which she served more than six years. Findlay's work also gained the attention of eBay, which she joined in 2011 as senior marketing director, and then Google, which hired her away to run marketing for some of its highest-profile products. Her portfolio included Google Home and Google Wifi as well as Chromecast, the Silicon Valley giant's first major hardware offering for the home.
And then one day last spring she sat down with Stitch Fix CEO Katrina Lake, who six months earlier had rung in the company's $130 million IPO with a toddler on her hip. The iconic moment wasn't planned, but seemed emblematic of a can-do company with a business plan predicated on inspiring everybody to be their best selves.
Findlay had been looking for a new challenge, and within minutes of meeting Lake, she knew that Stitch Fix was it. "Katrina is hands-down one of the smartest people I have ever worked for, with a clear vision for how to revolutionize retail. That's a meaty challenge, and it's exciting because it requires me to leverage what I consider to be one of my strengths—building emotional connections that drive business value."
Findlay grew up in New York City, the daughter of Jamaican immigrants. Her father was an engineer and her mother took a decade away from her business career to raise Findlay and her sister, then went back to work in commercial property development.
Findlay, too, is motivated to be her best self. In her professional life, that means using her collaborative leadership style to help her colleagues exercise their own marketing superpowers. | Photo courtesy of Stitch Fix
"Jamaicans have a very strong work ethic. They place a strong emphasis on education, and so from day one I felt there was nothing I couldn't do provided I got a good education, worked hard, and was committed 100 percent," says Findlay. "That's a big part of what shaped me."
Findlay's first passion was dance. Her mother believed ballet instills a kind of grace and discipline that would serve her later in life, and Findlay feels her training influenced the way she carries herself now, both personally and professionally. She was also drawn to sports, playing field hockey in high school and rugby as an undergraduate at Williams. She'd never played before but loved the feeling of teamwork on the pitch.
At Williams she majored in economics, largely at the urging of her parents. ("That's the Jamaican sensibility," she says, laughing. "They wanted to make sure I could get a job when I finished.") But she also developed an enduring love for art and architecture. "I just couldn't stop taking courses in art and architecture, and what I realized is that I'm equal parts left-brain and right brain," she says. "I've always been highly analytical, but I need to be exposed to the creative aspect as well."
Three years in the reinsurance business after Williams reinforced that insight. "I was flexing a lot of my analytical muscles, but it wasn't creative," she says. "You don't want to get creative when it comes to numbers."
She sought an MBA program that would provide a broad business education and the opportunity to explore a variety of career paths. Tuck's general management focus and top ranking seemed a natural fit. The school's small New England campus and close-knit community also appealed to Findlay, who had thrived in a similar environment at Williams.
In her first year at Tuck, Findlay took advantage of the breadth of the curriculum and kept her mind open to possibilities. She sat for some consulting interviews, but knew in her gut that path wasn't for her. "I wanted to own the results of my work, so while it was appealing to be able to influence Fortune 100 and 500 companies, it didn't feel like the complete solution," she says.
"I had an interview with a woman from Pepsi, and I told her, 'Look I'm not sure I want to do marketing but what I do know is that I don't want to be couponing all summer. I want exposure to the strategy work that happens in a company like Pepsi.' And she told me I could design an internship like that," Findlay says. "True to her word, they made that happen and I had a great internship."
She graduated with offers from Pepsi, Colgate, and American Express, and turned them all down. "In my second year at Tuck I made a decision that was counter to my personality and counter to how I was raised," she says. "I made the non-obvious choice."
The catalyst was a lunch conversation with classmate Daphne Streeter in Stell Hall. "She told me how great her summer had been, working with a company at the cutting edge of marketing, dabbling in the new thing called the Internet," Findlay says. The company was Bronner Slosberg Humphrey, a Boston direct marketing firm soon to merge with its digital subsidiary Strategic Interactive Group. Rebranded as Digitas, the company would soon thrive on the synergy of creativity and analytic rigor across offline and online marketing channels.
Findlay arranged an interview and was smitten. "I fell in love with the company because it would enable me to use both my right brain and my left brain," says Findlay. Her first assignment on the Allstate account was serving as a nexus of integration between the company's analog and digital arms, a role that called on her talents for communication and collaboration. "They had two leadership teams in a now-united company, and they sat me in the middle," Findlay says.
Findlay is adjusting Stitch Fix's messaging to reveal how the brand can change your life. | Photo courtesy of Stitch Fix
Near the end of her time at Digitas, Danos visited the company to observe Findlay and her team. Digital marketing is a fast-moving field, and Digitas had earned a reputation for bringing cutting-edge techniques to mainstream firms in partnership with the likes of American Express, Whirlpool appliances, and Allstate insurance. Danos was intrigued with this new dimension of marketing and was eager to have someone on the MBA Advisory Board (now MBA Council) who had a deep understanding of its nuances and potential.
Soon after their meeting, he invited Findlay to join the board. "The work I was doing at the time allowed me to bring insights to the board especially as we thought about curriculum," says Findlay, who was an SVP and part of the management team of Digitas Chicago before moving to Silicon Valley to direct eBay's consumer marketing efforts. One of those insights was the importance of versatility, particularly in the tech sector where much of the opportunity is in small, agile companies in which leaders are often called on to fill a variety of roles.
Findlay's skill in both the art and science of digital marketing fueled her ascent in the tech industry, where according to one study women hold only 11 percent of executive positions. Women of color are even more rare: A study of 177 large Valley firms found that a third had no executives who were women of color in 2016. Ten of those companies had no black women employees at all.
Findlay never set out to be a change-maker: "I was following my heart, and my heart led me to a place where people that look like me are fairly underrepresented," she says. "I am a big believer in giving back to organizations that matter to me, like Tuck and Williams, but also thinking about how I can empower communities in meaningful ways. So when it comes to women and people of color, but specifically women of color, I try to make myself available as a sounding board."
"It's important to be accessible and visible, because it's hard to believe you can get there if you can't see it," says Findlay, who played a leading role in Google's retention efforts aimed at African American and Latinx employees and helped spearhead the company's first ever marketing diversity conference.
As Google's senior director of global hardware marketing, Findlay was given the heady task of leading marketing for the search and advertising behemoth's entry into the home hardware space. She spent five years there and shepherded Google Home through its 2016 launch and meteoric rise to challenge Amazon for the top spot in the smart speaker market. She loved the work and excelled at it—Home sales grew more than 400 percent in 2017—but found herself seeking something more. "I got to a place where I was still doing good work, but it wasn't as challenging as it had been when we scaled," she says. "So I began to think about that next challenge."
Stitch Fix offered that opportunity, at a company built on the confluence of art and analysis that has always brought out Findlay's best work. The company's combination of human and data-driven curation has the potential to reinvent the retail clothing business. Stitch Fix asks customers to fill out a detailed survey when they start with the service, and continually updates that information with purchase history, customer feedback, and even games. In 2018 the company introduced a feature called Style Shuffle, which allows customers to rate a collection of clothing images each day. According to a Fast Company feature naming Stitch Fix one of 2018's most innovative companies, 75 percent of Stitch Fix customers have played the game, creating more than one billion data points. All of that information goes into the algorithms used to make sure the cardigan that lands on a customer's doorstep is just what they wanted, even if they didn't know it yet.
Stitch Fix is revolutionizing the way we shop for clothes. | Photo courtesy of Stitch Fix
The packages—the company calls them "Fixes"— arrive by mail, and if the partnership between the stylist and the algorithm get it right, the clothes inside are a perfect fit, not just in terms of size, but also the customer's style and personality. Customers keep what they like and return the rest for free. The technology allows Stitch Fix to give everyday folks the kind of personalized service once reserved only for those with the means to hire their own stylists. That universal appeal is one reason Findlay is so bullish on the company, which reported sales of $1.2 billion last year in a U.S. apparel market worth about $345 billion. "We're a bigger company than people realize," Findlay says. "Not only are we delivering a value proposition that people need, but it's just the tip of the iceberg."
Realizing that potential requires a shift in marketing strategy. Instead of explaining how Stitch Fix works as it did in the past, the company's new integrated brand campaign is designed to build an emotional connection to the brand. The campaign started with a social media push in early February, followed by a red carpet activation in New York and Los Angeles the day after the Grammys. Oscar night was a fully integrated moment across television, radio, print, and digital, anchored by a 60-second TV spot leading into the Oscars broadcast. The ad starts with a woman trying on a new pair of jeans, looking in a mirror, and smiling as a voiceover says, "Today, Hollywood got dressed up for their big night out, and Molly got dressed for hers." The characters in the spot are diverse and relatable, and the messaging is that everyone can look their best, whether for a Hollywood soiree or a friend's birthday party.
Findlay, too, is motivated to be her best self. In her professional life, that means using her collaborative leadership style to help her colleagues exercise their own marketing superpowers. "Just as Stitch Fix celebrates every unique individual and empowers them, I'm building a world-class marketing organization that brings together bright, curious, and motivated people and challenges them to disrupt traditional approaches to marketing," she says. "It sounds lofty, but we work for a company that's revolutionizing retail and workplace culture. Anything is possible here."
This story was published in print in the summer 2019 issue of Tuck Today magazine.