T'96
Beth Spruance
Vice President of Global Marketing, Origins & Ojon
I love seeing a product come to life—looking at how to make it financially feasible, working with product development and the labs on the formulation, the packaging team on package design, and with creative on advertising.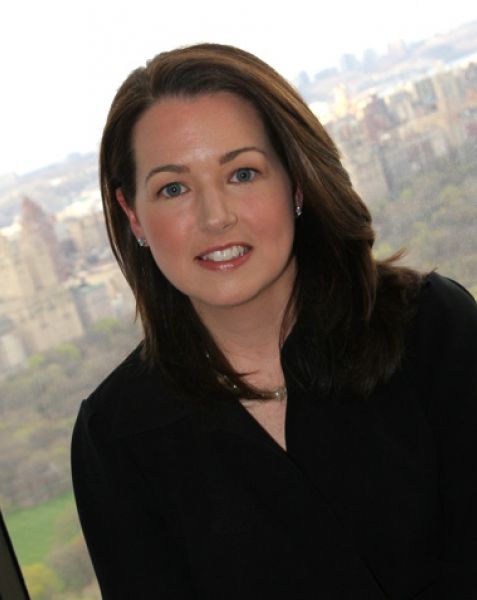 Beth Spruance began her career insuring boards of directors at American International Group (AIG), but found herself much more interested in the companies she was insuring—particularly the retail clients—than the industry for which she worked. She left the job and applied to Tuck with the goal of changing her career to product management. A few years later, she found her dream job at the Estee Lauder Companies, starting with the Clinique brand. Now she is VP of global marketing for Origins, responsible for promoting a brand that's earned a cult following among women for its natural skin care products.
How did Tuck prepare you for your current career?
I was definitely one of those people who went to Tuck with career change in mind. I really appreciated the first-year core curriculum, and the fact that it was really a well-rounded program. Even though I knew I wanted to go into product management or marketing, it forced me to take a broad range of classes, from finance to operations, which have helped me going forward in a number of ways. Even communications has been so important; I was a person who was absolutely horrified by public speaking, and now it's one of the areas I get complimented on the most.
What do you like most about your current role with Origins?
I love seeing a product come to life—looking at how to make it financially feasible, working with product development and the labs on the formulation, the packaging team on package design, and with creative on advertising. It's still exciting to think we made all of these products that consumers love and that really make a difference in their lives. Skin care is a real confidence booster, and you don't realize the impact of someone having clear skin for the first time in their lives. I'm not curing cancer, but there is an aspect of helping people that is wonderful to see.
How do you convince customers that a "natural" product is as potent as something produced from chemicals in the lab?
That is definitely a challenge we face. Sometimes natural is perceived as more gentle and less efficacious, but we clinically test every product to support the efficacy with clinical performance claims for our consumers. We talk a lot about the discovery of our ingredients as well. Any day you can come into an Origins store and ask for a sample of any product in the store or sit down and get a 20-minute mini-facial for free. It's all about how do we get people to experience our products, because we know once they do they'll fall in love with them.
How are you able to translate the message of your brand as you expand into other countries?
We have core pillars of the brand—powered by nature, proven by science, an open, barrier-free sales environment— and we'll never change those tenets. But we will do research to find out which ones resonate the most and may amplify one over another. We just launched in Mexico, for example, and found that there was already the acceptance of the power of nature, since so many consumers had grown up using home remedies. So there was a little less convincing that needed to be done that nature could be efficacious.
The marketing landscape is changing so rapidly.
What new tools are you using to engage consumers?
For Origins, it is all about building awareness right now and while we invest in traditional media such as print and digital display, we are also experimenting with newer tools in the social space such as Facebook Offers. You can really target consumers, not only those who like Origins, but also those who like competitive brands and offer them opportunities to come and discover our brand through offers for a free mini-facial and free samples. We've seen upward of 100,000 people claiming those offers, and heard more noise than usual bubbling up from the counters about them driving consumers into stores.
How do you deal with consumers posting bad reviews online?
We've put a really strong focus on answering every single person that comments online or on our social platforms, good or bad. We can turn some of those complaints into positives by inviting the consumer into the store for the experience she should have had. And then they go back online and say, 'I had the best experience ever.' Social can be daunting at times because not everything is within your control, but what is within your control is to get back to the consumer immediately and try and understand and resolve the situation. Unlike print, it allows us to have a two-way conversation.