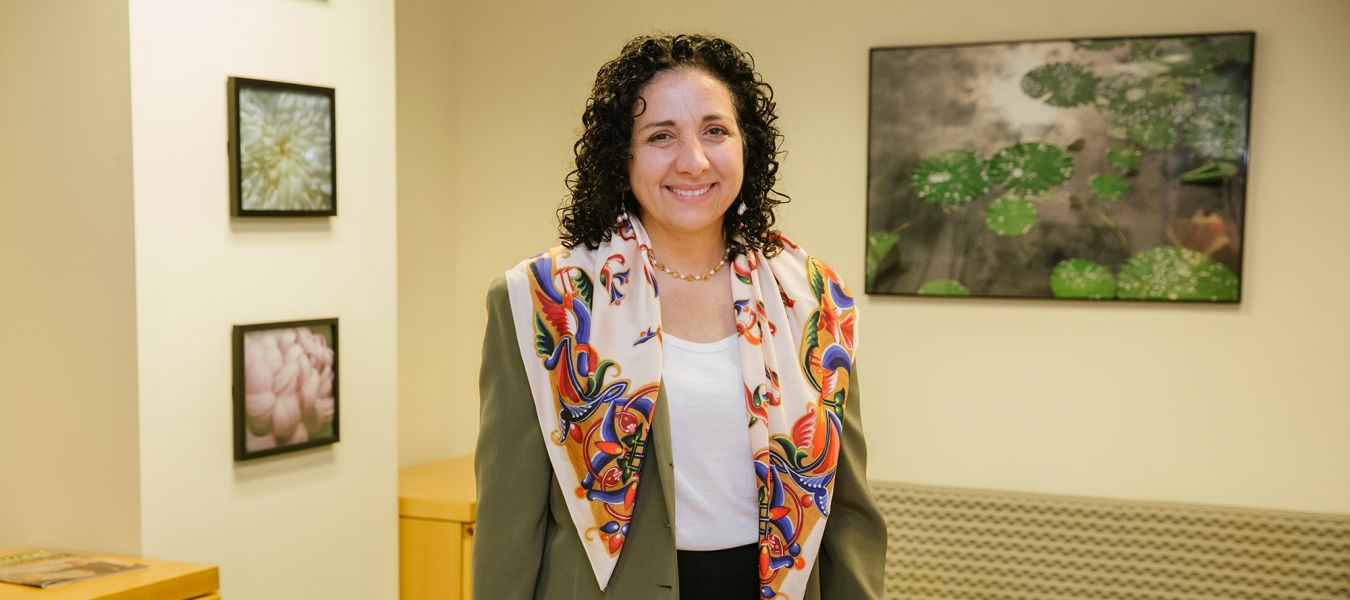 T'96
Christine Amirian
VP of Client and Category Solutions, Disney ABC Television Group
My career began in media planning and marketing, and now it's in media. But it's always been about how do you reach and communicate with people effectively? It's not a formula. That's why you have to remain intellectually ambitious and curious.
Christine Amirian is in her office in New York City, talking rapidly and swinging her arms with enthusiasm. "The ability to adapt is more critical now in media than it's ever been," she says excitedly. "The future of media is going to be fascinating. But it will still be about reaching people through various media and compelling content. To succeed, you need to have an intrinsic interest in connecting people and understanding how that evolves."
Amirian studied economics at Columbia University. After graduating in 1986, she worked for eight years in advertising, first at J. Walter Thompson in New York and then at Publicis. At that point, she decided to go to business school. "When I visited Tuck, the people were down-to-earth, friendly, and very smart," Amirian says. "That welcoming environment proved itself when I was there, and now, it still feels that way."
During her second year at Tuck, as she was deciding which direction her life would take, she went on a ski trip to Big Sky, Montana. Somehow, a Tuck alumnus working at Kraft Foods tracked her down about a job offer. "I don't know how he found me, but I was debating which way to go and that personal call made all the difference," she says.
After graduating Tuck in 1996, she worked in brand management at Kraft for eight years. "I learned a tremendous amount and worked across different teams and cultures," Amirian says. "I used the negotiations skills I learned at Tuck—not to make deals but to find common ground and move ahead as a team."
Later, Amirian moved to the technology world, working for Panasonic and then Samsung, directing the companies' marketing organizations. She worked across the globe—Europe, Latin America, Japan, Korea, the Middle East. Amirian, a New York City native whose maternal grandmother was a refugee of the Armenian Genocide of 1915 and whose father hailed from Egypt, says her background led to an ease of working across country lines. "There were vast differences in culture, but it's a matter of putting people at ease, listening to them, and learning to adapt," she says.
Amirian likes to be challenged and try new things, so in 2016, she took another leap and accepted a job at The Walt Disney Company. As the current vice president of client and category solutions, Amirian's team is in charge of supporting sales groups with information, strategies, and insights so they can go to market and sell more effectively.
"My career began in media planning and marketing, and now it's in media. But it's always been about how do you reach and communicate with people effectively? It's not a formula," says Amirian, who lives in New Jersey with her family. "That's why you have to remain intellectually ambitious and curious. How do you take what you already know and listen to the people around you and synthetize that to get where you want to go? Tuck is great preparation for that."