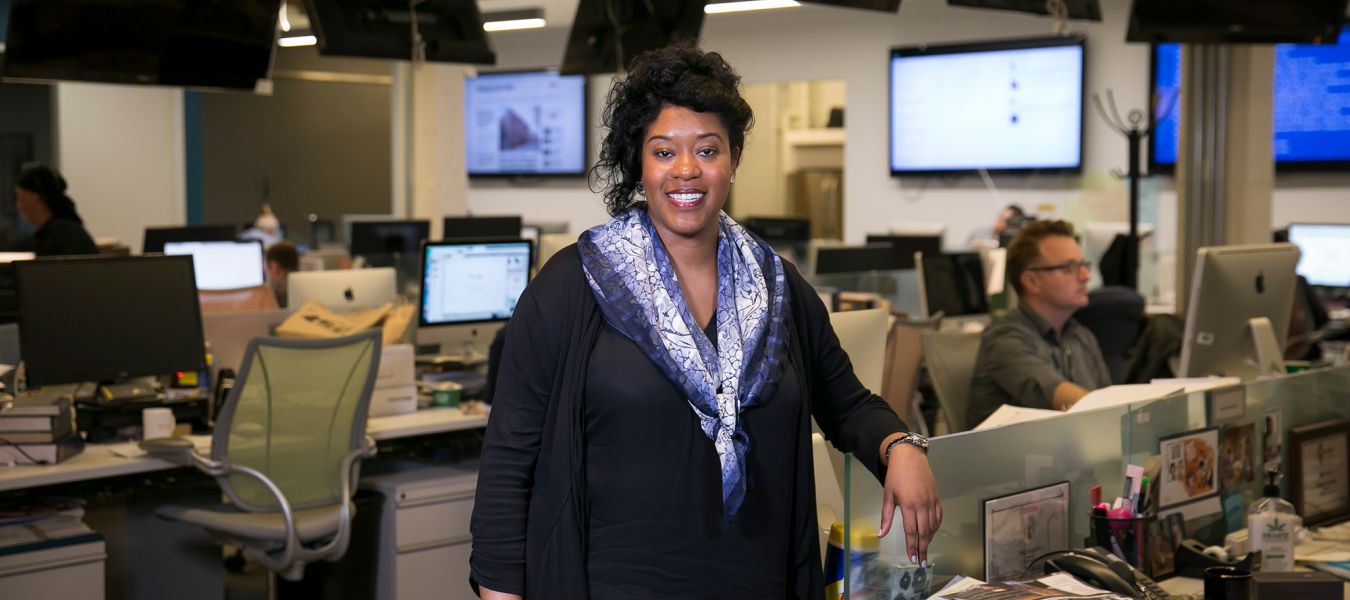 T'09
Nykia Wright
Chief Executive Officer, Chicago Sun-Times
Tuck trained me to really dissect a problem quickly, define what that is, and then find a solution. It really cemented that discipline.
Nykia Wright T'09 is CEO of the Chicago Sun-Times, charged with leading the city's oldest newspaper into a new future. Wright, an Atlanta native and newcomer to the news business, came to the job with a background in consulting, the instincts of a problem-solver, and a work ethic honed from childhood.
"If I got to track practice early, my dad would ask how can I use that time before the coach arrived to improve," Wright recalls. "And my mom, if we were driving, would say, 'You've seen those trees before. Have you not got a book to read?'"
Having grown up in the south, just three generations removed from slavery, Wright's parents were determined to place no limits on how high she and her siblings could rise, or the effort they should make to get there.
Wright earned her finance degree from Carnegie Mellon and an international business certification at the University of Cambridge, during which she was partnered with J.P. Morgan Chase in the City of London. Back in Atlanta she worked in financial analysis, examining the books of more than 1,000 franchise concepts and making recommendations to improve profitability and reduce bondholder risk. The work sharpened her analytical skills and reinforced her desire to earn her MBA and pursue a consulting career. Tuck was always at the top of her list.
"I actually kicked the tires at Dartmouth a couple of times," Wright says. "I went to the Diversity Conference and the Women in Business Conference, and each time I fell more in love with the campus."
When she came to visit Tuck, the airline lost the bag containing her shoes. Wright recalls her host, a Tuck first year named Nancy Block Reid, emailing friends to see if anyone had a size 9 pair of heels Wright could borrow.
"Now, am I going to wear another woman's shoes? No. But that gesture meant a lot," Wright says. "Tuck felt like home to me."
The coursework developed business skills she uses every day, from Corporate Finance and Decision Sciences to U.S. District Judge Paul Barbadoro's elective, Managers and the Law. "Tuck trained me to really dissect a problem quickly, define what that is and then find a solution. It really cemented that discipline," she says.
The school's most lasting gift, however, has been the relationships she made there, Wright says. After Tuck, when she was working at Huron Consulting Group, her name came up for a project at Dartmouth. The college's CFO "knocked on doors at Tuck and asked people who I was," she says. "It goes to show that you never know who's calling whom for a recommendation or character reference."
Case in point: When Wright joined Huron, she received coaching from one of the managing partners, Edwin Eisendrath. In July 2017, Eisendrath led the consortium that bought the Sun-Times. Two months later he asked Wright to be his COO.

"He had been vetting me over the years and I didn't realize it," she says. "I was at the Sun-Times two weeks later."
The offer was a powerful vote of confidence, especially considering the challenges of the job. Eisendrath's vision is to make the Sun-Times the voice of working-class Chicagoans, a newspaper grounded in local reporting and journalistic excellence that serves as a counterpoint to elite coastal media.
Though its circulation has long trailed that of its cross-town rival the Chicago Tribune, the Sun-Times has won eight Pulitzers and produced such newspaper icons as Roger Ebert and Mike Royko. In the last decade however the Sun-Times endured rounds of layoffs, ownership changes and a bankruptcy, while the newspaper industry as a whole declined in the face of consolidation, online competition, and precipitous drops in circulation.
Staff morale was at a low ebb, and as Wright dug into the books she found a warren of wasteful spending and restrictive contracts. The Sun-Times was paying for telephone lines in a professional baseball press box that had no phones installed, and a costly overseas call-center that produced little useful data. With just one week to get out of the contract, Wright terminated the agreement before she'd identified a new provider.
"People said you can't bring a call-center Stateside if you're going to articulate any savings," Wright says. "Not only did I bring it Stateside, I brought it into the Chicagoland area and we are now saving hundreds of thousands of dollars on this call center."
The lesson goes all the way back to Tuck: Define the problem, then find a solution. "I owe a lot of who I am to Tuck," Wright says. "It really transformed me as a business thinker."