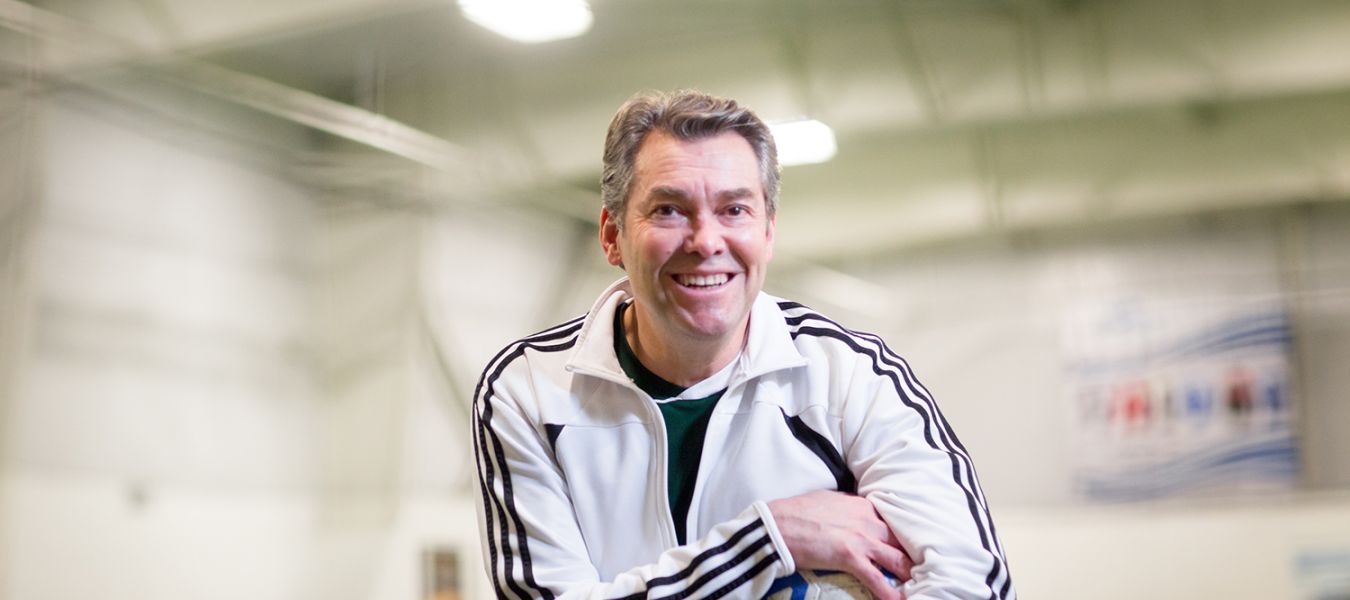 T'84
Peter Grieve
Founder and Managing Partner, Windy River Group; Director, Grassroot Soccer
I've always envisioned myself as an entrepreneur.
Soccer has long been a part of the life of Peter Grieve T'84. He played soccer growing up and at the U.S. Naval Academy. After graduating in 1977, he spent five years in the U.S. Marine Corps as an infantry officer and deployed to the Philippines and Hong Kong. Then, he had a decision to make: law school or business school? He was interested in working in politics and a mentor encouraged him to choose business school.
He picked Tuck because of the energy he felt on campus. "The students were engaged, active, and they cared about each other," Grieve says. "Team culture was pervasive. It was like, 'This is the bar. Now let's get as many of us over the bar as we can.'"
At Tuck, he was the captain of the soccer team his first year. That year, he challenged Harvard Business School, via a telegram he sent to the president of the student board, to a match that later became the MBA World Cup, now the longest-running graduate school athletic tournament in the world. The last line of his letter read: No response or no show will be considered a forfeit. HBS showed up in matching white kits. "They crushed us 7 to 1 that first year, but the next year, we went there and beat them 3 to 2," Grieve remembers. "That started the back and forth rivalry."
After Tuck, Grieve spent 25 years with Goldman Sachs, where he co-founded and led the firm's largest private wealth management practice around the world. In 2009, he walked away from being a managing director at Goldman Sachs to help found Cordia Bancorp Inc., a group that intended to acquire failed banks from the FDIC. Their flagship was the Bank of Virginia. "I've always envisioned myself as an entrepreneur," Grieve says.
He became the founder and managing partner of Windy River Group, a private investment firm with interests in banking, industrial technology, and professional soccer. Wait, soccer? That's right. Grieve never set out to work in sports, but because he's been an avid soccer player his whole life—he still plays in a men's league at home in Topsfield, Massachusetts—buying soccer teams became a natural fit.
Grieve serves as a board member of an organization called Grassroot Soccer, which was started by a Dartmouth graduate to teach young people from Africa about HIV prevention through a soccer-based curriculum. At his first board meeting, he met Methembe Ndlovu, a Zimbabwean footballer and co-founder of Grassroot Soccer, who, in 2008, founded the Bantu Rovers Football Club, a pro soccer team in Zimbabwe. Ndlovu was looking for capital, and Grieve offered to help.
So they made a deal and in 2009, Grieve put up the capital to buy the Bantu Rovers. Grieve still has the inaugural jersey from the team framed above his desk. "I learned some valuable management lessons about owning a club," he says. "It was a great proving ground."
He's trying to buy more teams and build a network of clubs where one doesn't currently exist. "We are building a global franchise in football," he says. "Soccer is this universal game that anyone can play. It's such an icebreaker."
The biggest lesson Grieve learned from his time at Tuck? "That you can create something out of nothing," he says. "All you need is an idea, a drive, and a passion."