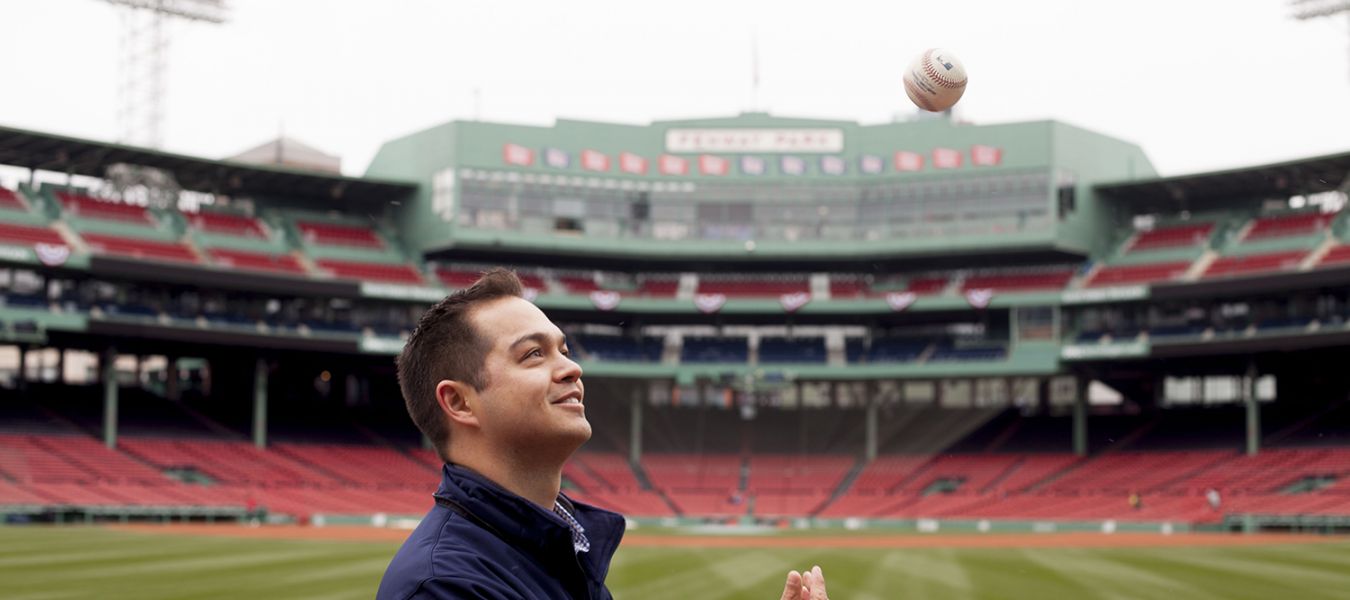 T'12
Kurt Zwald
Senior Manager, Business Development, Boston Red Sox
If it's something you really want to do, you have to be willing to jump at those opportunities.
Kurt Zwald T'12 is walking through a completely empty Fenway Park on a Tuesday evening. It's not always this quiet at his workplace. "When we have 38,000 fans in the ballpark, and you see the die-hards, the first-timers, the families and little kids—that energy and excitement from the fans is really what invigorates me every day to come to work. You can't beat it," Zwald says.
As an undergraduate at Boston College, Zwald, who grew up in Hawaii, says he thought about working in sports, but as an English and communications double major, he pictured himself on the journalism side. After graduating in 2006, he flew home to Hawaii, where he planned to spend a fun summer before figuring out a real job. That summer, the Hawaii Winter Baseball league started up, a professional developmental league then affiliated with Major League Baseball.
Zwald sent an email to the league saying he was willing to work for free and that he just wanted experience. He was offered a $6 an hour gig as a marketing assistant. He liked the job, and the league liked him. The next year, he got promoted to corporate sponsorship sales. By 2009, though, the league shut down. Zwald was 25 and had to figure out his next steps. "That's when I thought, maybe business school would be a good option," he says. "As I looked at potential careers in the sports industry, I felt that an MBA would help build out my skill set and also be a way to set myself apart."
Tuck stood out to him for the idyllic community and the camaraderie he felt during his initial visit. During his time at Tuck, he played ice hockey and did his intern-ship with ESPN. In the middle of his second year, he saw a posting in the career office for a fellowship with the Boston Red Sox. He applied.
"They called back and said, 'We'd love to interview you, but you should know this is a temporary, six-month position that pays $9 an hour,'" Zwald remembers. "But the only part I heard was they wanted to interview me." He drove two hours to Boston for the interview, and a week later, the Red Sox recruiters called again. They turned him down for the fellowship, but they said they had a full-time position as a business analyst that he should inter-view for instead. He got the job and after graduating from Tuck in 2012, he moved to Boston. The next year, when the Red Sox won the World Series, everyone on staff, including Zwald, earned the iconic championship ring.
By 2014, Zwald got promoted to senior manager of business development for the Red Sox. "Our department is a bit like an internal consultancy. How can we use data and analytics to better inform business decisions?" Zwald says. "Typically, a lot of that work is with the ticketing department: What are our high- and low-demand games? Where can we optimize our pricing? We also work with our marketing department to get a better idea of who our fans are and how can we do a better job engaging with them."
Zwald's biggest takeaway from his career in sports so far? Be willing to take a chance. "A lot of classmates would never have looked at that $9 an hour, six-month fellowship. But had I never interviewed for the fellow-ship, I never would have gotten the call back for the other full-time position," he says. "If it's something you really want to do, you have to be willing to jump at those opportunities.