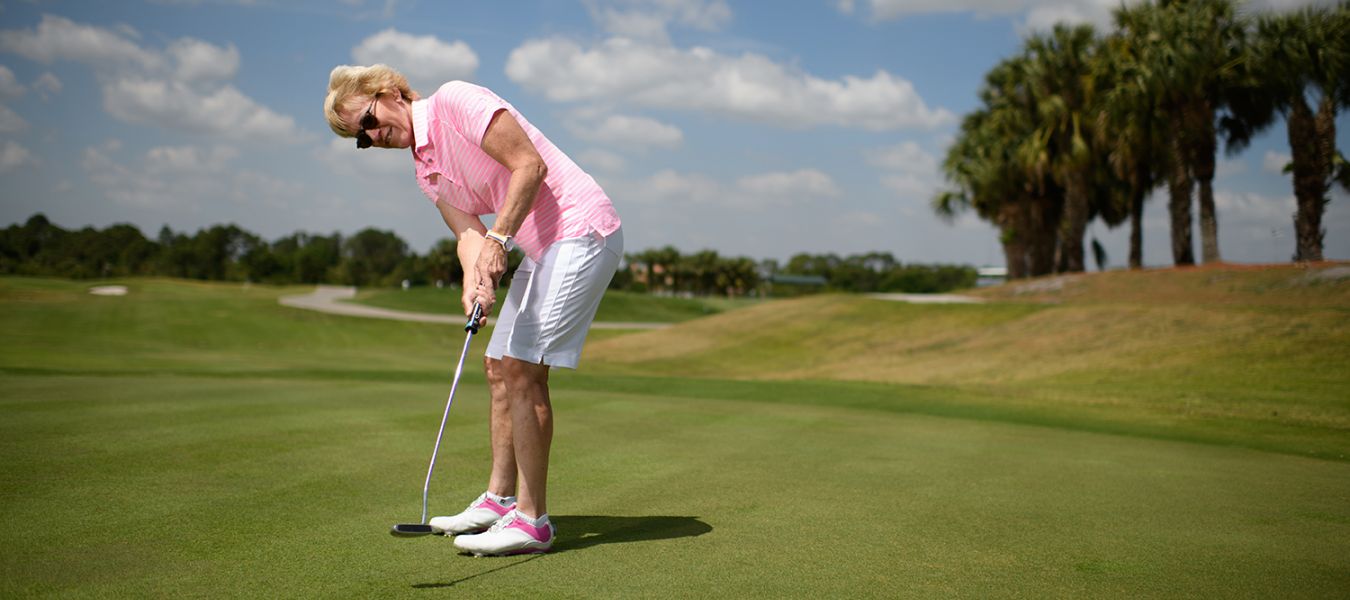 T'90
Leslie Andrews
Founder and CEO, Leslie Andrews Golf
I loved the group work at Tuck—it has been so relevant to my career, and it made perfect sense to me as someone who played a lot of team sports.
Andrews attended Wellesley College, a three-sport athlete who played field hockey, basketball, and lacrosse, and graduated in 1982. "I always knew I wanted to work in sports and I kept aiming for that goal until I found my niche," Andrews says.
Post college, she worked in marketing for a financial services firm in Boston. "I found that I really liked marketing, and little did I know how valuable those skills would be in my own business," she says. "I wanted to go to business school and Tuck seemed like a perfect fit for me with its emphasis on team, small classes, and its culture."
At Tuck, she played ice hockey, skied, and took advantage of the area's outdoor activities. "I loved the group work at Tuck—it has been so relevant to my career, and it made perfect sense to me as someone who played a lot of team sports," Andrews says.
After Tuck, she spent a summer in San Francisco and at the age of 30, learned to play golf, a sport she picked up for fun with her sister. She spent two years in management consulting, then shifted gears to work for nearly a decade at ESPN, first as a vice president of integrated sales, then as head of marketing for ESPN.com. Finally, she'd found that collision of business and sports.
While at ESPN, Andrews found herself using her golf skills to help advance her career. She'd attend corporate golf events where there would be 120 people, just two of them women. "We'd entertain clients on the golf course, and I was one of the few women who played," Andrews says. "Golf allowed me an opportunity to interact with clients, my boss, and my boss' boss. I didn't understand why other women didn't join. I'd ask and they'd say, 'I don't play,' or 'I'm afraid.' So this idea came to me: Maybe I could create a business that would help women play golf for business."
With that, in 2002, she left ESPN and got trained to become an LPGA teaching pro. "I remember a professor at Tuck asking if we considered our-selves risk takers or risk adverse. I said I was risk adverse," she says. "But I'm actually a risk taker. I'm an entrepreneur at heart."
She launched her company, Leslie Andrews Golf, and started teaching thousands of businesswomen to play golf. She was hired by Tuck, Goldman Sachs, Harvard Business School, Barclays, and others firms and institutions. In an article she penned in Forbes, Andrews wrote: "It's really not the golf that matters, truth be told. It's the secret club. It's the secret language. It's being in the game, being where decisions are made. And that means being on the golf course."
The LPGA recruited her in 2009 to serve as the executive director of the LPGA Teaching and Club Professionals. She published her first book, in 2012, called Even Par: How Golf Helps Women Gain the Upper Hand in Business. "I realized I could do something I loved and make a good living," Andrews says.
In 2017, she was considering retirement. Then she went to her Wellesley reunion and set up a tee time at the college's nine-hole golf course, Nehoiden Golf Club. One thing led to another, and Wellesley offered her a job as the director of golf. She took the job and plans to transform Nehoiden into a destination for women looking to advance their careers through golf. "This is why you should always attend your reunion: You never know where networking is going to occur," Andrews says.