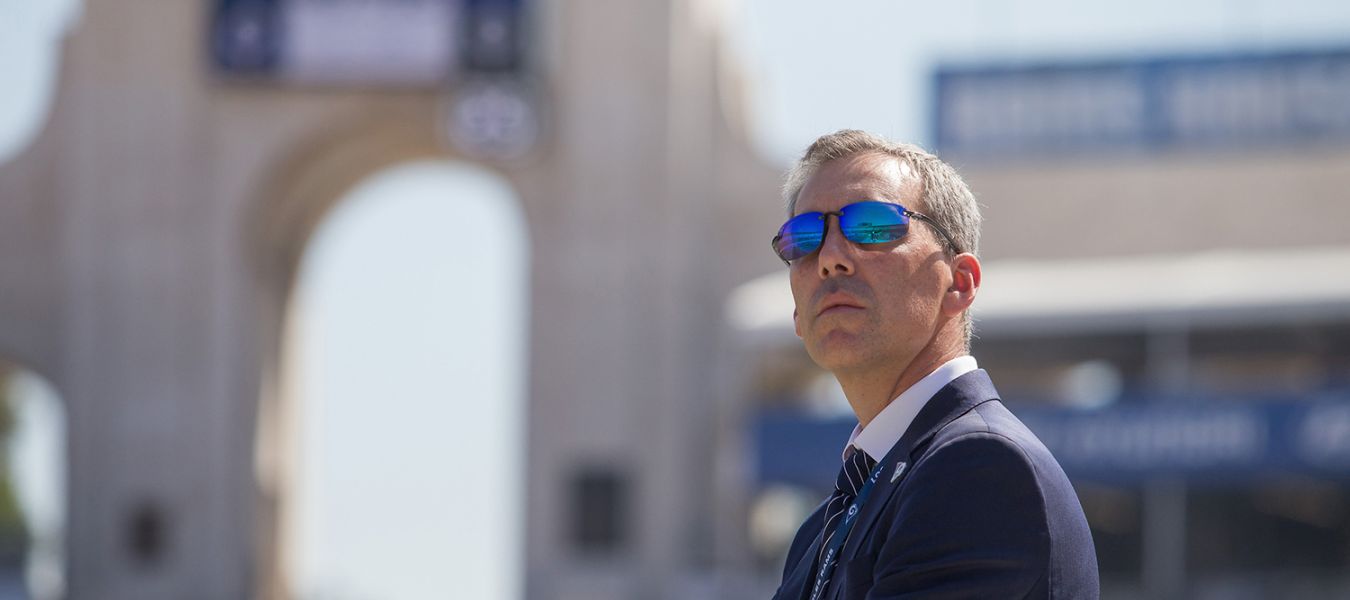 T'06, D'99
Kevin Demoff
Chief Operating Officer, Los Angeles Rams
I get to work at a place that creates unique memories for fans, brings joy to an entire region, and changes the lives of people not only on Sundays but 365 days a year.
Kevin Demoff D'99, T'06 grew up surrounded by NFL players. His father, Marvin Demoff, was a former public defender turned sports agent for football stars like John Elway and Junior Seau. As a kid growing up in Los Angeles, Demoff would stay home from school the morning of the NFL draft. "I grew up around sports, but I was never sure I wanted to work in sports," he says.
He attended Dartmouth College, where he studied history and history of art and was the editor of the school newspaper. He thought about going to law school or becoming a journalist. "I didn't take any economics or math courses that would prepare me for a life in business," he says.
After graduating in 1999, a Dartmouth alum offered him a job working for an Internet startup called Broadband Sports that eventually got into the business of building websites for NFL teams. He left a year later to work as the director of football operations for the Los Angeles Avengers, a team in the growing Arena Football League. He was 23.
When he was offered a job with the Tampa Bay Buccaneers, he had a choice to make: Follow this career in sports or return to school for a crash course in business. "I figured if I was going to grow in the space and continue in a sports management role, then going back to business school was the only option," Demoff says. Picking Tuck was an easy choice, since he'd loved Hanover as an undergrad.
While at Tuck, he kept working for the Buccaneers, doing on-the-side consulting after classes and spending his summer break working in Tampa. Like everyone else at Tuck, he went through corporate recruiting and tried to envision his future. "I considered going another route, but when everyone kept asking me how they could get into sports, I figured I should stick with it," he says.
He graduated from Tuck on a Sunday in 2006 and started his job as senior assistant with the Buccaneers that Monday. He worked there for nearly four years when the St. Louis Rams called with an offer that was too good to resist. "The Rams inquired about me joining them as co-general manager, running both the business side and the football side. I saw it as an opportunity to grow my skill set," he says.
In 2016, Demoff was part of a working group led by Rams Owner Stan Kroenke to spearhead the Rams' landmark move back to Los Angeles, returning the team to its home city after 22 years away. He also helped secure approval for the team's new 70,000-seat stadium, which is currently under construction at Hollywood Park in Inglewood.
"I've gotten a chance to combine a lot of the things I learned at Tuck: business strategy, hiring people, managing complex personalities and situations," Demoff says. "I get to work in media, real estate, and every other possible business venture."
Ask him what he loves most about his job, and he'll tell you that it's that feeling he gets standing on the sidelines of an NFL game, watching 75,000 fans cheer at once. Says Demoff, "I get to work at a place that creates unique memories for fans, brings joy to an entire region, and changes the lives of people not only on Sundays but 365 days a year."