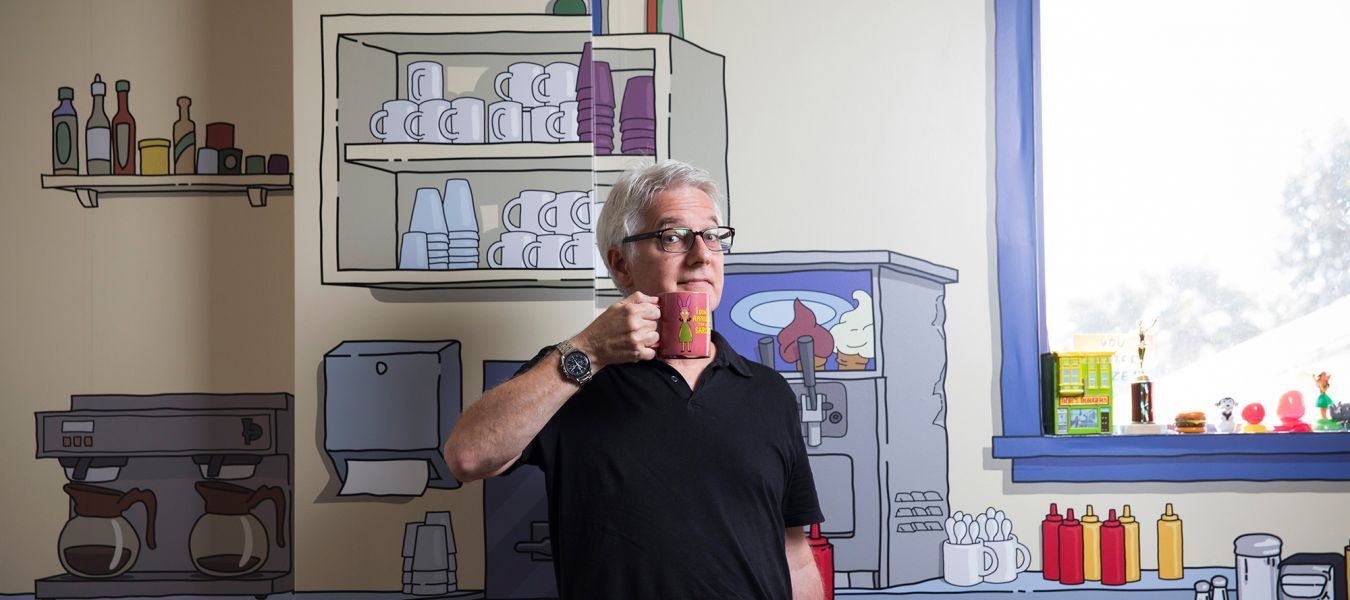 T'92
Greg Thompson
Screenwriter
Be open to other opportunities. It took me being unhappy in a job to find something totally new. That's the unexpected blessing of a job you're not satisfied with.
Greg Thompson grew up in Seattle and studied creative writing at the University of Washington. After college, he moved to New York to work in marketing in book and magazine publishing for titles like Better Homes & Gardens and Billboard. After seven years in New York, he enrolled at Tuck to open up his career to more opportunities.
At Tuck, he made lifelong friends, was a regular at the Dartmouth Skiway, and did a marketing internship at the footwear company Timberland. "I liked that I was diving into things I didn't know at all," he says. "Like cost accounting, which isn't something I thought I'd be remotely interested in, but I ended up really enjoying solving the puzzles of how a company could get a handle on what its cost drivers really were."
He knew he didn't want to go into banking or consulting. So he stuck to marketing and after graduating Tuck in 1992, he got a job doing market planning at the Los Angeles Times. His roommate in L.A. was a friend and fledgling screenwriter named Aron Abrams.
One night, Thompson and Abrams were discussing a script his roommate was working on and Abrams said, "Why don't we try to write something together?" So they wrote a movie script about the National Football League players' strike of 1987—the script sold but was never made into a film.
At the same time, Thompson was having second thoughts about his publishing career. "I began to think, what do I do best? I'm not really sure I'm a business leader. What I do best is writing. So I'm going to take a risk at that," Thompson says.
In 1995, he quit his job at the LA Times to become a screenwriter. He and Abrams started writing spec, or sample, scripts for TV shows. After only a year of trying, they got hired on a couple of shows, but Thompson wasn't sure if it was beginner's luck. "I would always feel like this might be the last year I work. We may not get a job after this one," Thompson recalls.
The writing duo had major success in the years that followed, working on hit comedy shows like 3rd Rock from the Sun, King of the Hill, and Everybody Hates Chris. They wrote on the first season of the Fox animated show Bob's Burgers together and then in 2010, Abrams died unexpectedly. "It was devastating," Thompson says. "He was such a close friend and my business partner. It was hard to keep on being funny after a loss like that."
Thompson compensated by taking extra time to research and develop ideas and leaning more on his fellow writers as a sounding board, figuring out a way to write on his own.
His advice to others looking to break into TV writing? "Read and write as many scripts as you can. Don't expect to succeed with your first script," he says. "Be open to other opportunities. It took me being unhappy in a job to find something totally new. That's the unexpected blessing of a job you're not satisfied with."