Feb 22, 2022
Reflecting on Black Legacy Month
By Dia Draper
Associate Dean for Diversity, Equity, and Inclusion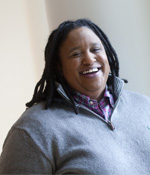 Across the Dartmouth and Tuck campus, Black History Month–which we call Black Legacy Month–is cause for celebration, education, and awareness. Throughout this month, the Tuck and Dartmouth communities have offered numerous events and programs recognizing the Black experience and engaging the Dartmouth community in an appreciation for all that Black people have contributed to the campus and the world at large.
Banners around Darmouth's Green feature Black faculty, staff, and students. A larger banner hangs over Main Street in downtown Hanover, taking the celebration from campus to the community. Dartmouth's inaugural Senior Diversity Officer, Dr. Shontay Delalue shared her story as the month kicked off and the Black Students at Tuck Association (BSAT) hosted Tuck'Tails, a long-standing Tuck tradition of fellowship and food held on most Thursday evenings. BSAT also sponsored a movie night, inviting 50 classmates to watch the recent Netflix hit: The Harder They Fall. The group also held space for each other over small group dinners and will connect with peers from all over the country as the group hosted the annual Black Ski Weekend.
This week, we wrap up our celebration with the Dartmouth Black Alumni Panel, featuring Tuck alumna Nykia Wright T'09, and next Monday we conclude with keynote remarks from activist Angela Davis.
I marvel that despite a painful and disgraceful history of ill-treatment, Black Americans have made our mark on everything from civil rights and the justice system to agriculture, aerospace, sports, art, medicine, literature, technology, politics, education, and so much more.
As Black Legacy Month draws to a close, I encourage you—no matter your race, ethnicity, or creed—to think of the life and legacy you want to create and what kind of person you want to be. Learn a little more about some of our community members and how they are defining and crafting their own legacies, in our new One Tuck, Many Voices blog series.
There is no one "right" way to be an activist, ally, or advocate for equity and inclusion. No one else can impact the world the way that you can and, with your unique set of gifts and talents, the world needs you more than ever.
Wishing you well,
Dia
Dia Draper (she/her)
Assistant Dean for Diversity, Equity and Inclusion
Many Voices. One Tuck.
---