Mar 30, 2023
'The Energy Industry Needs More Tuck MBAs' and Other Takeaways from CERAWeek
By Madeleine Bothe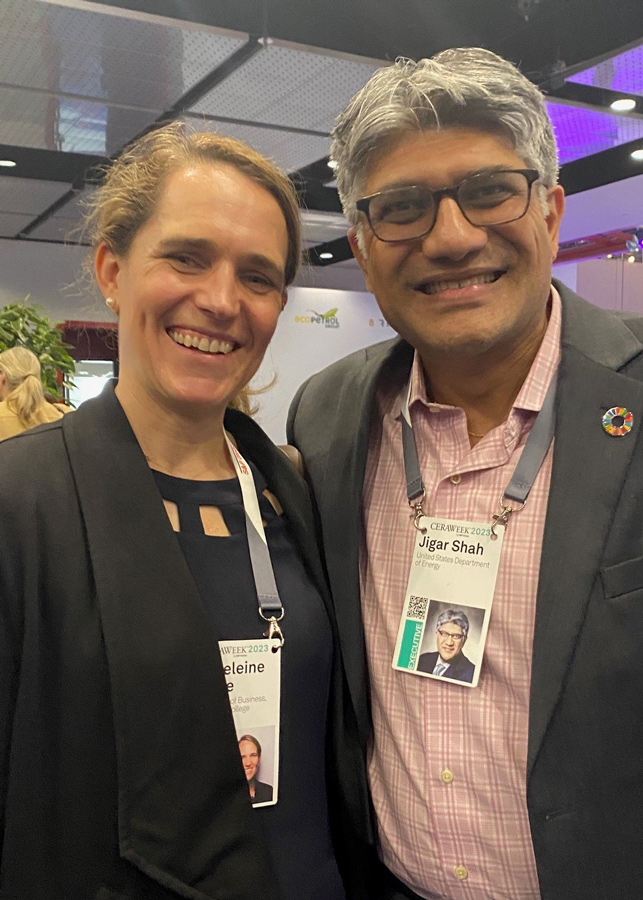 Madeleine Bothe, assistant director for the Revers Center for Energy, Sustainability and Innovation and the Center for Business, Government & Society, reflects on her first time attending CERAWeek—an annual energy conference organized by S&P Global—and why the energy industry needs more Tuck MBAs.
There are so many reasons why attending CERAWeek should be part of your Tuck experience. This is just one of the opportunities that are open to Tuck students who opt to make energy, sustainability, and climate issues an important part of their career or personal goals during their Tuck experience. This annual conference takes place in the Hilton of Americas in Houston, Texas, and is organized by S&P Global after its acquisition of IHSMarkit and Cambridge Energy Research Associates (CERA). Over 5,000 delegates from over 90 different countries descend on Houston for five incredibly packed days of topics from traditional oil and gas, carbon markets, energy security, decarbonization, sustainability, tech, mobility, and so much more.
"The energy industry needs to take responsibility and lead the way."

—H.E. Dr. Sultan Ahmed Al Jaber, Minister of Industry and Advanced Technology; UAE Special Envoy for Climate Change and COP28 President Designate; United Arab Emirates Minister of Industry & Advanced Technology
There were many highlights but the themes that came up included energy security, especially in the context of Europe's gas supply, hydrogen, technology, and the Inflation Reduction Act (IRA) and what that means for business as well as new and existing energy and manufacturing infrastructure. Although it was fully apparent to me before, it has also never been so obvious to me that energy is not only an industry in and of itself but intersects with just about every other industry. For example, the IRA is a political proverbial "carrot" that will accelerate tech, cities, mobility, banking/finance, law, and so much more. It was stressed that for the energy transition to be successful, digital tech is necessary to cut low-hanging fruit emissions. The formula for the energy transition isn't just one equation but hydrogen, in all its colorful forms, will help get us there and the infrastructure permitting is the biggest barrier. So my major conclusion? They need Tuck MBAs in energy now! Here's why:
Wise and decisive leaders are so important. It was no secret at CERAWeek that the energy industry is an incredibly exciting place to be right now. The energy transition, the geopolitics, the IRA, and sustainability are all simultaneous priorities of self-proclaimed "energy molecule companies" that are morphing from traditional oil and gas companies. The speed of the tech sector alongside energy makes Tuck's wise and decisive leaders uniquely special right now. David Rubenstein, co-founder & co-chairman of The Carlyle Group, talked a lot about inflation and domestic challenges. When speaking about the debt ceiling and the spending budget, he said, The time it takes to solve a problem in Washington is the time that's available. This might work for the government but, fortunately, the energy industry can work much faster than that!
Teamwork. Collaboration was the underlying thread during every panel. John Kerry, special presidential envoy for climate for the U.S. Department of State, said that cooperation with China on methane, coal, and deforestation, will be significant in emissions control where "climate is a global issue." Adam Selipsky, the CEO of AWS with a goal of net zero for all of Amazon by 2040 and powered by 100% renewables by 2025, talked about the "two pizza team." He meant that no team should be so big that they would need more than two pizzas to feed the group. Depending on appetite, teams of this size must bring together well-rounded and diverse individuals for the best chance of success. Of course, I am biased, but Tuck students clearly fit this mold given their ability to not only take a full load of elective classes, but also simultaneously support their fellow students in recruitment, take on pro bono projects on carbon capture, organize Tuck Winter Carnival and calculate the amount of carbon offsets needed to make it a net zero event, and organize Renewable Energy Finance Challenges!
Tuck Centers and Alumni. I would be amiss if I did not mention that attending CERAWeek would not be possible without the Revers Center for Energy, Sustainability and Innovation and the relationships we have fostered with Tuck and Dartmouth alumni in energy that have made this unique opportunity available to Tuck students. Craig Urch T'00 is the Global Power and Renewables Commercial Director at Gas, Power & Climate Solutions at S&P Global Commodity Insights who takes the time each year to brief our students (and me) about how to capitalize professionally by attending this conference alongside thousands of other delegates. He checked in with me and continued to offer to support me and other Dartmouth delegates throughout. Thad Hill T'95, President & CEO, Calpine Corporation is an annual delegate at a CERAWeek plenary session and also checks in with us on our attendance. The number of Tuck and Dartmouth alumni attending as well as heading to Houston for post-MBA careers so CERAWeek is a fantastic networking hub for you.
Innovation. Adjacent to the CERAWeek Executive Conference is the Innovation Agora which focuses on emerging and disruptive technologies in the energy space. The Revers Center recently added "Innovation" to our name to better capture how much energy will rely on innovation to achieve the energy transition and all of the other energy goals that organizations will need to evolve as energy becomes important to their existence. Dartmouth alumni featured during some of these sessions include:
Abigail Ross Hopper D'93, president & CEO of Solar Energy Industries Association (SEIA) speaking on "Reshoring and Friendshoring: Impact on Energy Supply Chains"
William McDonough D'73, chief executive of McDonough Innovation and globally recognized leader in sustainable design and development speaking on "Building Resilient Cities: Infrastructure and Technology Advancements", "Why Carbon is not the Enemy" and "Net Positive: Waging Peace through Commerce and Design"
Alexis Abramson, Dartmouth professor and Dean of Thayer Engineering speaking on "Energy Efficiency and Making the Built Environment More Energy Efficient"
Mukul Sharma, Dartmouth earth sciences professor speaking on "Oceans and Climate: Innovative Solutions" and "Dartmouth College, Sequestering Carbon: The Answer is in the Dust"
In all honesty, I have had the opportunity to attend CERAWeek before and have always declined because attending a global energy conference where the majority of attendees come from ExxonMobil, Chevron, Schneider Electric, SLB, Cheniere Energy, and ConocoPhillips was nothing short of intimidating. I am also one of those people who typically leans towards climate and sustainability events. But I leaned into this discomfort by practicing what I preach: you must learn about the whole energy and sustainability landscape if you want to make transformative decisions. There's no better place to experience this than at CERAWeek. I hope I can share this experience with you in the future!