Mar 05, 2021
Reflections on Black Legacy Month and Our Connected Community
By Tuck Communications
Throughout the month of February, the Tuck community honored and celebrated Black Legacy Month with a number of events and programming.
Black Legacy Month (BLM) is the celebration and recognition of Black culture across Dartmouth, dedicated to the education, awareness, and commemoration of Black heritage and people.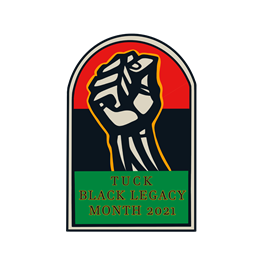 Themed "Defining a Generation: The Triumph, Power, and Legacy of Black Women" events included a Black History Month Book Club featuring How to be an Antiracist by historian Ibram X. Kendi; a series of fireside chats focused on Minorities in Private Equity; a movie screening of One Night In Miami (pictured above) hosted by Black Students Association at Tuck, Tuck Africa Club, and the Film Club; a Black History Month trivia night co-hosted with the Geisel School of Medicine; and "Smart, Funny and Black," a fun event hosted by comedian, actress, and producer Amanda Seales of HBO's Insecure.
As we celebrated, we reached out to our students, faculty, staff, and alumni to ask, "What does Black Legacy Month mean to you?" Here's what they had to say.
---
From Harry Holt T'91, VP of Operations, BITHGROUP Technologies
"I think it is important that we learn about all the amazing contributions that Black people have made to the United States and the world. Therefore, I personally try to expand my knowledge about Black history and work hard to share the information with my family and friends. Finally, when I think about Black Legacy Month I also think about the 'father of black history' Dr. Carter G. Woodson. I will share with you two of his quotes that I find particularly inspiring and relates to Black Legacy month.
"For me education means to inspire people to live more abundantly, to learn to begin, to learn to begin with life as they find it and make it better." —Carter G. Woodson
"What we need is a history of selected races or nations of the world void of national bias, race, hate, and religious prejudice."—Carter G. Woodson
This is what Black Legacy Month means to me."
From Dia Draper, Assistant Dean for Diversity, Equity, and Inclusion
"To me, Black Legacy Month means honoring my history while designing my destiny. The celebration and acknowledgment of the contributions of Black and Pan African people is critical, particularly in a world and nation that has benefitted greatly from our contributions yet struggles to even acknowledge that Black Lives Matter. Representation matters—from books and film, to academics and entrepreneurship, we have helped shape American culture. Honoring the legacy of Black excellence and achievement is fundamental to my hope for the future, for equity and equality, justice and acceptance. I am resilient when I remember that those who came before me sacrificed and suffered as no human should. I am courageous when I remember that young Black leaders who are looking to me need to know that there is nothing that they cannot do. That is my Black legacy."
From Jazmine Brite T'22
"Celebration. Celebration of the beauty, the richness, the genius, the joy, the resilience, the diversity, and the impact of Black people and all that is Black heritage throughout the country and the world."
From Adam Kleinbaum, Associate Professor of Business Administration
"Black Legacy Month is an opportunity to reflect on the many ways my background has given me privileges that are not afforded to everyone and a prompt to act in ways that promote equity in light of these differences."
From Susan Clifford T'80, Principal at Hancock Askew & Co LLP
"As a CPA, I am proud to know that the first Black CPA John Cromwell, Jr. was a graduate of both Dartmouth and Tuck."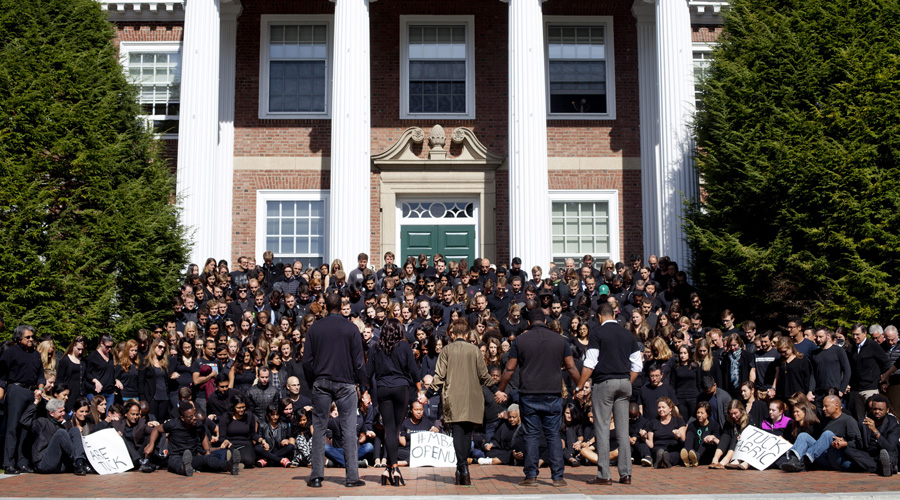 #OneLoveOneTuck: Pictured above, in 2016, the Black Students Association at Tuck (BSAT) organized an MBA Blackout event that brought together members of the Tuck community to stand in national solidarity in the wake of violence against Black Americans.
From Felicia Swoope D'91, Assistant Director, Admissions Recruitment
"Throughout Black Legacy Month I have been inspired by campus wide connections and the brilliance that permeates the entire Dartmouth community. Dean Matthew Slaughter encourages a 'One Dartmouth, One Tuck' spirit as we carry forward our mission at Tuck to educate wise, decisive leaders who better the world through business. Anything we can do to make our parent organization, Dartmouth College, successful is critical as we move forward to accomplish our Tuck mission.
Past action has prepared us for this current moment. In early Fall, Tuck elevated our colleague Dia Draper as the inaugural Assistant Dean of Diversity, Equity, and Inclusion. While a new appointment at Tuck, Dia's dedication and service to the campus community is long standing. Tuck students have taken the lead to partner with Dean Draper to create and refine a new Diversity, Equity, and Inclusion strategic plan that will launch this spring.
More now than ever, I have witnessed the creation of non-traditional connections between all segments, departments, and schools on-campus. These connections are imprinting a sense of purpose that students will crave once they graduate, creating a legacy of leaders and innovators who will champion diversity, equity, and inclusion for all in their professional lives.
At this moment we are connecting to history and the mission of leaders who have long provided hope and inspiration. Students and alumni exhibit their dedication to the legacy of leaders who have come before them as they continue their own leadership journey. Black Legacy Month's Spotlight on Student and Community Leaders is a visual display on the Dartmouth Green of leaders of color representing organizations campus wide. Robust programming and fundraising in both graduate and undergraduate departments commemorate the work of Dr. King while utilizing his message to foster an environment of advancement and inclusion for marginalized members of the community.
Virtual safe spaces have been created to bring our community together to solve existing problems, educate one another, and openly discuss student concerns in order to create a better experience during their time here. The Black Alumni at Tuck have been a consistent presence this academic year. They have come back to campus (virtually, this year) to inspire current students with their personal and professional accomplishments, stories of lessons learned, and to share their love for Tuck. While I am meeting some of these alumni for the first time, the ease of connection is a result of their openness and desire to always stay connected to Tuck and anyone who shares the experience of Hanover.
In addition to my work in Admissions, I also serve as the Diversity, Equity, and Inclusion Strategist for Artivism at Dartmouth. Artivism provides a new digital platform for artists and activists in our community to elevate their voices and showcase their artistry. Through this platform, current students, alumni, faculty, and staff are provided with an opportunity to highlight what is closest to their hearts and broadcast it across campus and throughout the alumni community. A silver lining to continuing artistic programs virtually this year is that more community members can participate. For the first time ever this year, Tuck students are participating in Dartmouth Idol. We look forward to seeing the amazing talent from all corners of campus (with a particular interest in two Tuckies who made the finals!) and we will keep you posted on the results!"