Apr 13, 2020
My First Weeks of Remote Learning with Tuck
By Andrés Díaz de Valdés Grebe T'21
Andrés Díaz de Valdés Grebe was born in Chile but spent most of his life in Argentina. Before Tuck, he worked in the consumer product industry, doing corporate finance. He came to Tuck with his wife Rocio where they lived in Sachem Village. Due to the pandemic and travel restrictions, they are spending the spring term with family.
How are your first weeks of virtual classes going so far?
My first weeks of classes have been going fantastic. I decided to take three electives this term, so I have classes from Monday to Thursday, from 9:30 a.m. to 12:50 p.m. Argentina time. I am also working on a First-Year Project (FYP) with my study group, and we have one or two meetings between us and one more with the client every week. Although it is a busy term for me in terms of workload and meetings, I am trying to practice better time management so I can also spend a lot of time with my family. I realized I have never had the chance to spend so much time with my parents and siblings, and I am making the most of it. Also, I'm very grateful for my wife who is supporting and helping me so that I can focus on my classes and assignments.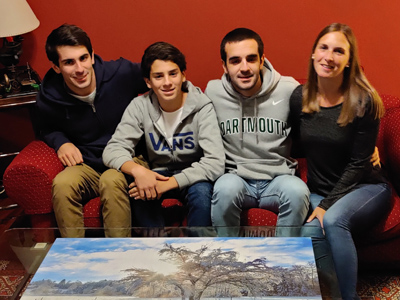 What does a typical day of virtual classes look like for you?
A typical day of classes for me starts with my alarm clock sound at 9:00 a.m. Argentina time. The time difference in my case has been beneficial and gives me one more hour of sleep that I appreciate very much. After waking up, I take a quick shower, and then I prepare a glass of chocolate milk with one piece of toast. Two minutes before the class starts, I open the Zoom app and connect myself to the virtual classroom. After my first class, I usually go to the fridge to put some cold water in my water bottle and share some words with my wife. At 1 p.m., I have finished with all my classes for the day, and it is time to help my mother and my wife with lunch. Although my wife and I cook a lot in our home in Sachem Village, here my mom is always the one that cooks and prepares lunch. We always have lunch at 2 p.m. During the afternoon, sometimes I have some calls with my study group, and other times, I am working on homework and different deliverables for the next day. I often stop studying at 6:30 p.m., and then I spend some time with my wife and my family. We bought a 2,000-piece-puzzle, and sometimes we spend time working on it, or just sitting in the garden talking and enjoying the nice fall weather of Buenos Aires. We do not go out or see friends because there is a mandatory order to stay at home here.
My day ends by having dinner with my family and watching a series on Netflix with my wife and siblings. We have also scheduled some Zoom meetings with other Tuck families to keep in touch with them during this time, and we hope to be back in Hanover soon.
What has surprised you the most about remote learning?
My biggest surprise with remote learning is how well prepared each of our professors is, and how much effort they put into their classes, trying to give us an experience that is very similar to being present on our campus. Personally, I think they are doing a fantastic job. All the professors try to keep the same pace as if we were sitting right in the Georgiopolous or Borelli classrooms on campus, and the interaction with us—the students—has been incredible. During class, we can ask questions without any problem at any time by raising our hand virtually or by typing our questions in the chat. Sometimes, we get the answers immediately, and sometimes, professors stay after class responding to more specific questions.
I think that one advantage of virtual learning is that the professor can easily manage the participation and interruptions, without the distraction of other students. In the classroom, when someone raises his or her hand, it is impossible not to look at them, no matter if they end up talking to the professor.
How is class engagement different online compared to being physically in the classroom with your peers? How about access to faculty?
From my perspective, the level of engagement during the classes is similar to the one we have in the classrooms on campus. Not only are professors putting their all into classes, but students are also giving their best to make the most of these challenging circumstances. Obviously, all of us would love to be on campus these days with normal classes and experiencing Tuck in person, but this is the best we have now, so we are giving the best of us to make it through it in the best way.
I've heard that some professors are getting really creative with their virtual lectures. Any examples from your professors?
I would like to give a special shout out to professor Peter Regan D'85 from my Professional Decision Modeling course. He designed a blackboard that gives him the ability to write on the screen with fluorescent markers. He also includes slides from his computer. The significant advantage of that approach is Professor Regan is able to always look at the camera, and he is never blocking what he is writing. It makes the class very easy to follow. I was very surprised when he showed his creative blackboard on the first day of classes. He told us this is something he has been developing, but that he was forced to speed up his project due to the decision to go virtual during spring break.
Seeing the dedication and effort each of our faculty is putting into our remote learning experience is something that, day-by-day, makes me even more proud to be a Tuck student, and is something I greatly appreciate.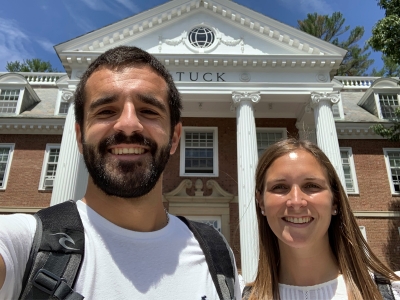 Have you been cold called yet?
I have been cold called once during this term by Joe Hall (senior associate dean for teaching and learning and the David T. McLaughlin D'54, T'55 Clinical Professor) in his Operations Management course. I think I was lucky because it was not a complicated question, and he also did not make me answer any follow-up questions—something he often does. I still feel a little bit nervous any time I get a cold call, so that time, I started speaking without unmuting my mic. But that aside, it was the same as a cold call in the classroom.
Any advice or tips for other students who are learning remotely this term?
I do not have any specific tips or advice for other students who are learning this term remotely. I just hope each of us is trying to make the most of this particular time in our lives and also in the history of the world. And, if by chance you're lucky enough to be surrounded by your family like me, enjoy it. I say that is one of the bright moments of this horrible worldwide situation we are in that I will never forget.
---
Photos from top: 1) Professor Peter Regan D'85 with his blackboard during his Professional Decision Modeling course; 2) Andrés with his family in Argentina after completing a 2,000 piece puzzle; 3) Andrés and his wife Rocio at Tuck Hall.