May 26, 2022
Many Voices, One Tuck: Meet Kam Yan T'18 and Marguerita Cheng DBP'22
By Tuck Communications
Throughout the month of May, the Tuck and Dartmouth communities will offer a number of events and programs to celebrate Asian American Pacific Islander Heritage Month. AAPIHM 2022's theme, Constellations, explores the ways in which each member of the AAPI community creates connections with each other and with other marginalized communities. Each constellation represents the solidarities formed across time and space, symbolizing transnational and transcultural strength.
In celebration of AAPIHM, we asked members of our AAPI community to reflect on their goals, accomplishments, inspirations, and passions.
---
Kam Yan T'18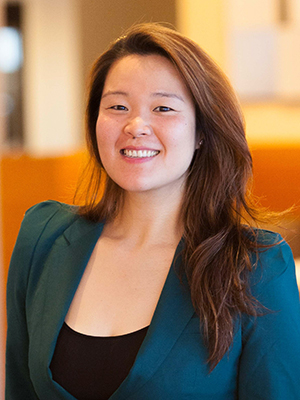 What accomplishment are you most proud of? 
I was raised by hard-working, blue-collar immigrant parents, and since I was young, they have instilled in me the importance of integrity, kindness, and preserving my Chinese heritage. In addition to my academic and professional achievements, I take pride in my Chinese heritage. It serves as a reminder of the sacrifices that others made before me so that the next generation can access better opportunities and contribute to all layers of society.
What keeps you busy? How do you like to spend your time outside of work? 
Outside of work, I spend my time thinking and planning for my next adventures. Whether it is exploring the latest food markets around NYC, reaching new summit heights at Cradle Mountain in Tasmania, or sweating it out in a CorePower yoga class, I love sharing and exploring new experiences with friends. Every adventure and person I've met along the way has enhanced my worldview and taught me valuable lessons that shaped the person I am today.
What's something about you only a few people know?
I really enjoy high elevation treks but very few people know that I am also afraid of heights. Each step I take toward the summit, I focus on what is ahead of me instead of looking behind. Each elevation helped me build the courage to overcome my fear and know that you can reach any goal with a destination in mind.
How would you describe your life philosophy? What do you believe are the components of a "good" life? or How do you define "success"?
My life philosophy is  to be inspired, live boldly, and give generously. I consider myself to have a "good" life when I am inspired by people who push boundaries to seek new heights; when I have the faith to trust that life will move on and things will be fine; and when I'm able to make a meaningful impact on all layers of society. I have been very lucky to have benefited from the generosity of many people throughout my life, and I hope I can give back in that capacity as well.
What have you recently, read, watched, or listened to that you enjoyed and would highly recommend to others? 
I have been listening to the All-In podcast on Spotify recently, where four industry veterans cover all things economic, tech, politics, and current trends. I find the discussions to be balanced, entertaining, and informative at the same time. However, I would appreciate it if the podcast would incorporate more female speakers and perspectives.
Kam has been working at Microsoft for over three years, empowering commercial enterprise customers to achieve business values and success in their own marketplace through Modern Work solutions. She also works closely with the Northeast Regional Asian Employee Resource Group at Microsoft to build a network of mentors and sponsors to improve AAPI leadership engagement and promotions. In her free time, she enjoys going to the theater, yoga, strolling around NY neighborhoods, and seeking her next travel adventure.
---
Marguerita Cheng, Tuck Executive Education, Diversity Business Program, 2022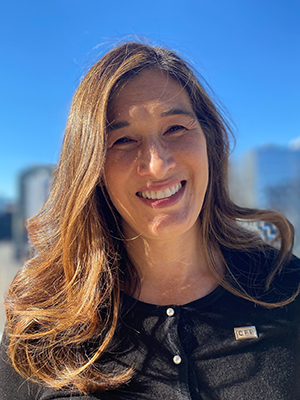 What accomplishment are you most proud of?
Professionally speaking, I'm proud of the fact that I have mentored individuals from racially, ethnically, and culturally diverse communities. I cherish the memory of traveling to Delaware State University (DSU) to guest lecture at their Financial Planning Association (FPA) Student Chapter inaugural event. DSU was one of the first HBCUs to have an undergraduate financial planning program. The director of the program told me to expect 14 students. I am pleased to report that we had more than 35 engaged students in attendance.
I was also approached by AARP and asked to serve as an ambassador for the Financial Freedom Campaign to help the AAPI community achieve financial stability, which was a tremendous honor. I have hosted seminars, webinars, webcasts, podcasts, radio shows, and live chats. I will never forget how gracious a listener was when she thanked me for answering her personal finance question.
Last, but certainly not least, from 2017 to 2021, I was recognized as an Investopedia Top 100 Financial Advisor. The Investopedia 100 celebrates financial advisors who are making significant contributions to critical conversations about financial literacy, investing strategies, life-stage planning, and wealth management. With more than 100,000 independent financial advisors in the U.S., the Investopedia 100 spotlights the country's most engaged, influential, and educational advisors.
Describe an ah-ha moment for you—a defining moment that changed the course of your life, career, or altered your way of thinking.
I prepared for the CFP certification exam while running my financial advisory practice and caring for two small children (Sarina and Christian were six and four years old, respectively). When I finally attended my first industry meeting, I thought I entered the wrong room because no one looked like me. I didn't see many young advisors, let alone women from multi-cultural, diverse backgrounds. I thought to myself, "Wow, financial planning is just an incredible profession. What's going to happen if we don't attract and retain more talent?"
Diversity within the financial advice profession can help improve financial literacy and investor education. I believe that financial planning helps address the wealth gap by helping more Americans manage, protect, grow, and transfer wealth. Everyone deserves access to competent ethical financial advice and the opportunity to become financially resilient.
What's something about you only a few people know?
Despite developing asthma because of complications from childhood pneumonia, I am an endurance athlete. I love challenging myself. I ran three marathons in three weeks as a charity runner. I know there are people who have run 26 consecutive marathons, but every time I cross the finish line, it is extra special. I love knowing that I am helping girls live active, healthy, and confident lives.
Marguerita (Rita) Cheng helps educate the public, policymakers, and media about the benefits of competent, ethical financial planning. As a Certified Financial Planner® professional and chief executive officer of financial advisory firm Blue Ocean Global Wealth, Rita helps people meet their life goals through the proper management of financial resources. She is passionate about helping them navigate some of life's most difficult issues—divorce, death, career changes, caring for aging relatives—so they can feel confident and in control of their finances. Rita is a regular columnist for Kiplinger and MarketWatch, and a past spokesperson for the AARP Financial Freedom Campaign. Rita volunteers her time as a SoleMate, or charity runner, for Girls on the Run, raising money for scholarships for girls.
---
Many Voices, One Tuck celebrates the stories of our vibrant and diverse community. What's your story? Email DEI at Tuck if you'd like to contribute to the MVOT project.
Note: MVOT is open to members of the Tuck community, including students, alumni, faculty, staff, TEE and Tuck Bridge participants, and MHCDS graduates.