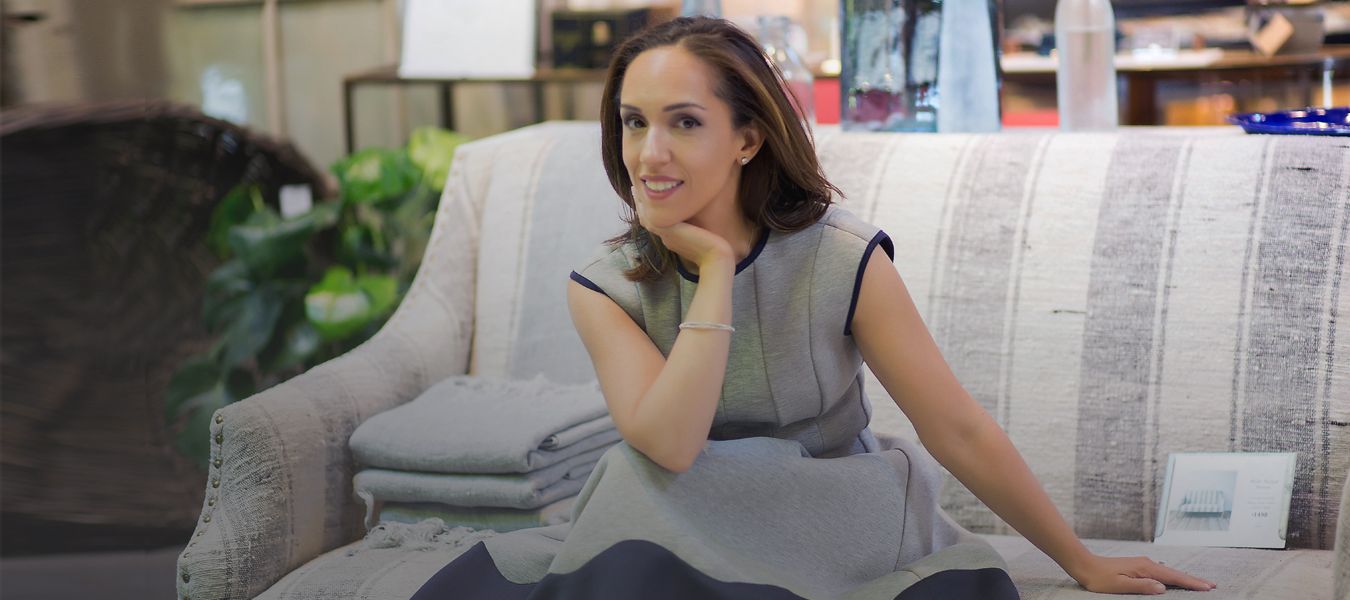 T'10
Melissa Llarena
Founder & CEO, Career Outcomes Matter for Marketers
At Tuck, I really wanted to design my journey.
By Adam Sylvain
As a career coach and host of the An Interview with Melissa Llarena podcast, Melissa Llarena T'10 is driven by helping marketers and creative professionals rediscover their sellable strengths. "The goal is to help people catapult in their career so they are not just trying to pay the bills, or work within corporate systems, but are really excited about what they are doing and have that fire in their belly," she says. Llarena's own career journey mirrors the advice she gives her clients to follow their curiosities with a deep sense of creativity and courage. Before enrolling at Tuck to earn her MBA and pursue a career in advertising, she spent one semester in law school. "I made a really hard decision to let go of a dream that wasn't mine," says Llarena. "At Tuck, I really wanted to design my journey."
Llarena's MBA experience, which included studying abroad in Paris while completing an international internship with Ogilvy & Mather, ultimately led to her next brave career pivot when she launched her coaching business in 2011. Since that time, she's connected virtually with thousands of clients across the United States and throughout the world, helping experienced professionals overcome obstacles and regain confidence to pursue dreams they left behind. During a time of disruption and uncertainty, here are her tips to feeling hopeful, empowered, and limitless.

Be Mindful of What is Within Your Control.
During this difficult period of COVID-19, racial injustice, and high unemployment reckoning, it is paramount that you focus on what is within your control. Analysis paralysis may be okay for spreadsheets once-in-awhile, but clarifying your purpose and building real momentum in your career requires honing in on what is most important and where you can add the most value.
Resist Outside Expectations.
For anyone who is feeling uninspired and unfulfilled in their current work, now is the right time to redefine your career rather than double down on what is not working. You can follow your curiosities and creativity and make the courageous choice to play bigger, but it requires untangling who you are from what you do and refusing to force-fit yourself into an uncomfortable box.
Be Incredibly Honest with Yourself.
When it comes to making hard choices about what you want in life—including your career—it can be tempting to over rationalize. Finding a career path that is personally meaningful requires taking intentional steps to follow your curiosities, not second guessing your heart's desires.
Be Willing to Make Hard Quality of Life Choices.
Making hard choices and pursuing big rewards often demands an openness to certain risks. As Theo Travers, writer and executive producer of Showtime's Billions, recently shared on my podcast, it can also require eating some humble pie. With few exceptions, dreams are realized through intention and hard work, not a few strokes of good luck.
Be Proactive in Changing Other People's Perceptions.
Once you make the brave decision to pursue a career that reflects your passion and interests—not other's expectations—you may find some people in your network who have a hard time understanding or supporting your new goals, especially if they are unconventional or unexpected. Be prepared to purposefully and passionately explain why you are making this change and the value you bring. Also be willing to let some people go from your inner circles if you do not feel supported.
Talk to Strangers.
Unlike your existing network, strangers do not need to recalibrate their perception of who you are. By reaching out and talking to strangers, you have a chance to make a strong first impression and enroll them as your internal champions and mentors. Like all of these steps, this requires intentionality and courage. This is also the most important step because it goes against corporate cultures where you are empowered to only speak to people within your level of seniority. When making a shift, it behooves you to engender trust with those in positions of power and influence. This is often uncomfortable but so worth it. I built my podcast as my ultimate excuse to reach out to power players and it's been incredibly fulfilling.
Overcome Doubt and Rejection. Seek Accountability.
Even the world's smartest CEOs and entrepreneurs are human and careers are personal. Know that accomplishing your goals will often require overcoming moments of doubt, rejection, and adversity. Stay open to wisdom from unconventional sources. Tuck Next Step alumna and U.S. Olympic gold medalist Breeja Larson attributes the work ethic she developed in part to the example of a former coworker at Subway.
Build A Legacy and Not Just A Career.
One of the most common refrains I hear from people looking to move in a new direction in their career is this feeling that they have spent all this time building someone else's dream. Building a professional legacy that you are proud of is not as simple as becoming financially successful. During each step of your career, you need to constantly assess whether you are pursuing work that honors who you are and where your interests are leading you.
Believe That You Are the Difference and Act Accordingly.
Playing to win rather than not to lose requires clarity, confidence, and authenticity. As Neil Mossberg, fashion marketer and CEO of Frank151, explains, it takes courage to ask yourself whether you are emotionally invested in what you are doing. If you are not, then it requires even more courage to walk away and find the opportunity that allows you to flourish.