If you want to learn what it takes to be a wise, decisive leader who can lead across cultures and act quickly in a rapidly evolving business world, there is no substitute for getting out there and experiencing the world's dynamism firsthand. This is why the Bakala TuckGO Program, which was first launched in 2015, remains a fixture of the Tuck MBA experience.
With four pathways to fulfilling the Tuck global learning requirement, TuckGO continues to prioritize depth, breadth, and optionality for its students. For faculty-led Global Insight Expeditions (GIXs), this includes the flexibility to not only choose from dozens of locations across six continents but also from a variety of course types and business topics.
An illustrative example is a spring GIX led by Tuck professor Ramon Lecuona Torras who partnered with faculty at Universidad Adolfo Ibáñez in Chile to give students an inside view of business in Latin America. Participants met with local entrepreneurs and toured a Chilean winery as well as a lithium mining facility to learn about the economic, social, and political pressures impacting Chile and the region.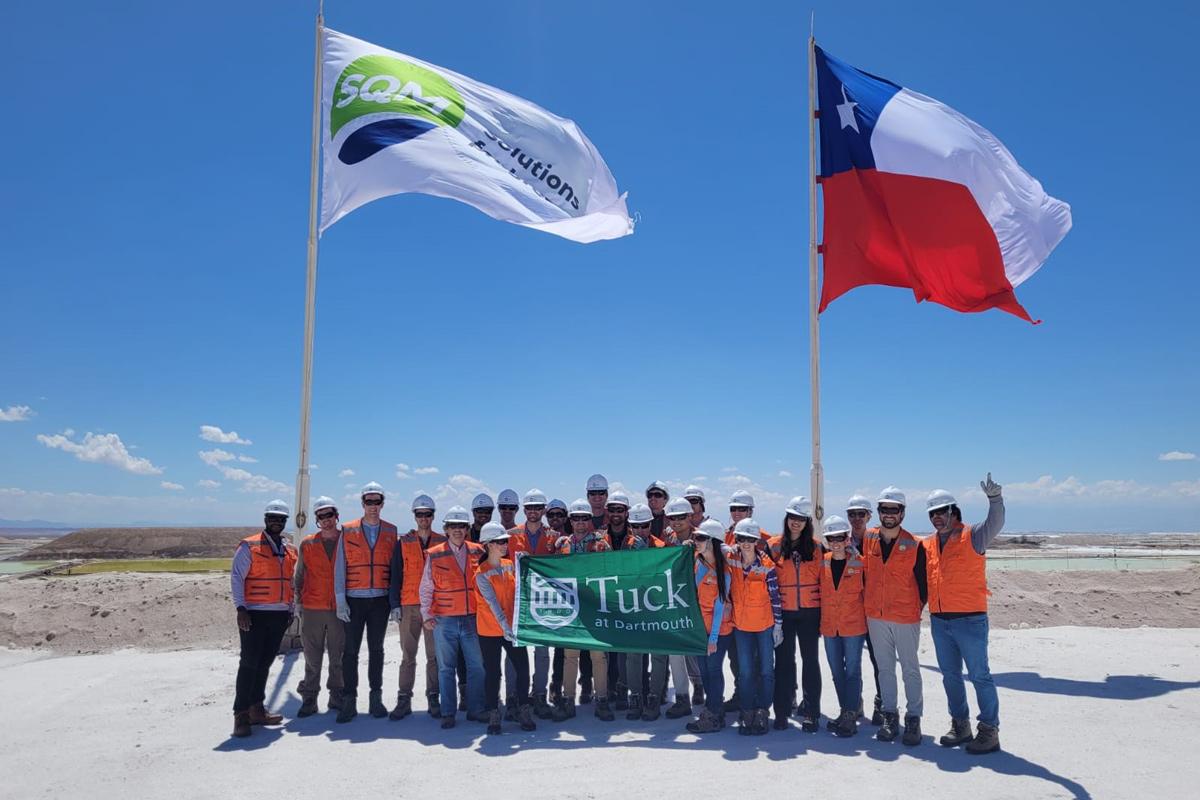 Led by Tuck professor Ramon Lecuona Torras, students tour the Sociedad Quimica y Minera lithium mine in the Atacama Desert in Chile.
Chile GIX participant Charley Mitchell T'23 says faculty guidance was critical to shaping the experience.
We were all challenged to think as investors, says Mitchell. It gave us a chance to consider the industry pressures, but also the different political influences that could drive an investment higher or lower, not just locally, but internationally as well.
While providing students with opportunities to engage real-time business challenges in an international context, TuckGO Director Lisa Miller says the program is primarily focused on helping students develop intercultural leadership competencies—critical for aspiring business leaders who will be tasked with effectively working, communicating, and managing teams across cultures.
This demands a deeper level of engagement than what students may have experienced through prior travel or study abroad, says Miller. It is relatively easy to engage culture at the surface—in things like food, architecture, or dress—but what is most important for MBAs is to recognize how various cultures make meaning and act through their shared values and beliefs.
To satisfy Tuck's global learning requirement, students can choose from several TuckGO offerings. The most popular is the GIX, but the independent study is another option for students seeking to conduct research or complete a project in a country that is new to them. Second-year students can complete a Term Exchange (TEX) by spending a term abroad at a partner institution and others satisfy the requirement by pairing an on-campus global business course with TuckGO's intercultural learning curriculum.
Here's a closer look at four of the 12 GIX courses offered during the 2022–2023 academic year:
United Arab Emirates
Course Topic: A Tale of Two Cities: Sustainability and the Post-Oil Economy in the UAE
Faculty: Diederik Vandewalle, Associate Professor of Government, Dartmouth College; Adjunct Professor, Tuck School of Business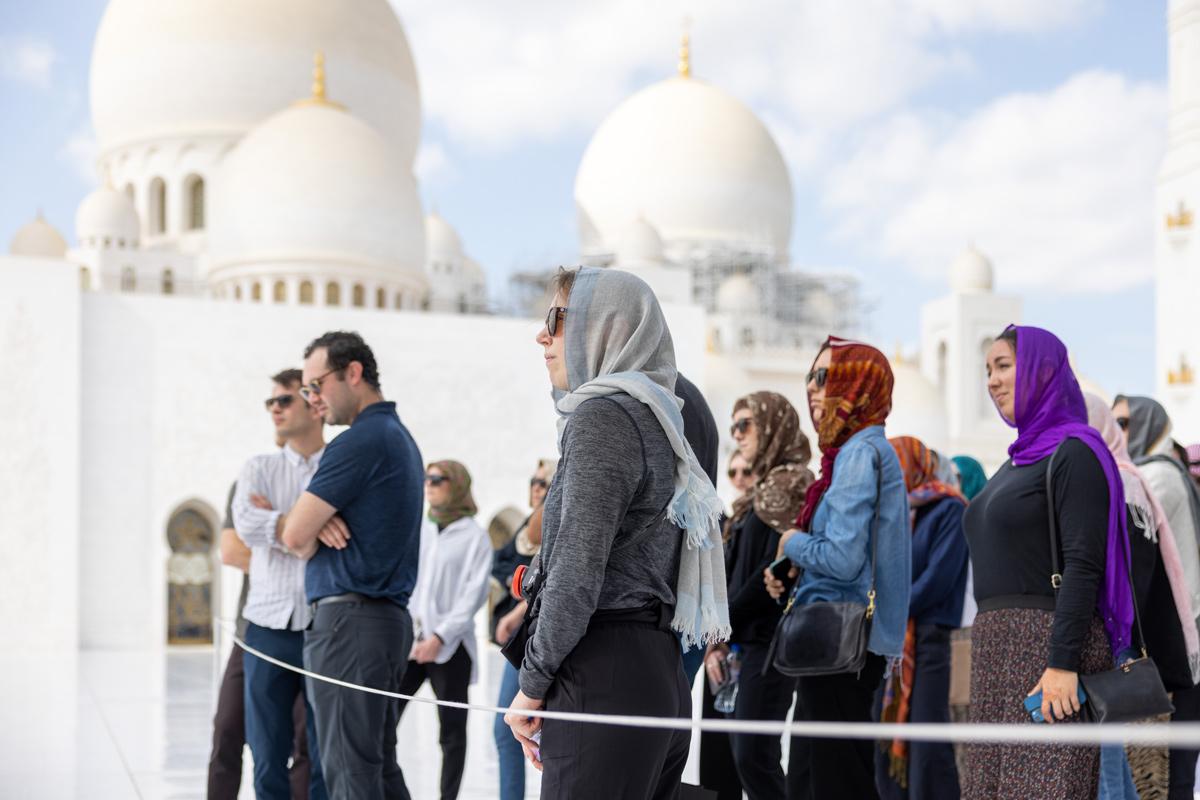 Students visit the Sheikh Zayed Mosque in Abu Dhabi, United Arab Emirates.
Culture can be hard to penetrate in many places, but the challenge is particularly apparent in the United Arab Emirates (UAE), where 85 percent of inhabitants are expatriates.
In this context, trying to understand the often-subtle ways that culture impinges on economic and financial decision-making can be especially difficult, says professor Diederick (Dirk) Vandewalle. It is also a delicate issue for Emiratis to determine how you can protect your culture and preserve an identity in an economic environment that is largely determined by interactions with an ex-pat community that may not understand or be sensitive to native culture.
Trying to understand the often-subtle ways that culture impinges on economic and financial decision-making can be especially difficult.
—Diederik Vandewalle
The business theme of the UAE GIX centered on economic reform and investments the Emirati government is making to prepare for a post-oil, post-industrial economy. While the West tends to think of industry as primarily market-driven, Vandewalle says the UAE demonstrates that there is a valuable role for government to play by sending signals into the economy, regulating industries, and investing in new technologies.
We tend to have a very fixed view of the Arab Gulf region, says Vandewalle. As a result, students are surprised to learn about the ways that Emiratis have been proactive in charting their economic and financial future.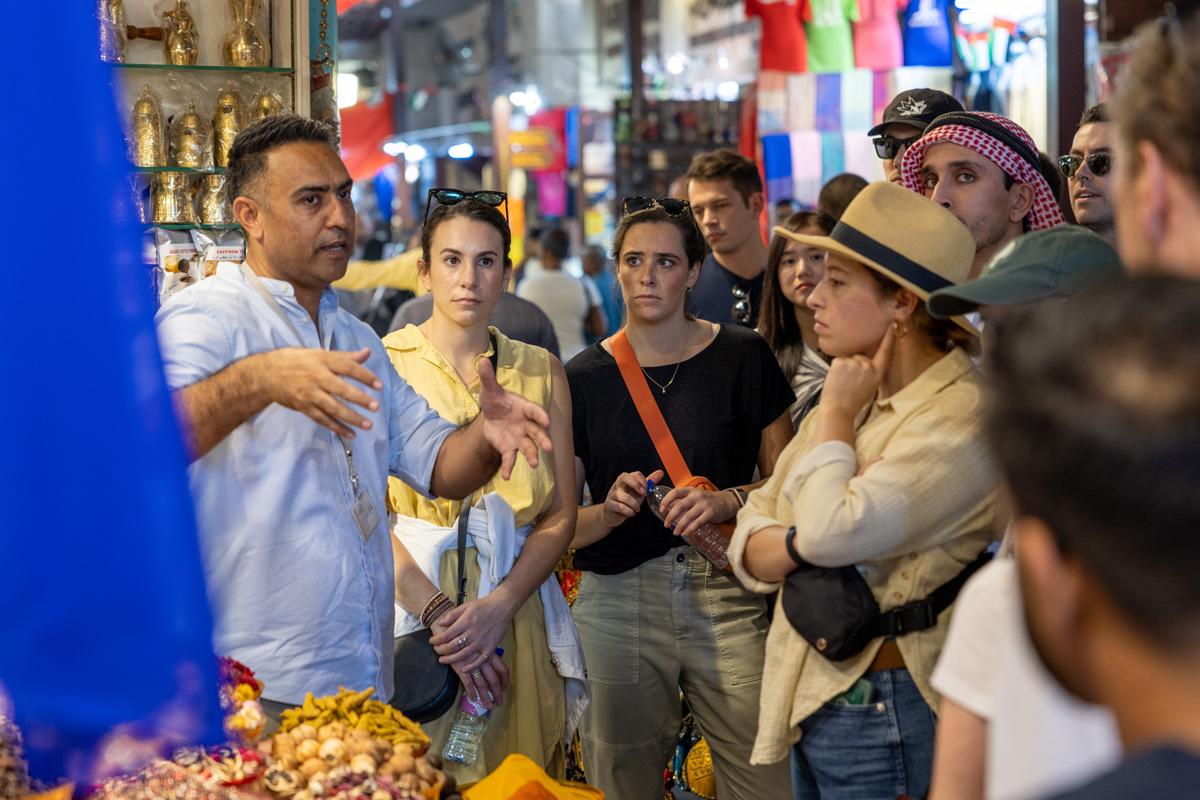 Students tour a spice souk in Dubai, where they learned that prior to the discovery of oil in 1966, the city's biggest industries were pearl diving and spice trading.
To understand this landscape better, students visited several emerging companies like Wio Bank, a digital banking platform led by CEO Jayesh Patel T'05. They also met with Engage Group, a technology-driven employee communications and experience agency.
Cultural highlights included a traditional lunch hosted by the Sheikh Mohammed bin Rashid Al Maktoum Centre for Cultural Understanding in Dubai. During the meal, students had the opportunity to dialogue with a local to better understand some of the closely held values and beliefs of Emiratis.
Leticia Pfeffer T'23 had never visited the Arab world prior to the UAE GIX and was struck by the diversity of the region. Before the course began, she visited Petra, a 2,000-year-old archeological site in southwest Jordan. When she arrived in Dubai, Pfeffer was surprised to learn how much the UAE has accomplished in its comparatively short, 50-year history.
The UAE has done a lot to incentivize entrepreneurs, says Pfeffer. Government investment in areas like fintech shows how the nation is intentionally planning for its post-industrial future
Related Tuck360 Blogs
GIX UAE: Operating in a Post-Oil Economy
T'23s McKenzie Hunt, Clark Pang, and Charley Yu reflect on the growth, modernization, and sustainability lessons learned during the UAE GIX course.
GIX UAE: Economic and Cultural Diversification
Nick Lovinger T'23 and Sarah Martzloff T'23 reflect on the UAE's strategic location, embrace of international tourists and businesses, and reinvention.
---
Brazil
Course Topic: Collaborative Relationships in Business Settings in Brazil
Faculty: Leslie Robinson, Professor of Business Administration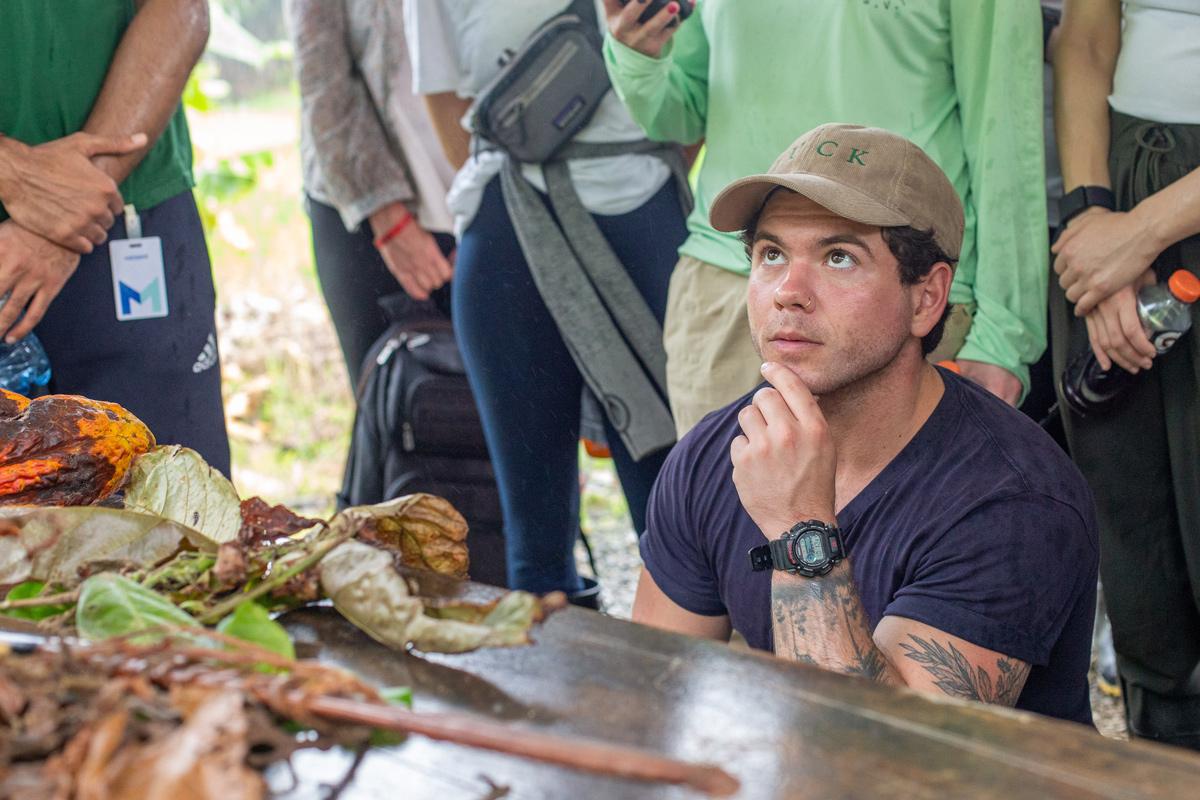 At the Mars Center of Cocoa Science, students learn about the planting and fermenting process of the cacao bean.
You can study collaboration between businesses and various stakeholders through case studies and other classroom exercises, but professor Leslie Robinson says what makes the Brazil GIX experience so unique is the way it allows students to learn about these alliances on the ground as they are happening.
You are meeting face-to-face with executives who are managing these partnerships to understand all of their strategic goals and objectives, including what's working and what are the challenges, says Robinson. The real-time aspect of the course enables students to connect their understanding of the business with the current context of Brazil rather than a historical perspective.
For example, students visited Netflix Brazil where they learned about how the company's content delivery group is collaborating with thousands of small internet service providers to deliver content to remote regions of the country.
The real-time aspect of the course enables students to connect their understanding of the business with the current context of Brazil rather than a historical perspective.
—Leslie Robinson
During meetings with two very different companies—Vivo, the largest telecommunications company in Brazil, and Flamengo, a sports club based in Rio de Janeiro—they also gained insight into how the Brazilian banking sector has helped the companies grow their revenue through advancements in digital payment technology.
The visit to Vivo called attention to how important aspects of U.S. payment systems are out of date, says Joanna Morgan T'23. It was fascinating to see how the company has been able to leverage its access and infrastructure while partnering with banks to deliver innovative products and services.
Such alliances are more difficult to achieve in the U.S., Morgan says, because of tighter regulations related to getting a banking license or working with financial institutions. Less stringent regulations in Brazil and encouragement from the government to invest in innovation have created a modern payment system that other South American countries are seeking to emulate.
The group also visited the Mars Center for Cocoa Science (MCCS) near the city of Ilhéus in Brazil's Bahia region, where they had the opportunity to walk through a cacao field and learn about the full planting and fermenting process of the cacao bean. The Mars Company is deeply committed to sustainable practices and is focused on partnering with local communities and other organizations in support of its Cocoa for Generations Strategy and Sustainable in a Generation Plan.
For T'23s Clara Auvray-Stiritz and Elizabeth Barry, the visit brought to light the value of building collaborative partnerships in support of a strong mission. We learned that large companies can have a very real and powerful impact on the local communities that touch their supply chains, they say. And having a simple, clearly defined strategy is crucial when it comes to developing and executing sustainability initiatives.
Over the course of the GIX, wide-ranging discussions with two local coordinators who accompanied students—both São Paulo natives—provided further context on the political, economic, and social conditions impacting the country.
We had a lot of conversations, not just about business, but about topics like race and class and post-colonialism, says Morgan. Before the GIX, Brazil was in the news a lot because of political turmoil under former Brazilian President Jair Bolsonaro. It was helpful to get past that news filter and hear from local people.
Related Tuck360 Blog
Building Collaborative Partnerships: Lessons from the Mars Center for Cocoa Science (MCCS)
T'23s Clara Auvray-Stiritz and Elizabeth Barry explore how different businesses build relationships and collaborate with others towards common goals, including synergies around business sustainability.
---
Vietnam
Course Topic: Innovation in Business and Social Development in Vietnam
Faculty: Daniella Reichstetter, Clinical Professor of Business Administration; Faculty Adviser for the Center for Entrepreneurship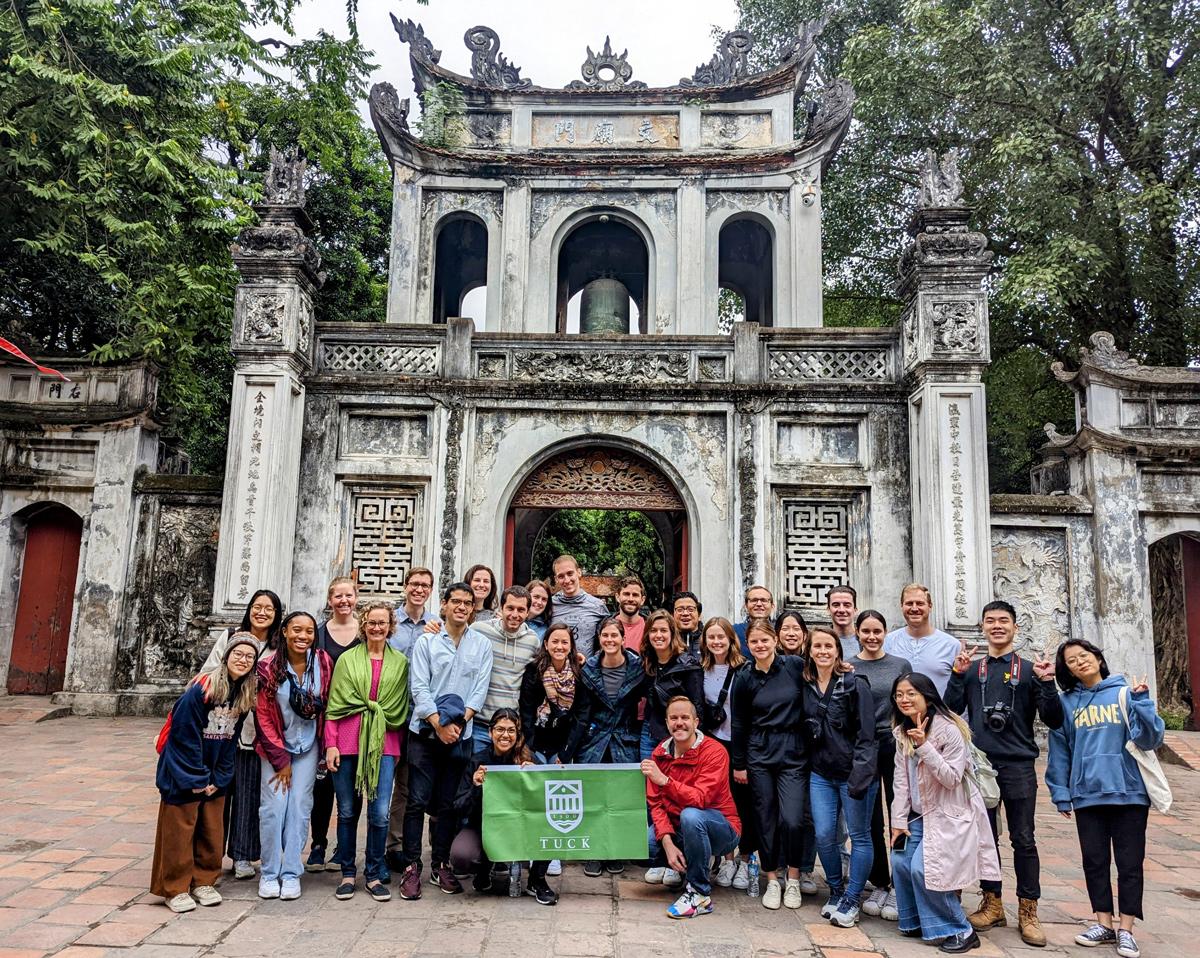 The Vietnam GIX team visit Văn Miếu, the Temple of Literature, in Hanoi, northern Vietnam.
The Vietnam GIX piloted a new format that combined the cultural and thematic elements of a conventional GIX with the chance to partner with host organizations to address a problem or create something new.
Kush Sodha T'24 and his team of five Tuck students worked with the founder-led company 1516 Green Energy, a startup that found success in providing electricity to remote, rural areas with small-scale wind turbines and solar panels. The company is seeking funding for a new consumer product and sought the team's help with creating a go-to-market strategy.
The new product involves growing mushrooms. If grown properly in various molds, the fibrous roots of the mushrooms can be an effective, eco-friendly substitute for many plastic products. In just a few days, Sodha's team delivered even more than they set out to accomplish.
Once we did our market research and built out a strategy, we realized that the technology was pretty unique and not something you often see in manufacturing or the industrial world, says Sodha. We helped draw out what that production process looks like so the founder can take it on a roadshow and share it with potential investors.
Other group projects included creating a capacity-building plan for a Vietnamese nonprofit that provides aid to impoverished women and families and human resource development for a local organization that supports social impact businesses.
Once you're there and you take the opportunity to immerse yourself in the culture, you recognize those qualities in the interactions you have with local businesses, street vendors, non-profits, startup incubators, angel investors, and venture capital firms.
—Daniella Reichstetter T'07
The immersive projects introduced students to local innovation and business practices, helped them understand opportunities and challenges that non-governmental organizations (NGOs) face, and explored the theme of social development and corporate responsibility in Vietnam.
Also specific to the Vietnam GIX, each Tuck team was matched with a Vietnamese student as their local liaison. These buddies served as cultural ambassadors, linguistic translators, and travel companions for the duration of the course. Sodha and his teammates were also able to interview friends of their local companion to get perspective on the product they were working on with 1516 Green Energy.
Professor Daniella Reichstetter says the perspective shared by local Vietnamese students was critical to gaining a richer understanding of the country and dispelling common preconceptions. Given its one-party political system and socialist history, Vietnam's innovative and entrepreneurial mindset comes as a surprise to many who visit the country.
Once you're there and you take the opportunity to immerse yourself in the culture, you recognize those qualities in the interactions you have with local businesses, street vendors, nonprofits, startup incubators, angel investors, and venture capital firms, says Reichstetter. In addition to learning about business challenges, both idiosyncratic and commonplace, you get to see how innovation really abounds in Vietnam.
---
Denmark
Course Topic: The Danish Model: State, Market, and Consumers
Faculty: Hanne Pico Larsen, Clinical Professor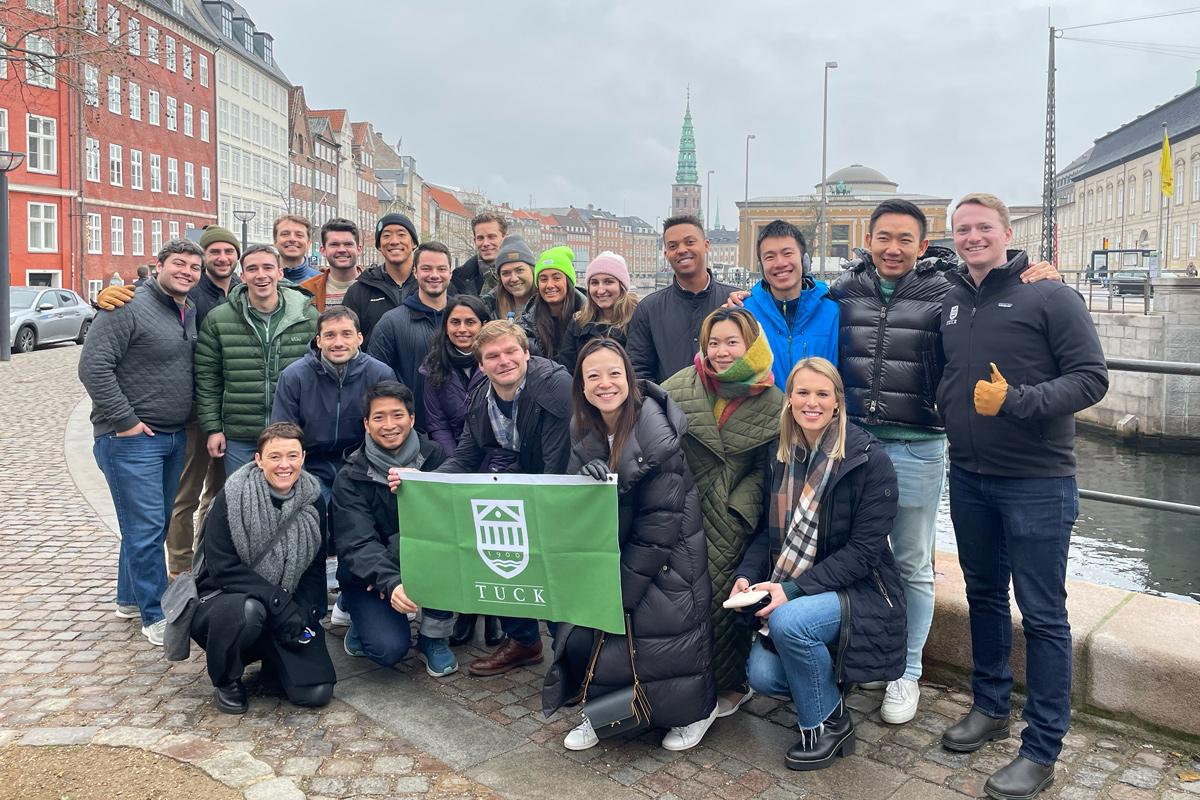 Clinical Professor Hanne Pico Larsen, points to the internationally popular Danish political drama TV series Borgen as an example of a story that captures well the intertwined interests of government, business, and the press in Danish society.
It was this dramatic interplay that Larsen hoped Tuck students would engage during the Denmark GIX.
I really wanted the experience to reveal how Denmark, even as a small country that is very democratic—almost everything is open and transparent—there is this interplay, says Larsen, a native Dane who has lived and taught in both the U.S. and Denmark. How does the Danish government operate in this system? How do Danish businesses perform within a very open and free, but also highly regulated economy? These are the types of questions I wanted students to explore.
To gain this wide lens into Danish culture, Larsen arranged site visits to several government entities, including the parliament and the Danish Business Authority. They also visited the pharmaceutical giant Novo Nordisk and participated in a mini case competition during a full-day meeting with the global shipping company Maersk. At the end of the day, student teams presented their ideas for how the company can invest in new and more efficient renewable energy resources.
We presented ideas about which countries could serve as strategic locations for the production of net-zero carbon methanol to power their new green container vessels, says Murilo Bortoluzzi Rocha T'23. These were real business decisions that their strategy team needed to make and they were impressed with the solutions we came up with.
GIX participants also met with several distinguished alumni, including U.S. Ambassador to Denmark Alan Leventhal T'76 and Ulrik Schack T'94, head of corporate development at JP/Politikens Hus, one of Denmark's leading media companies.
A country comprised of only six million people, Denmark is known for its high standard of living, work-life balance, and extensive taxpayer-financed welfare system. Danes are also consistently ranked among the world's happiest people, which Rocha credits in part to the profound trust that permeates Danish society.
People trust the government to apply their tax revenue wisely, but you see it in other ways, he says. For example, it's a very safe country so families will leave their babies outside alone in their strollers to nap in the fresh air.
Rocha believes there is a lot U.S. business leaders can learn from Danish culture and that building more trust in the workplace is a good place to start.
We should all have confidence that you can have a high-performing business career without abdicating your personal life, he says. You can be there for your family too.
Related Tuck360 Blogs
Open Mind, Courageous Heart: A Professor Reflects on the Denmark GIX
For Tuck professor Hanne Pico Larsen, who led the recent Global Insight Expedition (GIX) to her home country of Denmark, showing students the unique traditions, politics, and business culture of the Danish evoked a sense of togetherness she'll never forget.
GIX Denmark: Experiencing Community and Cooperation in Copenhagen
T'23s Samuel Gray and Sarah Jolley reflect on some of the core values of Danish culture—including community, cooperation, and trust—that they experienced during their December 2022 GIX course in Copenhagen.
Gender Equality, Sustainability, and Lifestyle Branding: The Sweden GIX
A global immersion course to Sweden proved there's more to the country than meets the eye, according to Tuck professor Hanne Pico Larsen and MBA student Charlotte Eisenberg T'23.