Inventing the Edge | Vijay Govindarajan
The series "Inventing the Edge" explores the research of 10 celebrated professors and its impact on business knowledge.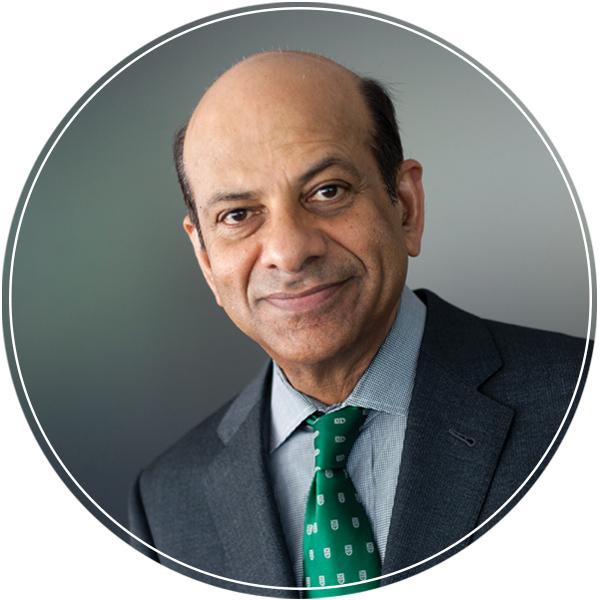 Strategy
Vijay Govindarajanen
Coxe Distinguished Professor of Management
The list of endorsements for Vijay Govindarajan's best-selling 2016 book, The Three Box Solution, reads like a who's who of corporate royalty. It includes the CEOs of Pepsi, John Deere, Bristol-Meyers Squibb, MasterCard, and Colgate Palmolive, among many others.

Not bad for a framework Govindarajan created on the back of an envelope almost 40 years ago. And while he has done many different things in his career, Govindarajan is most proud of the Three Box Solution, precisely because of the impact it has had on innumerable corporations, executives, and managers. "My whole purpose in life is to impact the broader world," Govindarajan says. "That's the core of who I am, and I do it by coming up with ideas, based on field research, that influence the world of practice."
To get to the future, you must build it day by day. That means being able to selectively set aside certain beliefs, assumptions and practices created in and by the past that would otherwise become a rock wall between your business of today and its future potential.
What is the Three Box Solution? It's Govindarajan's process for keeping a business vital while reinventing it to thrive in the future. As Govindarajan lays out in his book, and in his executive education sessions at Tuck, corporations must balance their time and energy between managing the core business at peak profitability (Box 1), abandoning ideas, practices, and attitudes that could inhibit innovation (Box 2), and converting breakthrough ideas into new products and businesses (Box 3).

It's only fitting that Govindarajan has taken his own Three Box Solution to heart. This is evident in his approach to research, where he scours the corporate landscape for "next practices"—the processes and habits that make the best firms stand out from their competition. The most well- known of these is "reverse innovation," detailed in the New York Times and Wall Street Journal best-selling book by the same name in 2012, which is the process of developing new products for emerging economies and then bringing those innovations to developed nations. What's next for Govindarajan? Stay tuned for his own Box 3.
Further Reading
Vijay Govindarajan. The Three Box Solution: A Strategy for Leading Innovation. Harvard Business Review Press, 2016.