Apr 24, 2023
More Than Just a Wine: Meet Chrishon Lampley, Entrepreneur and Alumna of Tuck Diversity Business Programs
By Tuck Communications
In celebration of Women's History Month, Tuck recently welcomed Chrishon Lampley, founder of Love Cork Screw and alumna of Tuck Diversity Business Programs, back to campus for a fun wine tasting event and question and answer session. A SheaMoisture fellow, Lampley also completed the Diversity Entrepreneurship Collaboration Program, which pairs entrepreneurs with Tuck MBA students.
We sat down with Lampley to learn more about her business Love Cork Screw, her experience with Tuck's executive education programs, and her advice for aspiring entrepreneurs, especially women of color.
Can you tell us a little bit more about your business, Love Cork Screw? What made you want to start this business?
Love Cork Screw is a wine brand that was founded 10 years ago by yours truly, as an African-American woman, who felt the need to represent the underrepresented space in the wine industry. The brand offers six varietals of wine with catchy and fun names such as "Head Over Heels" Riesling and "Good Times, Good Friends" Pinot Grigio. These wines appeal to a diverse audience and are sold in major retailers throughout the country. The desire to provide representation and a unique wine experience led to my creation of Love Cork Screw.
You recently visited Tuck for a special event in honor of Women's History Month. Thank you again for joining us. How do you think the event turned out? Did you have any particularly interesting conversations with students?
It was an enjoyable experience, and I think the event went well. It's always fascinating to receive feedback and a fresh perspective when your product has been in stores for a while. One of my favorite conversations was with a student who thanked me for including the nutritional label on the back of the bottle. It was especially rewarding to hear this feedback since I had recently added the feature to cater to the younger generation of health-conscious wine drinkers.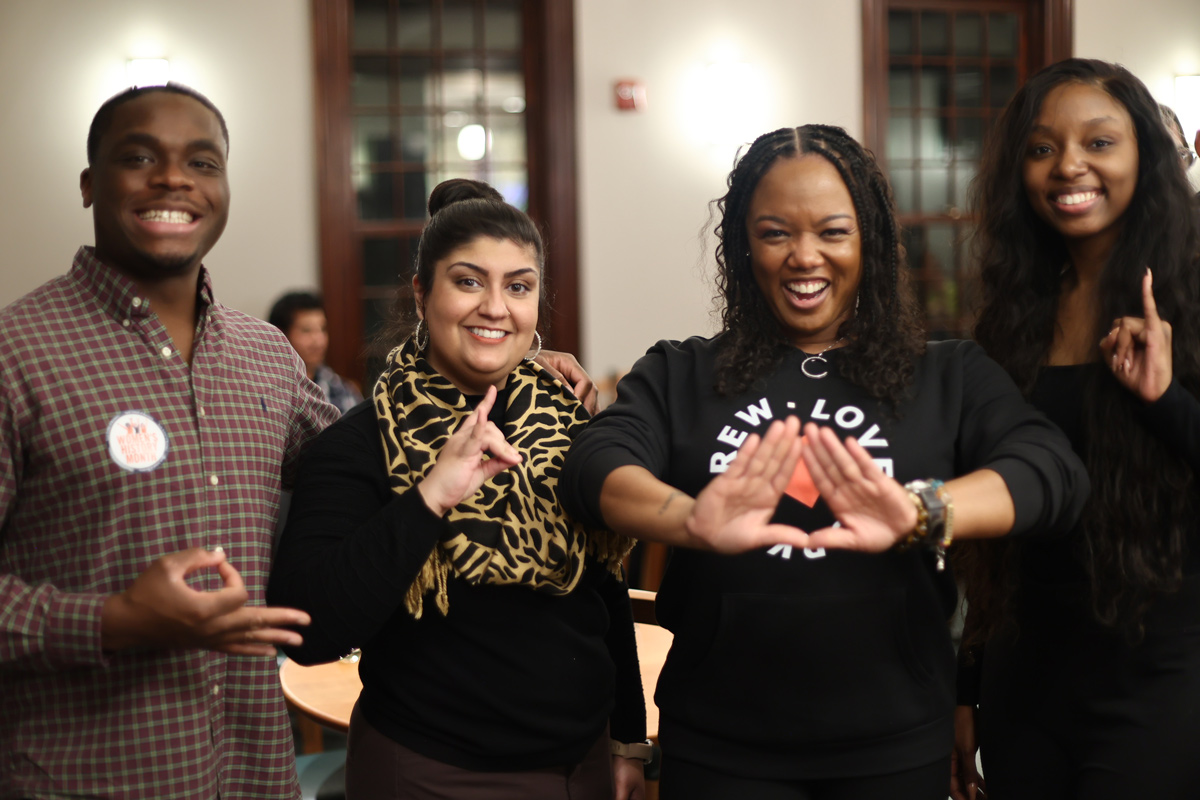 I understand this wasn't your first time at Tuck. In April 2022, you attended Building a Successful Diverse Business, one of the Tuck Diversity Business Programs, as a SheaMoisture Fellow. What were you hoping to get out of your experience at Tuck? Do you think you reached your objectives? How was the experience overall?
As an entrepreneur, I had a truly remarkable experience that meant a lot to me. It broadened my perspective and opened up countless paths to success. Since then, I've been diligently implementing everything I learned. I understand that progress takes time, but I'm using all of the information and ideas to propel my business to the next level. Additionally, being surrounded by other business owners provided me with a great source of motivation and energy to succeed. I would jump at the chance to do it again.
You also recently completed our Diversity Entrepreneurship Collaboration Program, where you worked with our MBA students directly to take advantage of marketing opportunities around Gen Z. Can you tell us more about the experience of working with MBA students? How do you plan to use what they've worked on in Love Cork Screw's future?
Working with the MBA students and entrusting them with obtaining feedback from the younger wine drinkers was an amazing experience. It was like having a high-end, in-depth case study completed without any financial burden on my part. The students brought fresh, new ideas to the table that I wouldn't have thought of on my own. Their insights helped me understand how to better appeal to younger consumers and adjust my marketing strategies accordingly.
As I reviewed their findings, I felt a renewed sense of excitement for the future of my business. I am eager to put their ideas into action on our website and social media platforms to attract and engage a wider audience. Their input will be invaluable in expanding our reach and cultivating a loyal following among young wine enthusiasts.
Overall, working with the MBA students was a valuable experience that gave me an opportunity to learn from a talented group of individuals and gain a deeper understanding of my target audience. I am grateful for the insight they provided and look forward to seeing how their ideas can help take my business to new heights.
What would you say your top takeaway has been from your time at Tuck?
Attending Tuck left a lasting impression on me, but the most significant takeaway was the reassuring feeling that comes with knowing you're doing things right. As someone who occasionally experiences imposter syndrome, it was incredibly affirming to receive honest, kind feedback from the students. Seeing their genuine reactions to my work was absolutely priceless. Their encouragement and support helped me overcome any doubts or insecurities I may have had and left me feeling motivated to continue pursuing my goals with confidence.
What advice do you have for emerging entrepreneurs, especially women of color who hope to pursue a business venture?
As a woman entrepreneur and a woman of color, I have learned that you must be prepared to work twice as hard to achieve your goals, and that's perfectly okay. Despite the challenges you may face, your perseverance and determination will inspire others to pursue their own dreams. In fact, inspiring others may become your true purpose. So keep pushing forward, stay focused on your vision, and never let anyone tell you that you can't achieve success. Your hard work and dedication will pay off in ways you may not have imagined, and your example will help pave the way for future generations of women entrepreneurs and women of color.
Looking ahead, any exciting updates you can offer on your business life and Love Cork Screw?
There are several exciting updates to share, including the upcoming appearance of Love Cork Screw on national television and our ongoing collaboration with major brands such as Stella Artois. It's incredibly rewarding to see our business gaining traction and recognition on a larger scale. We are grateful for these opportunities and look forward to continuing to grow our brand and expand our reach.
Learn more about Love Cork Screw.