Jul 11, 2022
Meet the T'23 Center for Health Care Fellows
By Tuck Center for Health Care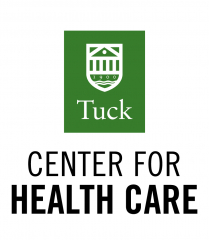 Each year, the Center for Health Care accepts applications for our MBA Fellows program and selects students with a passion for health care, an interest in broadening their industry knowledge, and a desire to build the health care community at Tuck. Fellows meet monthly to discuss topical healthcare news and areas of interest with their peers, Tuck faculty and industry leaders
We are excited to announce our incoming cohort of twenty-nine exceptional students. Together, they bring a wide range of expertise, from clinical experience and drug development to health care strategy, international health systems, biotech and health policy.
Please join us in welcoming them to the program!
---
Katie Aldrich T'23
Katie Aldrich brings experience in biotech operations and healthcare data management and looks forward to Fellow's discussions on how to improve health care equity, provide better medications, and reduce the overall cost of healthcare. This summer she will intern with McKinsey&Company in their Pharma Operations practice.
Chris Alvarez T'23
While in undergrad, Chris Alvarez configured computational models of epilepsy with researchers at Beth-Israel Lahey Health and promoted social media and inbound marketing at KNODE, a scientific and medical collaboration company. This summer he will intern at Danaher, specifically in marketing at Danaher's operating company Cytiva.
Kathryn Burke T'23
Kathryn Burke joined Tuck from Gartland and Mellina Group where she worked as an Associate Management Consultant, and eMondy Advisor, where she worked as a Supervisor in Strategy and Planning. She is spending the summer as an MBA intern at CVS Health.
Nathan Busam T'23
Nathan Busam plans to use his MD/MBA to be an excellent clinician who has a voice in enhancing the way care is delivered to the many communities he will serve. Before med school, he worked as an associate consultant at Triage Consulting Group where he modeled payer reimbursement contracts to improve health system revenue cycle management.
Penny Chen T'23
Penny Chen hopes to draw from her background in operations and supply chain management to solve the problem of healthcare accessibility and distribution. She completed an operations management trainee program in Abbott Laboratories, and will intern at Kearney Consulting as a Strategic Operations Consultant this summer.
Caroline Cary T'23
Caroline Cary strives to build the health care community at Tuck for both first and second year students. She spent most of her career before Tuck in the patient education space as DaVita. This summer she will intern at Pfizer as part of their Marketing Internship Program.
Hayden Doughtry T'23
Hayden Doughtry is one of four MD/MBA students to join the Fellows program this year. He marries his business skills with a hard science background from working in a cancer laboratory at BYU Simmons Center for Cancer Research and his years as a medical researcher at Geisel School of Medicine.
Bryan Dextradeur T'23
Bryan Dextradeur spent four years at Deloitte where he focused exclusively on health care clients, including health plans, integrated delivery systems, public health agencies, digital health firms, and medical device companies. This summer he will intern at DaVita.
Martha Gilchrist T'23
Before Tuck, Martha Gilchrist worked at a life sciences strategy consulting firm where she recommended commercialization strategies to life sciences firms – spanning VC startups to global pharma firms. She will intern at Foundation Medicine in Boston on the Corporate Strategy & Portfolio Planning team this summer.
Anurag Gupta T'23
Anurag Gupta Prior to Tuck, Anurag Gupta worked in healthcare investment banking at JP Morgan where he worked on various large M&A transactions and equity/debt capital raising deals. His interests lie primarily at the intersection of healthcare and health equity. This summer he is an intern at BCG.
Yue Huang T'23
Yue Huang has a background in finance and accounting and is interested in how various ways of financing health care gives different incentives to patients, providers, pharmaceutical companies. She is interning at UBS investment bank in their Health care group this summer.
Jackie Kalan T'23
Jackie Kalan brings health technology interest and experience to the cohort from her years working at the electronic health record software company Epic. She hopes to one day return to the product side of the healthcare industry. This summer she will intern with the Corporate Strategy group at Thermo Fisher Scientific.
Nathan Kung T'23
Nathan Kung strives to be a leader in mental healthcare delivery and clinical care as an MD/MBA. He was a finalist at the Haas Mental Healthcare Case Competition, serves as an Advisor for Mandala and is a Flare Health Scholar.
Cheng Li T'23
Cheng Li brings deep industry and international experience to the cohort, such as how China uses IoT technology to monitor the process of bloodstock and uses ultra-low temperature refrigeration technology to protect human gene banks. This summer he will join Goldman Sachs Asia as an IBD summer intern.
Megan Lynch T'23
Megan Lynch has consciously gained experience across many different sectors of health care (pharma, public health, hospitals, bench and clinical research, health policy) over the course of her pre-Tuck career. This summer she will intern at BCG in Boston as a generalist summer consultant.
Alexandria Mar T'23
Alexandria Mar joined Tuck after running clinical trials at Edwards Lifesciences for five years. She is currently interested in the impact of AI on the healthcare industry and its potential for disrupting healthcare practices. This summer she will intern at Deloitte.
Emma McLaughlin T'23
Emma McLaughlin's experience working in sales at GE HealthCare helped her develop a commercial-driven mindset and understand the motivations and priorities of a variety of healthcare industry stakeholders. This summer she will intern as an Implementation Associate at McKinsey&Company.
Daniel Moertl T'23
Daniel Moertl plans to draw on his experiences working across the Austrian and US health care landscapes to help his peers broaden their view beyond the US health care sector. Before Tuck he worked at Advantage Austria in their New York office and will intern this summer at Simon Kucher & Partners in their healthcare and life sciences division.
Charlie Palfreyman T'23
Charlie Palfreyman worked on hospital M&A, policy, and pricing at Charles River Associates before joining Tuck. In addition to being a Health Care Fellow next year, he will also be a co-chair for Tuck Community Consulting. This summer he will work at Vertex Pharmaceuticals as a Data Strategy and Solutions intern.
Julia Papanastou T'23
Julia Papanastou is inspired to better the healthcare industry and the patient care journey in the US. Before Tuck she worked in healthcare consulting at Huron Consulting Group. She will work at EY Parthenon this summer.
Sabira Rakhimova T'23
Sabira Rakhimova worked with state health agencies as an actuary at two different healthcare companies in Boston prior to Tuck, which will provide unique perspectives for her peers. She will be a program manager intern at Amazon this summer.
Lena Rice T'23
Lena Rice's background is primarily in healthcare business, but is excited to further her learning about various business models and stakeholder alignment across the healthcare ecosystem. This summer she will intern at Thirty Madison as a Business Development intern.
Abby Rohman T'23
Abby Rohman's passion lies primarily in women's health and wellness, specifically women's sexual health. During her first year at Tuck, she organized programming and events with Women in Business and Tuck Community Consulting. Prior to Tuck, Abby worked as a consultant at EY-Parthenon and KxAdvisors. This summer she will intern at UPMC Enterprise.
Navendu Sharma T'23
Navendu Sharma uses his engineering background to help his peers understand how healthcare meets analytics. Before Tuck, he worked as a Consultant at ZS Associates, a healthcare and life sciences management consulting firm. This summer he will intern at Danaher in Integrated DNA Technologies.
Matt Walsh T'23
Matt Walsh worked in economic consulting at Charles River Associates where he specialized in antitrust and competition. He worked on many healthcare litigation projects and had extensive exposure to the tension between incentives within the healthcare system. This summer he will intern at DaVita Kidney Care as part of the company's Redwoods Leadership Development Program.
Joanna Weng T'23
Joanna Weng worked in life sciences consulting before Tuck, as well as co-founded a consumer health startup focused on personalized nutrition in the US and China. This summer she will intern with CVS Health's Kidney Care startup in a digital strategy role.
Sherry Yang T'23
Sherry Yang's pre-Tuck career spanned specialty pharmaceuticals in-licensing and acquisitions, healthcare consulting, and internal strategy at one of the largest cannabis companies. This summer she will work in Healthcare Investment Banking at JP Morgan.
Jiayan Yan T'23
Jiayan Yan worked for three years at Pfizer Research and Development as a clinical data manager and for three years at IQVIA as a data team lead before joining Tuck. She will intern at Trinity as a Senior Consultant this summer.
Sean Zhao T'23
Sean Zhao looks forward to applying his clinical experience as an MD/MBA student to industry discussions with his peers. Some of his interests include biotechnology and hospital management and operations.
---
The Center for Health Care serves as the hub for health care at Tuck. Together with students, faculty, staff, and alumni the Center creates learning opportunities and fosters connections for members of the Tuck community interested in the business of health care.
The Center's faculty offer health care elective courses, lead the MD/MBA and MBA/MPH joint degree programs, and sponsor independent studies related to health care. Working closely with practitioners and experts across health care, the Center offers co-curricular, experiential learning, and career exploration opportunities for students to deepen their knowledge and network in health care. Learn more about the Center for Health Care at Tuck.