On February 24, Sergey Krasovski T'22 was one of many students who watched in horror as Russian military invaded Ukraine.
As war in the region quickly moved from possibility to reality, Krasovski, who is from Belarus and studied radiophysics at the Belarusian State University, immediately felt compelled to help his home region.
"Suddenly people who wanted to wake up and make a cup of tea, go to school, go to work, go to their farm, have lost their parents, their children, the roof over their house," says Krasovski. "War is not fair to simple civilians—and there are wars everywhere. But because I am from that region, I had an internal calling to do something to help."
Krasovski and a small group of students, including T'22s Sarah Geller and Elena Nikvashvili, set wheels in motion to launch a public fundraiser on Facebook to support Ukraine. Called "MBAs Donate to Ukraine," the fundraiser collected 35,000 dollars in just two weeks with an average donation of 87 dollars per donor. Proceeds were donated to United Help Ukraine (UHU), a U.S.-based non-profit organization that provides first aid kits and other medical supplies to the front lines. UHU also partners with other emergency response organizations to provide humanitarian aid directly to impacted civilians.
Though the fundraiser was successful, Krasovski was left wondering what else he and other students at Dartmouth could do to help. "Every night I went to bed ruminating about the war, my friends in Ukraine, and my parents in Belarus—I don't know yet when I'll be able to see them again," he says. "I knew there was more we could do, so I kept connecting with students and faculty across campus to try to organize a team of volunteers."
Tuck's mission is to develop wise, decisive leaders who better the world through business, but that starts with simply bettering the world—through good intentions, through human decency, through empathy. This is how we can make an impact, right now.
Now called #DartmouthStudents4Ukraine, the collective group spans the Dartmouth community with volunteers at the undergraduate level to Tuck, Thayer School of Engineering, the Geisel School of Medicine, and the Guarini School of Graduate and Advanced Studies. In addition to Krasovski, the #DartmouthStudents4Ukraine founders include Vadim Kukharchuk T'22; Elena Nikvashvili T'22; Irma Vlasac, a PhD candidate at Guarini; Nataliia Vereshchuk, a postdoctoral fellow at Dartmouth; and Andrii Murdza, a research associate at Thayer. In partnership with the Ukrainian Student Association at Dartmouth, the group helped organize panels and demonstrations to help shed light on the crisis, including a public screening of the Netflix documentary Winter on Fire: Ukraine's Fight for Freedom. In April, the group partnered with Dartmouth-Hitchcock Medical Center (DHMC) and volunteers to assemble 1,000 first-aid medical kits for soldiers and civilians fighting on the front lines in Ukraine. DHMC funded the effort which is estimated at 180,000 dollars. And on May 11, students organized a powerful event in which 226 toys were placed on Baker Lawn to remember children killed in the Russian invasion.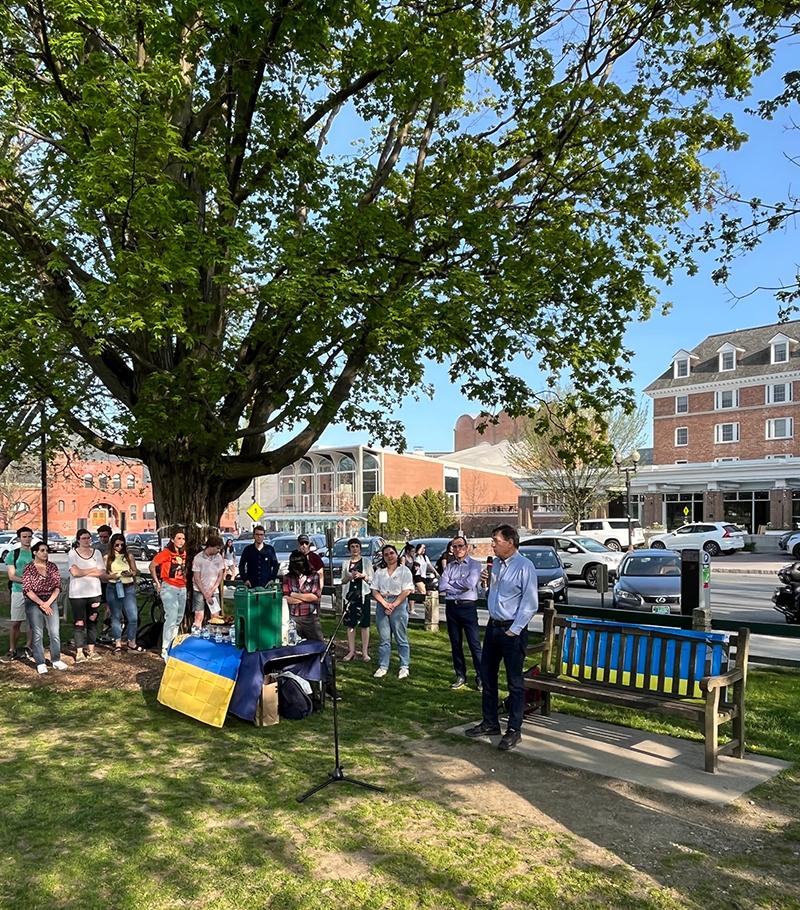 A fundraiser kickoff event was held on May 12 on the Dartmouth Green.
The biggest news from #DartmouthStudents4Ukraine yet, however, is a new partnership with nonprofit United Way to establish a Dartmouth-wide fundraiser in support of Ukraine. With a goal to raise 100,000 dollars, the fundraiser kicked off on May 12 with an event on the Dartmouth Green featuring the stories of Ukrainians at Dartmouth. Focused on helping the most vulnerable populations, refugee women and children, proceeds from the fund will be distributed to the more than 3 million Ukrainian refugees in Poland and western Ukraine. United Way has partnered with the Poland-based Lech Walesa Institute Foundation to identify cities, towns, and villages that are serving Ukrainian evacuees. The Foundation also works with the Ukrainian delegation in Poland to provide medical, food, and humanitarian supplies to local Ukrainian communities.
For Krasovski, the opportunity to work alongside fellow students and support a higher cause, especially one he has personal ties to, has provided him with greater clarity on his purpose.
"This experience has really united us," says Krasovski. "Tuck's mission is to develop wise, decisive leaders who better the world through business, but that starts with simply bettering the world—through good intentions, through human decency, through empathy. This is how we can make an impact, right now."