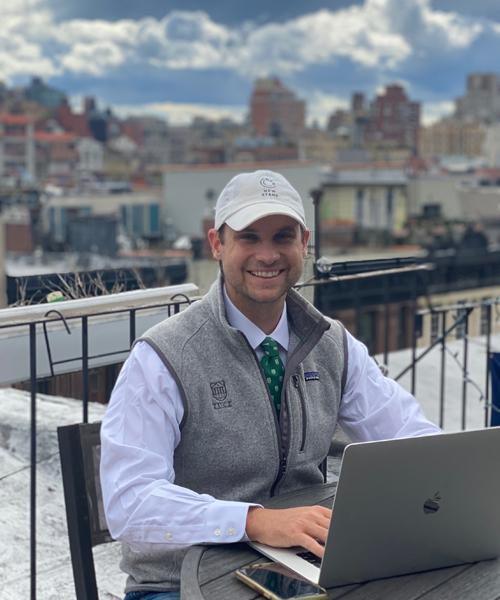 Tilton, SVP of operations and digital product at New Stand, is keeping business moving while working from his New York City apartment.
But at the time, life was far from ordinary. It was April and the height of the COVID-19 pandemic in New York City, where Lamberth and Tilton both worked.
Lamberth, like many others working remotely during the pandemic, had been using LinkedIn more often than usual as a way to stay connected to her friends and fellow Tuck students during the crisis. Lamberth said that Tilton and New Stand's idea of a care package—inspired by the homemade care packages they used to receive from parents during college—was unique and really resonated with her. Though her company had never made that type of gesture before, she thought it would be a great way for her to connect with her own customers.
"People are craving connection at the moment," says Lamberth, who is the co-founder and chief revenue officer of ZenFi Networks, a communications infrastructure company that operates fiber optic networks in the New York City metro area. "In this environment, I've seen an openness to creativity within organizations. People are thinking outside of the box on how to engage their customers and show empathy while doing so."
Lamberth, a New Jersey native and entrepreneur who knew she wanted to start ZenFi when she arrived at Tuck for her studies, thought the care package would be a great way to support ZenFi's customers, which include Internet providers, mobile network operators and telecom services providers, all essential to keeping people connected during the pandemic.
Lamberth messaged Tilton to learn more about New Stand's product to see if it could be a fit for them, quickly learning that it was. Even though Lamberth and Tilton worked in completely different industries, the partnership allowed them to support both of their businesses in New York City—an area that was hit hard during the pandemic.
People are craving connection at the moment. In this environment, I've seen an openness to creativity within organizations. People are thinking outside of the box on how to engage their customers and show empathy while doing so.
New Stand, for whom Tilton works as senior vice president, is a Series A startup that melds media with retail convenience and has a mission to improve daily life for its customers, selling a curated mix of fun gifts like snacks, journals, coffee mugs, and face masks. Before the pandemic, the company's footprint was centered in office lobbies, New York City ferries and airports, but during the coronavirus, Tilton helped the company pivot to a digital sales strategy (B2B and direct to consumer) to stay in business, given that on-the-ground locations have closed, with no more foot traffic from customers.
Tuckies Take Action
Tilton and Lamberth are just two examples of alumni who have pivoted and partnered during the pandemic. Students and alumni across the Tuck and Dartmouth community have been joining forces in creative and impactful ways to help combat the crisis.
"Every bit of business helps us—it allows us to refine our business product and prove our viability," says Tilton, who worked in consulting and at Amazon after graduating from Tuck.
After Tilton and Lamberth connected, Tilton looped in his team to design curated care package options for Lamberth's customers.
"We had been wanting to do something special for our customers during the crisis, and I thought it would be fun to send a care package to them, but we weren't sure how," said Lamberth. "Because of the coronavirus, we couldn't send anything to their offices, and we didn't want to ask for our customers' home addresses. We were also sensitive that some customers might not want mail, so we wanted it to be a nice opt-in thing."
Tilton and New Stand met the challenge by creating a Google form with different care package options. Then, they sent the form to Lamberth's customers, who had the choice to opt in, enter their mailing addresses and choose a tailored package that suited them, such as "work from home with wine" or "work from home with wine and kids."
New Stand completed the project in a week. It resonated with Lamberth's customers and was incredibly well-received—30 customers signed up to receive care packages, giving New Stand a $10,000 bump in sales. Both Lamberth and Tilton said that the partnership opened their eyes to new ways that companies could connect with customers.
Business (Not As) Usual: Victoria Lamberth T'13, chief revenue officer at ZenFi Networks, is working from home while caring for her two children.
"Lead with empathy—that's the big tie to Tuck for me, and that's what I've seen of our classmates in LinkedIn posts," Lamberth said. "People are being smart about their business, but they're also recognizing that this is a people thing. And you can't ignore what's going on in people's lives when addressing your business needs. I loved that we could reach our customers in a unique way and support a business, like New Stand, that was quickly adapting to a COVID-19 world. It felt like such a win-win."
Tilton said working with Lamberth exemplified the strong ties that students forge at Tuck and the ways in which Tuck students stay connected long after they've left Hanover.
"The experience reminds me of some of the reasons I chose Tuck for my MBA: a tight-knit community and a network that lasts past your two years there," Tilton said. "A time like this really tests people's mettle. Tuck taught us to be strategic, and more importantly, to be human. People from Tuck come together, and this is a really great example of that."
Tuckies
Take
Action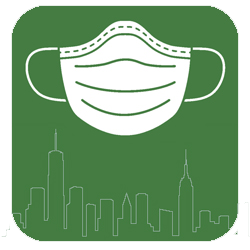 Mission: Masks to NYC & Boston
It all started on March 14, 2020. As COVID-19 began to spread rapidly in the U.S., Boston-based Lisa Cloitre T'02, founder and CEO of LJC Advisory, was at home in isolation with her three-year-old son. Cloitre, who is immunosuppressed, was looking for innovative opportunities to help combat the crisis. She decided to reach out to fellow alumni in China for advice.
Cloitre emailed Shanghai-based Tuck classmate and fellow Phillips Exeter Academy alumna Sarah Millard T'02, director of operations and finance at PureLiving China—a leading environmental consulting company in the country. "She advised that everyone should be wearing masks," Cloitre recalls. "I responded to her, 'But, there are no masks!' I had heard firsthand from multiple Emergency Room physicians that there were PPE [Personal Protective Equipment] shortages everywhere."
The wheels began turning for both Millard and Cloitre—and they knew they needed to act quickly. Below is a brief timeline of their efforts and the alumni they engaged for their advocacy campaign.
Sarah Millard T'02 and Louie Cheng T'03 (life partners and co-founders of PureLiving China) procured and vetted masks through long-standing business relationships with Chinese manufacturers and suppliers. Their trusted relationships and stamp of approval were essential to this transaction. They earmarked and shipped 80,000 KN95 and 2,100 FFP1 surgical masks to Cloitre and/or donor recipients. Masks arrived in the U.S. in different shipments between March 27 – March 31, 2020—pre-COVID-19 peak in both NYC and Boston.

39,000 masks were sent to NYC and distributed to physicians working in over two-thirds of NYC hospitals. 40,000 masks were sent to Beth Israel Lahey in Boston. 1,000 KN95 masks and 2,100 FFP1 surgical masks—distributed, literally, from Cloitre's front door—were sent to Boston Medical Center and various community health centers in and around Boston.

Hunter Xia T'01, CEO of China Channels and FITBOX Beijing, managed the import of the masks and distribution logistics with help from Jasmine Li T'10.
Andrew Dunn T'16 reached out to Tuck Ambassador Andy Steele T'79 in early April to ask if he knew of any Tuckies who needed help on COVID-19 efforts while on a mandatory three-week furlough from his management consulting job. "Andrew has been instrumental in more ways than I can articulate, including helping me identify and finalize the 501c3 agreement, identifying pro-bono legal counsel, and helping think through broader strategic implications for continued COVID-19 advocacy and efforts in the U.S.," says Cloitre.

As of May 14, 2020, $66K was raised through a GoFundMe campaign for Mission: Masks to Boston & NYC. An additional $50K was donated by an anonymous Boston donor, bringing the current total to ~$112K. Organized by Tuck first-year students, the Wuhan Relief Fund donated their $3,200 to the Mission: Masks campaign. Cloitre is also in current discussions with a few other student organizations that are looking to donate their unused budgets to the GoFundMe Campaign.
More Tuck
Volunteer
Efforts
John Pepper T'97
Jarett Berke T'17
Boloco, led by CEO John Pepper T'97, and Lou's Restaurant & Bakery, led by owner Jarett Berke T'17, joined forces and launched GoFundMe campaigns to both boost business and help feed hospital workers, civil servants, police, fire, and other restaurant and essential workers who are on the frontlines amid the COVID-19 pandemic. The campaigns combined have raised more than $57,000 to date.
Mo Earley T'20
Kate Hoffman T'20
T'20s Natalie Triedman, Mo Earley, Kate Hoffman, and others have created a centralized online collection of resources, Helping the Upper Valley During COVID-19, to match volunteers with local opportunities—ranging from stocking shelves and preparing meals at The Haven to providing childcare for staff at the Dartmouth-Hitchcock Medical Center.
Natalie Triedman T'20
Emily Maine T'20
Megan Tervo T'20
Alex Wood T'20
Christian Haudenschild TP'20
Last month, 75 students and partners volunteered to make over 250 deliveries of groceries and other essentials to seniors in the Upper Valley. These volunteers also decided to donate all tips to local COVID-relief efforts. Cooper Henderson T'20 has been delivering groceries to the same elderly couple every week since the launch of Hanover Helpers; "once this thing is over," the couple reports, "we want to do something for him to show our gratitude." T'21 Cindy Engman's special delivery allowed an older man to make a special meal for his wife to celebrate their 61st wedding anniversary. TP'20s Christian Haudenschild and Thomas Davids spent countless hours building a website to seamlessly connect Hanover Helpers volunteers to seniors in the community.
Lauren Farrar TP'21 joined nationwide volunteers by hand-sewing facemasks for local healthcare workers, family, and friends. The masks were donated to Dartmouth-Hitchcock Medical Center and made according to their guidelines after the CDC announced fabric masks as an acceptable option when supplies are limited.
Katharine Eddy T'20
Kate Hoffman T'20
T'20s Katharine Eddy and Kate Hoffman have been organizing a team with MBAs Fight COVID-19, a cross-business-school platform that matches MBA students with pro-bono consulting projects.
Junfei Yu Thayer'19
Dingyang Lu Dartmouth'17
Dartmouth-Hitchcock Medical Center (DHMC) received a donation of 50,000 medical face masks in April, thanks to Junfei Yu Thayer'19, a TuckLAB graduate. Yu and his teammate Dingyang Lu Dartmouth'17, both managers for the international department of the company, sourced 50,000 type II disposable surgical masks from across China before shipping them to Shanghai, where their team performed a final check and labeled the boxes with Dartmouth's logo and motto "Vox Clamantis in Deserto." The masks were then flown to Hanover, New Hampshire.
If you have a COVID-19 advocacy story you'd like to share, contact Justine Kohr, editor of Tuck Today, at Tuck.Communications@tuck.dartmouth.edu.