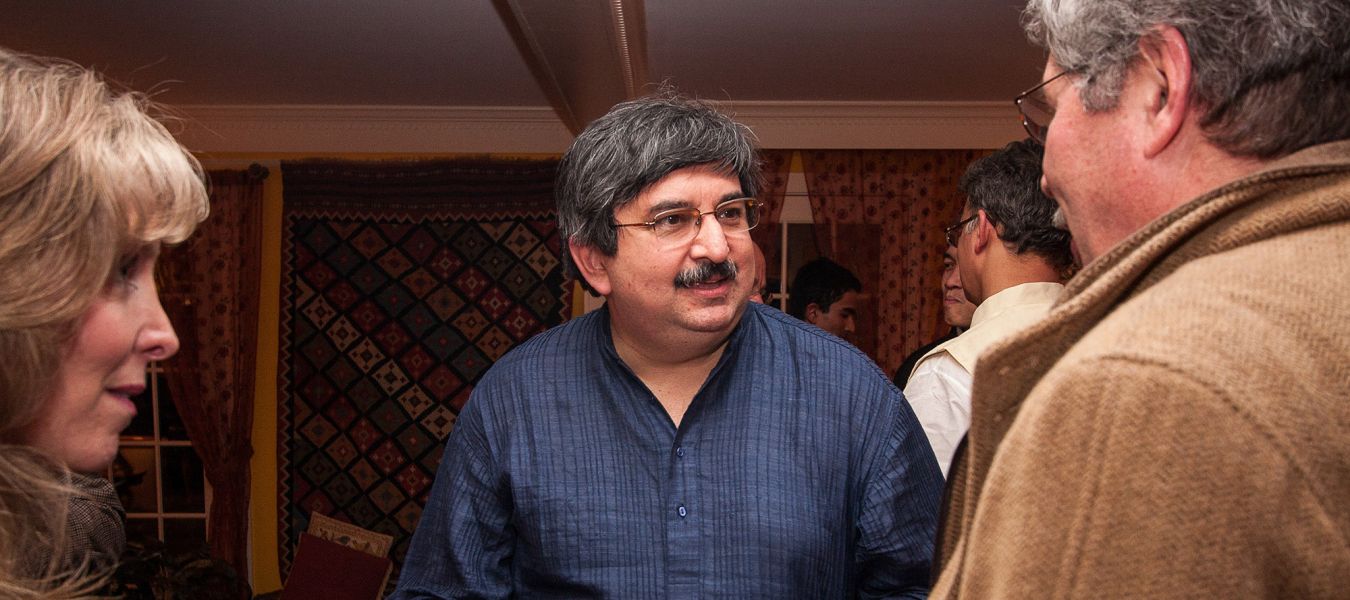 T'85
Salil Tripathi
Senior Adviser, Institute for Human Rights and Business; Chair, Writers in Prison Committee of PEN International
It's in companies' interest to take human rights risks seriously, not just the risks they face, but the risks they pose to communities.
Salil Tripathi T'85 became interested in human rights as a teenager in Bombay, when the government declared a state of emergency and suspended the constitution for 21 months. "I was only 14, but I could see that things like liberty, human rights, and democracy really matter," says Tripathi, who came to Tuck in 1983.
During his second winter in Hanover, on the night of Dec. 2-3, 1984, 27 tons of methyl isocyanate gas leaked from a Union Carbide pesticide plant in Bhopal, India. More than half a million people were exposed to the lethal gas. The official death toll was 2,259, though some claim 10 times that number perished.
The tragedy caused Tripathi to think more deeply about companies and their impact on society, leading him into a human rights career. He knew that those in the shanties of Bhopal had no voice to demand safer facilities, and that many in the business community were not aware of the abysmal living conditions near some of their facilities. As a student of business, he recognized that the way to prevent similar disasters in the future must include dialogue with industry.
After Tuck, Tripathi returned to India and weighed two job offers. One was in the commercial banking division of Citibank. The other was as the opinion editor at a startup newspaper, writing about economics, politics, human rights, and culture. "I took the newspaper job," he said.
Tripathi eventually moved to Singapore, where he worked at the Far Eastern Economic Review, covering the dizzying rise of the Asian Tiger economies and the devastating economic collapse of 1997. About that time, he answered an ad in The Economist seeking an executive to develop a human rights and business program at Amnesty International in London. The job presented a challenge, and an opportunity. There, Tripathi represented the organization in critical negotiations that created multi-stakeholder initiatives, such as a regulatory mechanism to eliminate conflict diamonds from international trade, and a set of principles to govern the conduct of security forces guarding extractive industries.
Later, the former Irish President Mary Robinson, who had also been the high commissioner for human rights at the United Nations, helped set up the Institute for Human Rights and Business (IHRB), for which he was tapped, and where he is now a senior adviser. The institute is something of a matchmaker for strange bedfellows, bringing together such diverse interests as corporate compliance officers, human rights activists, and government agencies. The group promotes research in an under-studied area—the relationship between human rights and corporate performance and impacts.
Tripathi has been particularly active in Colombia, the Niger Delta, and Burma, each of which has been the site of longstanding conflicts between local people and industry. In such resource-rich conflict zones, "the short-term solution is to get SAS-trained private security people to protect the facilities and its perimeter with an iron hand. But human rights violations are inevitable, and at some point that creates a cycle of violence and work stoppages" that often lead to lawsuits against companies. "So it's in companies' interest to take human rights risks seriously, not just the risks they face, but the risks they pose to communities."
The challenge for Tripathi's organization is persuading business that the more expensive option is often the best in the long-term. "Measuring the human rights impact for the bad things that did not happen is almost impossible," he says.
Though difficult to quantify, the value is obvious to those in the field. One of IHRB's initiatives is the Myanmar Center For Responsible Business, which offers guidance to businesses investing in Burma to operate responsibly by respecting human rights. One of their early activities was to organize a series of meetings between locals, government, and business. At one such event, Tripathi recalls, "we had a prominent Burmese minister speaking and making promises. As the session was ending, an elderly man put his hand up [to ask a question]. He began speaking very haltingly in Burmese. And he went on for a very long time."
After a few minutes another member of the panel sent Tripathi a note, asking if the old man could be told to make his point more quickly. It was hot and late in the day. Many important people from government, business, and civil society were there, some of them restless to leave. But Tripathi let the man speak. "This is what Burmese people have waited 60 years to do—to hold their leaders to account by asking questions. I didn't want to interrupt that process."