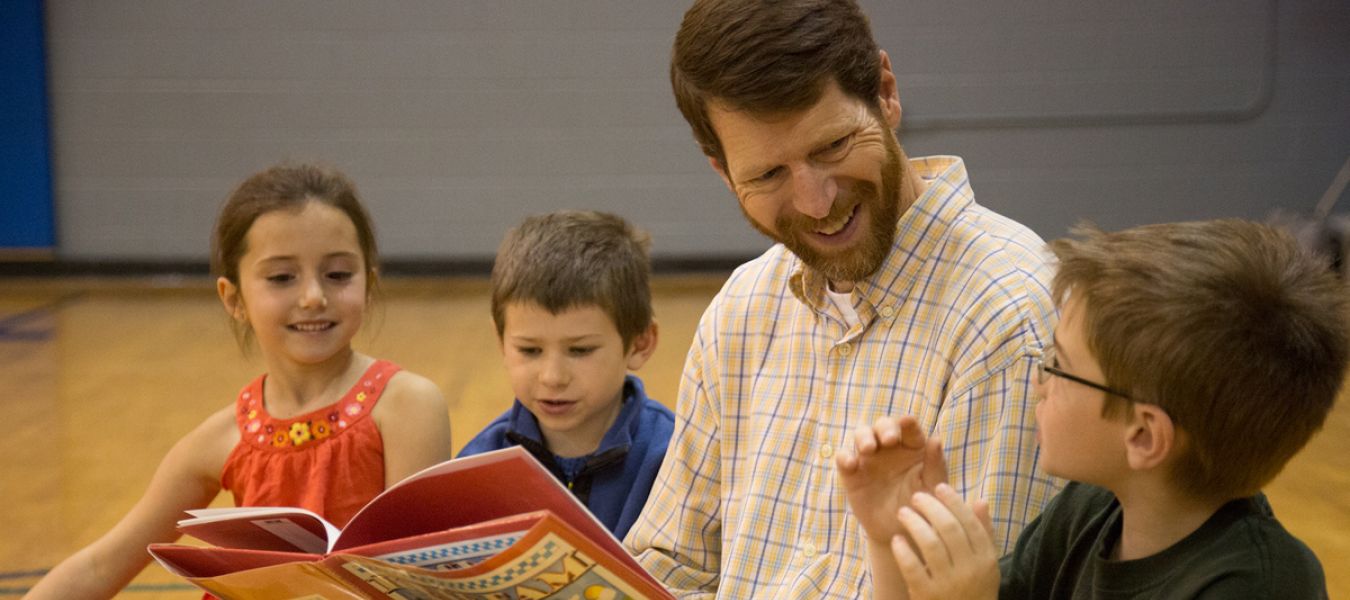 T'87
Duncan McDougall
Executive Director & Founder, Children's Literacy Foundation
This rich experience really brings reading alive.
Duncan McDougall T'87 spent part of his 20s guiding expeditions of the physical world—long whitewater and backcountry trips in far flung places like Alaska, New Zealand, and Labrador. Since 1998, however, he has been leading expeditions of another kind, guiding children on a journey to literacy, and equipping them to explore that world independently for the rest of their lives.
McDougall is the founder and executive director of the Children's Literacy Foundation (CLiF), a nonprofit organization that aims to inspire a love of reading and writing among low-income, at risk, and rural children in Vermont and New Hampshire. These states need CLiF's help: roughly a third of low-income elementary school students are not proficient in reading, and more than half are not proficient in writing. Those children are being sentenced to a life of diminished opportunity, McDougall says. CLiF's model represents a way out. It injects books and literacy programming directly into small towns, schools, low-income housing developments, and shelters, waging on-the-ground campaigns where they're needed most.
With its Year of the Book program, CLiF gives $25,000 of literacy activities to a rural elementary school and over the course of a year every student selects 10 new books to keep. At one school, children read about dogsledding, wrote their own stories, and then CLiF sent a professional sled-dog team to the school for a demonstration. "The kids got to see the team in action, meet the dogs, and learn how dog teams are managed," McDougall says. "This rich experience really brings reading alive."
CLiF's other flagship offering is Community Literacy, which provides $50,000 worth of literacy support to a town over three years to foster a culture of reading and writing. The money goes toward grants for literacy materials and programs, new books for public and school libraries, visits by local children's book authors and illustrators, and new books for kids to select. "By the end, children are inspired by stories, reading and writing, and have the resources around them to help move them forward," McDougall says.
When not shuttling to these remote towns from his home in Waterbury Center, Vt., McDougall is working on the other side of the literacy equation: parents. All told, he has given presentations at 16 state prisons to teach men and women the vital importance of sharing books with their kids. CLiF donates libraries for family visiting rooms, conducts storytelling with inmates and their families, and allows inmates to record themselves reading on MP3 and send the books and recordings home to their kids.
In its 16 years of existence, CLiF has reached more than 150,000 children in 400 towns, and handed out more than $3 million in new books. The Tuck community has played an important role in this achievement, with nine alumni serving on CLiF's board, and Revers Board Fellows, a consulting team of first-year students, and many donors also providing critical support.
Impressively, CLiF is funded solely through the private donations of more than 600 donors each year. "We've never received a penny from state or federal governments," McDougall says proudly.