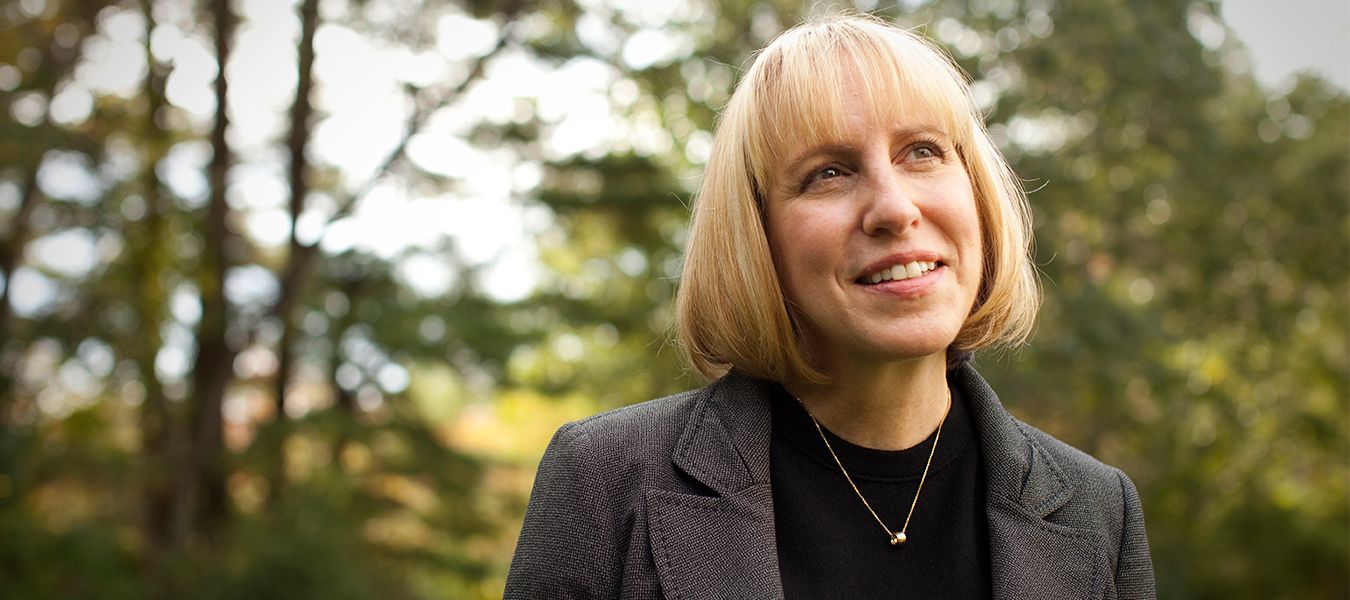 T'83
Carolyn McGuire
Founder, Community Consulting Teams
Bringing different people together means bringing together different skills and experiences. Learning from them makes you a better consultant; you have no choice but to learn that at Tuck.
It all started when Carolyn McGuire T'83 opened her mailbox to find a letter from Tuck. As she read it, she learned that a new group of graduates from top business schools was forming in the Boston area to provide pro bono consulting services to local nonprofits. She was intrigued.
It was 1991, and McGuire was doing "the big juggle": raising three preschoolers while taking on sporadic consulting and teaching work. This new project, modeled on a similar and successful program at Stanford, seemed like the perfect thing to keep her business brain engaged.

In accepting, she became one of three founding members of Community Consulting Teams (CCT) of Boston. While the other early members relocated from Boston within a few years, McGuire found an enduring passion in CCT and has been a leader, in different capacities, in the all-volunteer organization for 21 years. Along the way, CCT has involved close to 100 other Tuck alumni, as well as hundreds more from Wharton, Kellogg, Sloan, Yale, and other schools.

CCT offers its free consulting services to 501(c)(3) nonprofits in six areas—arts, education, social services, environment, youth services, and health care—and targets groups with at least three employees and budgets in the $500,000 to $5 million range. Each year, McGuire and her fellow board members find critical, focused projects and enable each organization to more effectively serve its constituencies. Then, from January through May, teams of six to 10 MBA volunteers commit an average of 12 to 16 hours per month to their assigned project. Volunteers run the gamut from retirees looking to stay engaged, to busy working professionals who squeeze in project time while they're on the road.

"Whether we're developing a financial plan, a segmentation strategy, an assessment of operations, or a communications strategy," says McGuire, "the constant theme is that we're providing the nonprofits with critical strategic guidance at a critical time."

For example, an all-Tuck project team led by Peter Clay T'83 and Liz Thorne T'90 worked this past year with Children's Trust Fund, a statewide public-private partnership aimed at preventing child abuse and neglect by supporting families with training and education. CCT's focus was to hone the group's marketing and communications plan; as a result, the fund was able to unify its branding and construct a social-media strategy to reach more young parents. ("The Tuck School rocks!" its executive director told the crowd at CCT's year-end celebration.)

Since 1991, McGuire estimates CCT has completed 125 projects for 100 different clients, ranging from the Boys & Girls Clubs of Boston to the Asperger's Association of New England to the Commonwealth Shakespeare Company.
"Carolyn is the heart of the organization," says Kathy Schaller T'94, who has been volunteering with CCT for four years. "She wouldn't be the kind of person to say, 'I built this,' even though she certainly has been one of the key people in building CCT. Her leadership style would always be to collaborate and foster teamwork."
Among her longtime collaborators are Andrea Ploss O'Neill D'82, T'87, who has co-led the board on and off with McGuire for the past decade. And the current board chair is also a Tuck graduate—Carol Gibbons Krauss T'80.
Though many of the Tuck alums at CCT—including McGuire—didn't have prior training or experience in the nonprofit world, the collaborative team atmosphere at Tuck prepared them well for the experience.

"Bringing different people together means bringing together different skills and experiences," says McGuire. "Learning from them makes you a better consultant; you have no choice but to learn that at Tuck."

With her youngest child now in college and CCT in the capable hands of a newly expanded board of directors, McGuire says she would consider a return to the for-profit world in which she spent the first decade of her career. "I spent many years being really focused on CCT," she says. "And I have no regrets."
—November 19, 2012