Following a two-year pandemic hiatus, in-person Tuck reunions returned this spring—bringing alumni, their families, and community members back together at last.
Three separate makeup reunions were celebrated on campus April 22-23, May 6-7, and May 27-28, providing an opportunity for alumni from 19 distinct classes whose reunions were postponed in 2020 and 2021 to reconnect with the school and their classmates.
"It has been so energizing to see alumni back on campus and to witness the power and deep connection of the Tuck community firsthand," says Liz Nuñez, Tuck's new executive director of alumni engagement.
For alumni who had attended fall reunions previously, there were many familiar elements, including social gatherings, back to the classroom sessions with Tuck faculty, town halls with Dean Matthew Slaughter, and special outings organized by class leaders.
When he arrived at check-in for his reunion weekend on May 6, Michael Wyman T'86 had just come off the water following an afternoon row with several classmates on the Connecticut River.
"We had a full boat with eight rowers and a coxswain," says Wyman, who co-organized the activity with Sherri Oberg '82 T'86. "It was a lot of fun and just great to be with classmates enjoying the outdoors."
For the Tuck class of 1986, the good times continued that evening with a welcome dinner hosted by Oberg and her husband Curt at their home in West Lebanon. Other class-led reunion activities May 6-7 included a cornhole tournament and a hike up Gile Mountain in Norwich.
It's not a time when we typically have a lot of alumni on campus, so it's a different feeling. Along with the general hope and promise that the season brings, there's a special energy during this time of year as second-year students approach Investiture.
When Nuñez joined Tuck in January, she quickly dove into planning for these spring reunions, which began months prior. In coordination with reunion committee members, Nuñez and her colleagues worked creatively to bring alumni back to campus while keeping public health and the safety of the Tuck community at the forefront of their planning.
The result was a slate of reunion experiences that emphasized what alumni had consistently said they wanted most: a chance to see and spend time with each other.
"This was the feedback we received from every conversation we had with alumni," says Nuñez. "We wanted to provide a familiar reunion experience but also leave extra time in our schedule for alumni to just be together."
The spring reunions included a few additional twists. For the first time, "shoulder" classes attended their reunion weekends together, meaning alumni were able to interact with their classmates and other alumni who they were on campus with as students (eg. T'95 and T'96 classes).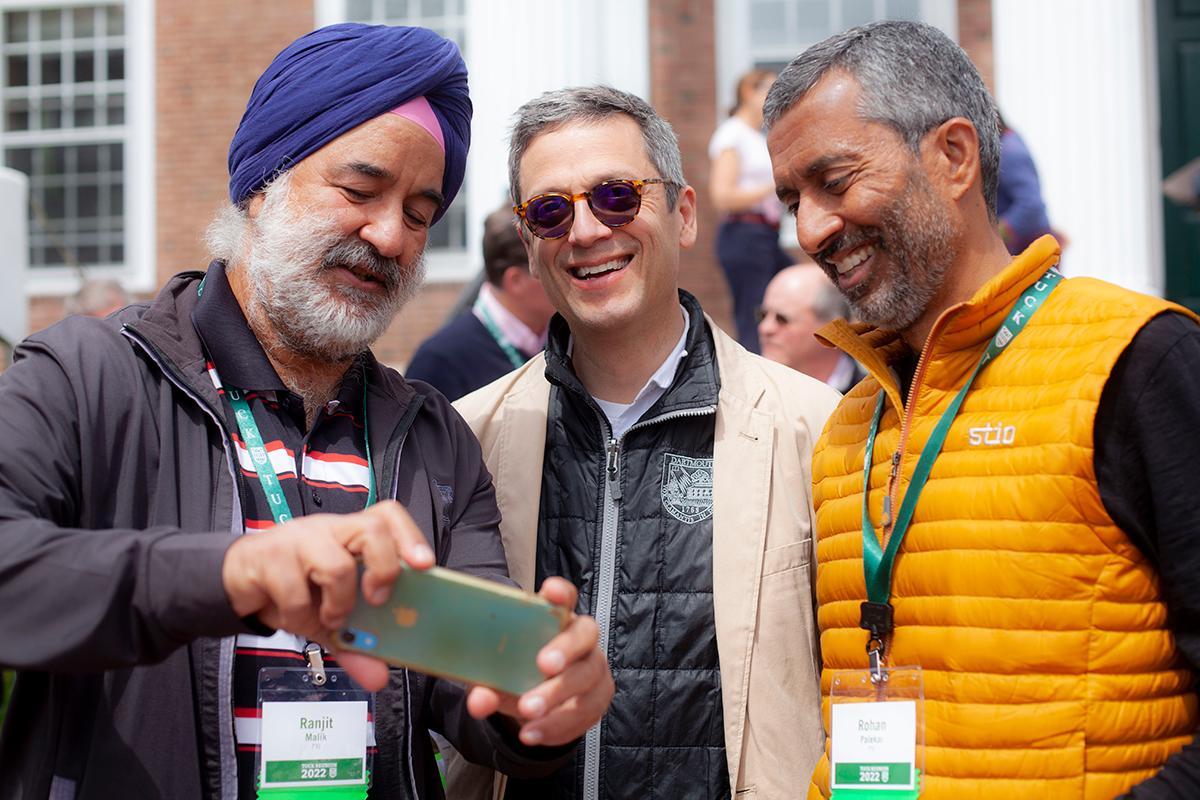 Although alumni missed the captivating foliage of a typical fall reunion, they also had the chance to experience campus in spring, which is infused with its own sense of energy and excitement.
"It's not a time when we typically have a lot of alumni on campus, so it's a different feeling," shares Nuñez. "Along with the general hope and promise that the season brings, there's a special energy during this time of year as second-year students approach investiture."
The timing also gave alumni an early look at the recently opened Arthur L. Irving Institute for Energy and Society at the end of Tuck Mall.
During this period of change and disruption, there are so many alumni out there on the leading edge of figuring out what's next in their industries. Our goal is to continue empowering them to connect and share that expertise with each other and the Tuck community.
Reunion programming included classroom sessions with popular Tuck professors like Sydney Finkelstein, Ron Adner, and Phil Stocken. During the April reunion weekend, Matt Kummel T'06, director of strategy and operations at Digital Currency Group, spoke to classmates about the evolving cryptocurrency market. Two of the three spring reunion weekends also included hands-on career programming with Associate Director of Alumni Career Services Heather Law.
Nuñez says variety continues to be a key ingredient in how she and her team develop impactful alumni programming, both in person and online.
"We know that alumni are still very interested in gathering in person, especially for reunions and regional events," she says. "But we're also taking a multi-pronged approach. We understand that alumni have changed their behaviors for engagement across many facets of life and we need to be equally nimble to meet them where they are."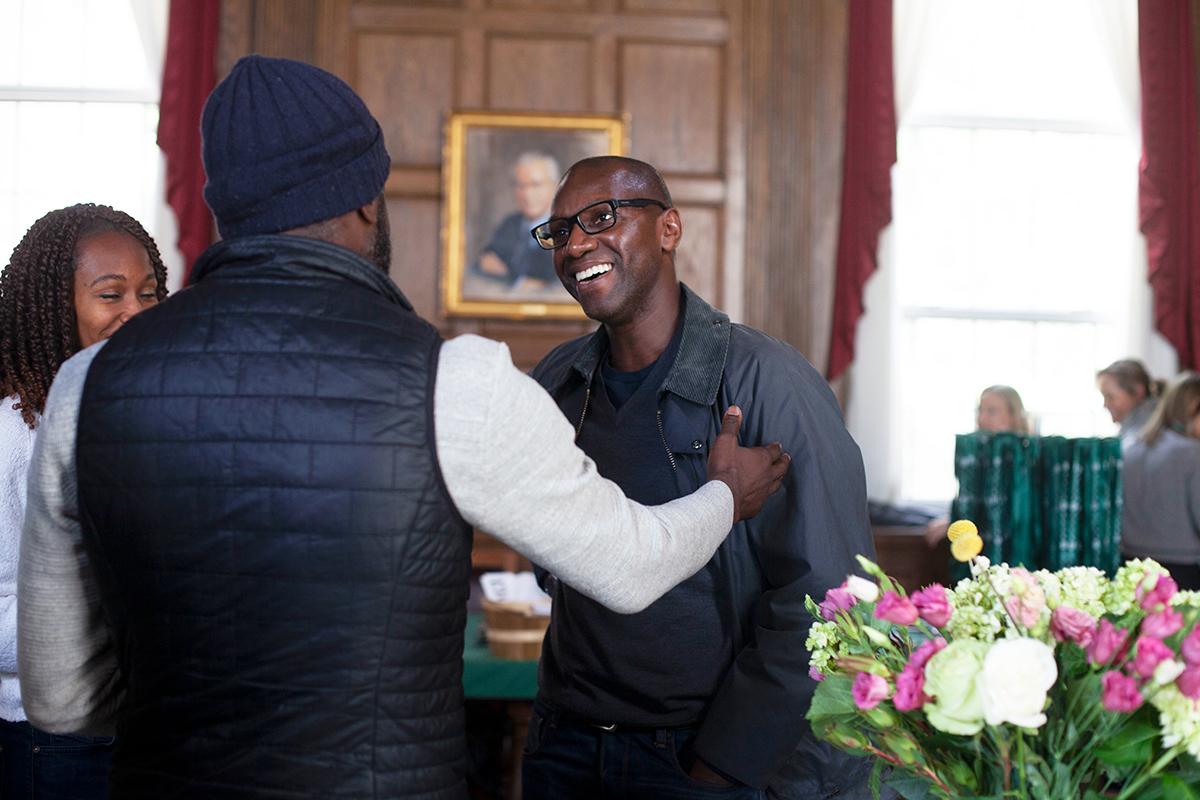 The plan is to return to the typical reunion schedule this fall, with Reunion 2022 set for October 7-8 on campus. That weekend will include a special, first-of-its-kind one-year reunion for the T'21 class.
In the coming months, Nuñez says Tuck will also continue to build out its portfolio of Tuck Alumni Lifelong Learning (TALL) programs with a focus on creating more on-demand content that alumni can access whenever and wherever they want. This includes content related to career development as well as business insights shared by Tuck faculty and alumni leaders.
"I'm thrilled with the possibilities and how we can continue to add value to the lives of our alumni," shares Nuñez. "During this period of change and disruption, there are so many alumni out there on the leading edge of figuring out what's next in their industries. Our goal is to continue empowering them to connect and share that expertise with each other and the Tuck community."
Spring Reunions Photo Gallery