On June 10, Tracy Sun T'05, co-founder and senior vice president of seller experience at Poshmark, will return to the steps of Tuck Hall to deliver the 2023 Investiture address.
Sun, who has spent more than 15 years at the intersection of fashion and technology, will step behind the Investiture lectern at the dawn of an exciting new chapter for the company she helped build. After taking the company public in 2021, Poshmark was acquired earlier this year by South Korean search giant Naver for approximately $1.2 billion. Sun is certain to play a central role as Poshmark looks to drive long-term innovation and growth as a private company, and she is likely to lean on the many lessons she learned at Tuck during the company's next phase, as she has throughout her career.
To be a successful entrepreneur you need to maintain a healthy dose of delusion and an equally healthy dose of reason. And both of those were skills that I cultivated and developed at Tuck.
—Tracy Sun T'05
To be a successful entrepreneur you need to maintain a healthy dose of delusion and an equally healthy dose of reason. And both of those were skills that I cultivated and developed at Tuck, she said in a 2017 Tuck Today feature story.
Sun found her footing in the fashion industry as vice president of merchandising at Brooklyn Industries before co-founding Poshmark with Manish Chandra, Gautam Golwala, and Chetan Pungaliya in 2011. In her 12 years at Poshmark, she has held numerous roles within the company—including VP of merchandising and, notably, SVP of new markets in which she was instrumental in driving the company's global expansion and entry into new product categories. As SVP of seller experience, she is responsible for cultivating and supporting Poshmark's highly engaged community of sellers.
What's been really, personally, a beautiful career experience for me with Poshmark is everything we do, we're on the same side of the table as our sellers, Sun told The Verge in 2021. We've made it our mission to grow the platform, so they can grow.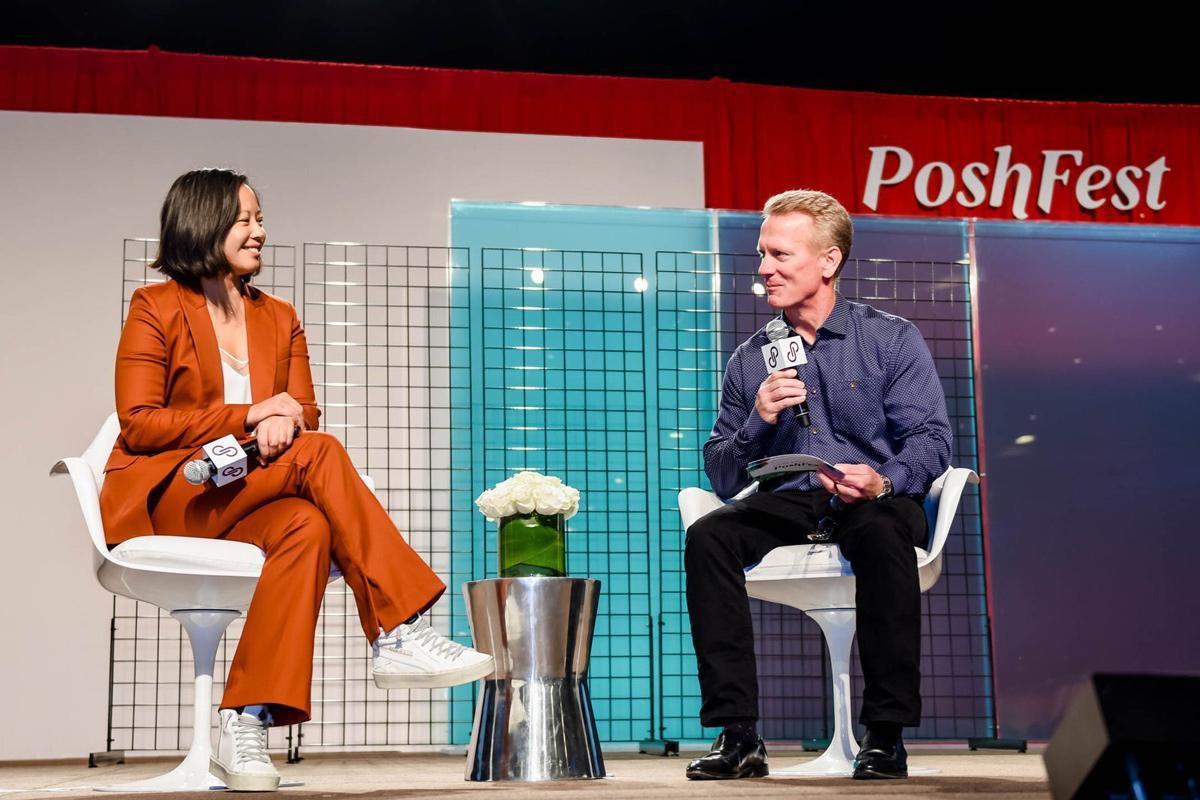 Poshmark co-founder Tracy Sun with COO John McDonald at PoshFest 2019.
While Sun is now an established entrepreneur and well-known figure in Silicon Valley, founding and building her own company was not a career path she originally envisioned. When studying psychology and biology as an undergraduate at Columbia, Sun hoped to become a neurosurgeon. Once she began work in the field, it quickly became apparent that life in medicine—or perhaps academia—did not suit her long term.
Like many MBA candidates, Sun enrolled at Tuck looking for a change.
At Tuck, I took advantage of the opportunity to meet with visiting executives. I would grab office hours with any visitor who would come, and what I realized was that it was the entrepreneurs who really inspired me, she says.
Chasing that inspiration proved fruitful. Sun is now one of the most influential executives in fashion and technology, as recognized by USA Today, TechCrunch, Refinery29, and Marie Claire. She is also a member of the Business of Fashion 500—the definitive professional index of the people shaping the fashion industry—and, in 2021, she was recognized by Gold House on its 2021 A100 List, honoring the 100 most esteemed and impactful Asians across fashion and beauty, technology, business, entertainment, music, and sports.
In addition to her MBA from Tuck, Sun holds a Bachelor of Arts from Barnard College at Columbia University.
The 2023 Tuck Investiture ceremony will take place on Saturday, June 10, 2023 at 1:00 p.m. ET. The ceremony will be held on the steps of Tuck Hall. A livestream of the event will be available to community members, friends, and family who would like to tune into the ceremony. For general information including parking, visit the Investiture site and stay tuned for additional details.