I
n the fall of 2016, a little more than a year into Matthew J. Slaughter's tenure as the Paul Danos Dean of the Tuck School of Business, the school's leadership team gathered around a conference table in Tuck Hall. In concert with the School's strategy committee and key alumni, the group had spent months working to craft a fresh mission statement and strategy to guide Tuck amidst the rapidly changing world of business education. As that energizing process was coming to fruition, Slaughter relayed a request from Dartmouth president Philip J. Hanlon that the time had come to identify priorities for a new capital campaign.
All eyes turned to Executive Director of Advancement Erin Tunnicliffe T'97, an understandable impulse, given Tunnicliffe's track record in fundraising. But Slaughter recognized an opportunity to involve everyone at the table as part of the greater effort.
"I said to colleagues, 'Advancement will lead, absolutely, but this is for all of us as senior leaders to be excited about. It's our chance to answer the question: what are our priorities for a capital campaign because its success is fundamental to how we will activate our mission and strategy across everything we do. It's why we all wake up every day.'"
The moment is typical of Slaughter's leadership style, which like Tuck itself is inclusive, inquisitive, and empowering. The leadership team had spent much of the previous year giving voice to Tuck's commitment to educating wise leaders to better the world of business, a key component of which is instilling the confidence and curiosity to ask the right questions. Now, Slaughter was asking his colleagues to do just that.
That meeting set the tone and trajectory for the creation of The Tuck Difference: The Campaign for Tomorrow's Wise Leaders, a $250 million capital campaign formally launched in April as part of a $3 billion Dartmouth-wide initiative. A consensus quickly emerged, with circles of ideas around people, programs, and places, in that order of emphasis. Those priorities reflect the belief that Tuck will thrive in a rapidly changing world by remaining grounded in core values that have guided the school since its founding 118 years ago. The approach has resonated with key alumni, who intuitively grasp the synergy of dynamic change rooted in historic strength, Slaughter says. "They're relieved that Tuck's core values and the things that are distinctly Tuck will remain the same even as we craft the Tuck of tomorrow."
While the campaign's priorities coalesced quickly, the details were the product of a rigorous process, says Punam Anand Keller, associate dean for innovation and growth. "We explore opportunities in the Dean's Office, then the strategy committee and other relevant committees," she says. "After we get buy-in—not sign-off, but buy-in—from staff, faculty, and students, then we'll get good rigorous empirical evidence from the outside."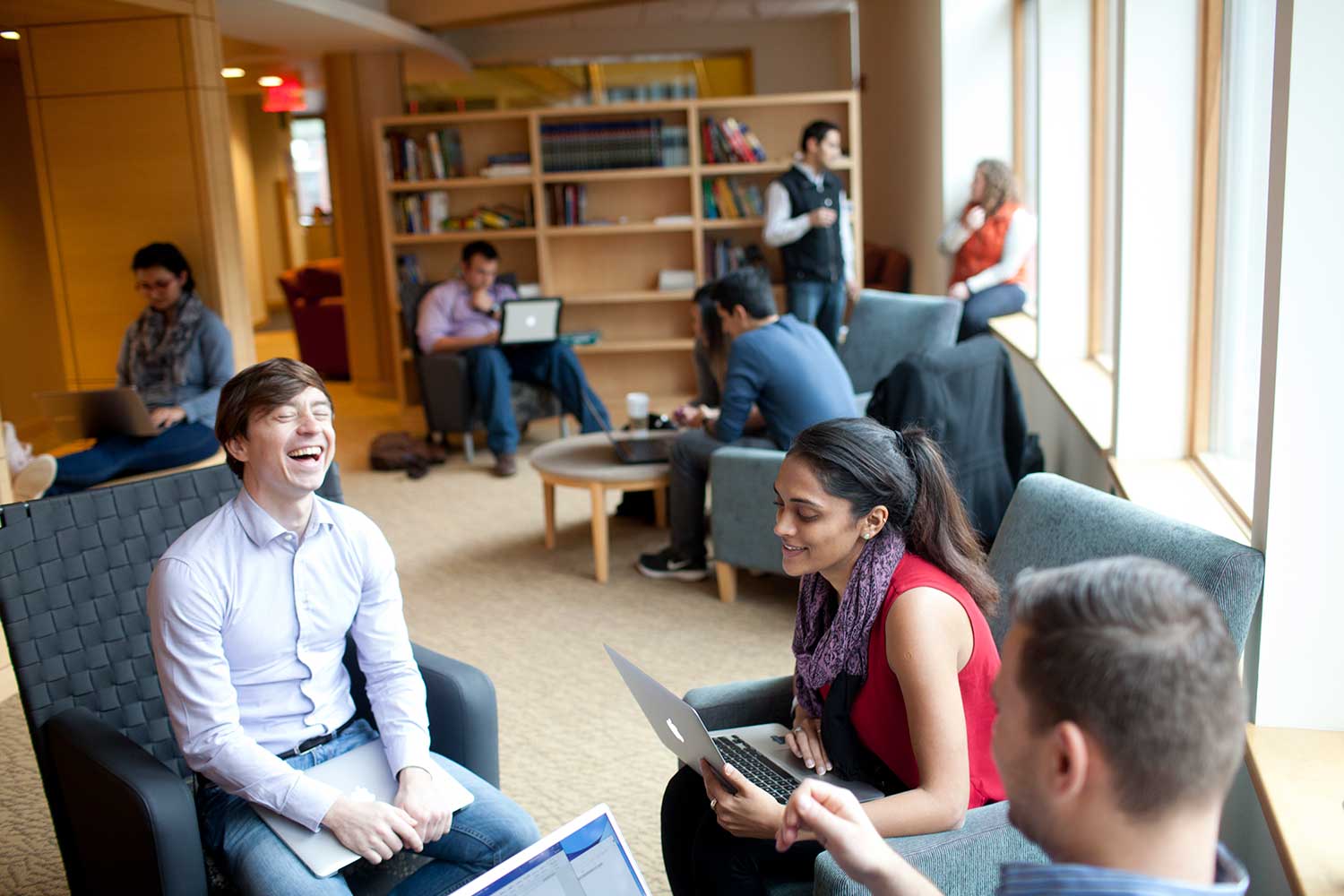 A Trust-Based Community: One of Tuck's historic strengths is a strong, supportive culture of learning that encourages students to take the risks they need to succeed.
This inclusive process identified a web of interlocking priorities, each supporting the others in important ways. People matter because talent is the one immutable currency in a fast-changing business world and creating the programs that will meet their needs is a dynamic and iterative process that must remain responsive. Likewise, the value of Tuck's campus and buildings is in the collaborative learning they facilitate. A planned revitalization of Murdough and enhancements to Byrne Hall therefore emphasize cutting-edge learning technology and will position core programs at the center of the campus community. The guiding principle is human-centered design in service of Tuck's mission, writ large. "This is a campaign that is about both refining and reaching," Tunnicliffe says. "We are taking a deep look at what we do and how we do it and optimizing to create the best learning environment possible. There will be a next-leveling of core programs like TuckGO and our centers, and aspirational strides toward bold new offerings like Next Step: Transition to Business."
This is a campaign that is about both refining and reaching. We are taking a deep look at what we do and how we do it and optimizing to create the best learning environment possible.
Erin R. Tunnicliffe T'97
Executive Director, Tuck Advancement
The $250 million goal is more than double that of the Investing in Excellence capital campaign, concluded in 2009, which raised $125 million against a target of $110 million. The Tuck Difference already has surpassed that earlier target, with key supporters pledging $132 million even before the campaign entered its public phase.
Significant gifts include a combined family commitment of $15 million from Paul E. Raether T'73 and his wife Wendy, together with their three daughters and sons-in-law, two of whom, Alexa Raether Maddock T'03 and her husband Fernando Maddock, Jr. T'03, are Tuck graduates. The gift matches the largest single contribution in school history, and in keeping with one of the campaign's most important strategic priorities is directed entirely to scholarships. In all, 25 donors have pledged $1 million or more so far, including two gifts totaling $15 million to Dean's Priorities. Emily and Errik Anderson D'00, TH'06, T'07, who contributed $10 million of this sum, said, "It's a way to show our support of Tuck's inimitable leadership team and our excitement for the One Dartmouth vision." These particular gifts support all of Tuck's priorities and will be directed annually to the most compelling need or opportunity.
The campaign has already inspired a higher percentage of giving to dean's discretionary spending than any previous Tuck campaign, a fact which Vicki Craver T'97 credits to alumni confidence in Slaughter's leadership, as well as the rigor and inclusiveness of the process. "The campaign case is very compelling in the way it considers how people, programs, and places will interact in a future that none of us can predict," says Craver, who sits on the Campaign Planning Committee. "I think that's a symptom of the great work Matt does in having his own vision but also listening to what is important to others."
Slaughter reflexively deflects such high praise, preferring to emphasize the contributions of his colleagues and the greater Tuck community. The truth is that both are important, and Slaughter has been effective precisely because he brings out the best in others. After all, that is the Tuck way, and Slaughter has become its most visible and energetic exemplar.
"With the pace of change in the world today you have to collaborate and you have to adapt. That is a hallmark of what today's business education should produce, and Matt embodies that," says chair of the MBA Council and Campaign Planning Committee member, Michael E. Koester T'99. "He gets what's special about Tuck and he embraces it, but he's not standing still. The word that really captures his ambition for Tuck is 'leapfrog.' He wants Tuck to leapfrog forward ahead of our peers."
With the pace of change in the world today you have to collaborate and you have to adapt. That is a hallmark of what today's business education should produce, and Matt embodies that.
Michael E. Koester T'99
Chair of the Tuck MBA Council;
Campaign Planning Committee member
Koester is a partner at Goldman Sachs, trained to weigh risk and opportunity. He sees plenty of both in the current business school environment. "It's a very dynamic time for MBA programs and higher education generally, and because of that the ability to move up and down the rankings is quite meaningful," he says.
Among the campaign's long-term goals is for Tuck to rank consistently among the top five business schools in the world. To meet that goal, to leap past the schools currently ahead of Tuck in those rankings, as Koester believes it can, Tuck is crafting a distinctly modern version of its strategy. Collaboration is at the center of the Tuck experience, and an increasingly globally inclusive outlook now has the potential to increase the power of that cooperation. The core of the strategy therefore is to assemble in Hanover a learning community that represents the tremendous depth and variety of talent in the world today.
A Global Focus: Students helping to design innovative marketing strategies for Moroccan artisans are learning that bettering the world of business means first immersing themselves in the world.
"The dynamism and diversity of the global economy makes crafting an outstanding and inclusive and diverse class of students and faculty more involved than it used to be," Slaughter says. The investment required to attract the world's best business students has also increased dramatically. That change is not simply a function of a more globally integrated economy; it also reflects the substantial investments that every leading business school is making to attract top talent. In Koester's assessment, "Giving scholarships has become a weapon that other schools have used and Tuck, quite frankly, is behind. We lose people who should naturally go to Tuck, and who want to go to Tuck."
That reality is never far from Slaughter's mind. He keeps a collection of notes from prospective students who would have preferred to be at Tuck. "They say 'Tuck speaks to my heart. I understand what's distinct about a Tuck MBA and it's exactly the type of learning I aspire to do, but another school has made me a substantially better scholarship offer,'" says Slaughter.
The dynamism and diversity of the global economy makes crafting an outstanding and inclusive and diverse class of students and faculty more involved than it used to be.
Matthew J. Slaughter
The Paul Danos Dean of the Tuck School;
The Earl C. Daum 1924 Professor of International Business
He takes heart in the knowledge that so many strong candidates believe Tuck is the best school for them, and that the Raether gift and other substantial gifts directed to scholarships—including from Koester and his wife André Koester T'98—will help decrease the frequency of top talent saying no to Tuck. "It's been so inspiring with the Raether family and so many others who stepped up and answered that call because they have seen how Tuck truly was life-changing for them and they want to create that possibility for others," Slaughter says.
Attracting and retaining faculty who are working on research that is reshaping the business world is an equally pressing priority. In addition to named funds for distinguished professorships, the campaign is emphasizing the need for named funds for faculty excellence, including rising faculty. "We're very excited that this campaign is opening new funding vehicles and new resources to support faculty at earlier stages in their careers, who often ask novel questions and apply the most advanced digital analysis techniques, and bring engaging new ideas into the classroom," Slaughter says. "The campaign will provide the resources to identify such promising faculty and allow them to envision long and flourishing careers at Tuck."
A strategic plan to invest in early-career academic talent is an example of the campaign's focus on the long view, says Keller. "The investments we're making from this campaign are not for short-term changes. They are designed to strengthen our foundation, so that we are better able to pivot with shifting market trends," she says.
Giving Tuck's leaders the ability to anticipate and adapt to a changing world also requires investments in innovative programs such as the Next Step program for military veterans and elite athletes, and the TuckGO global requirement, which reinforces Tuck's global outlook and helps distinguish it from other top business schools. Pilots and initiatives rely on flexible funding streams such as TAG and underscore why unrestricted capital gifts to the Dean's Strategic Priorities have been on the rise.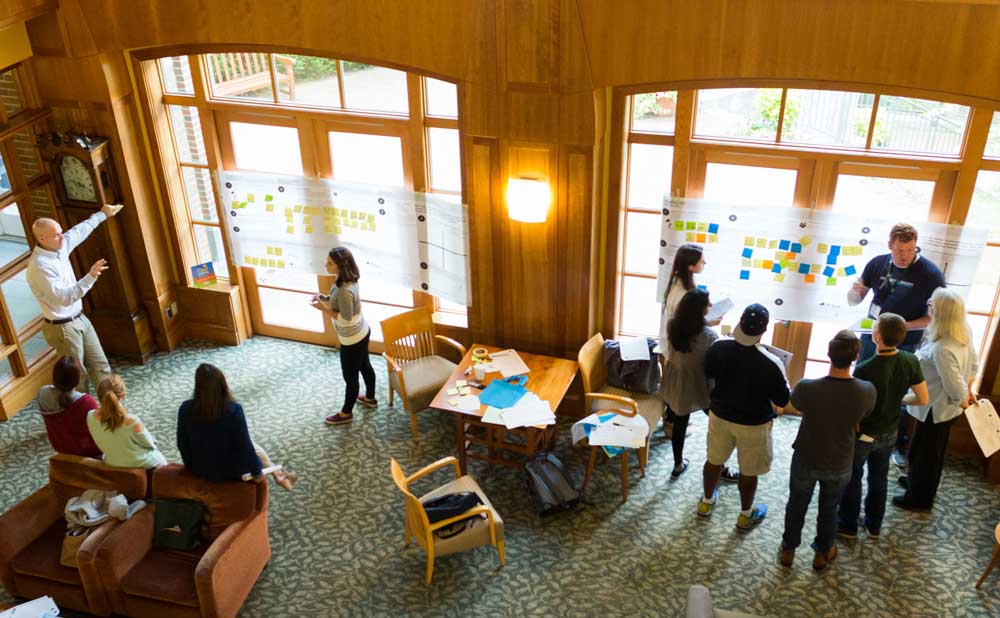 A Sense of Place: Tuck's beloved spaces inspire the creativity, curiosity, and collaboration that underpins a world-class business management education.
Directed gifts are also key to success. A case in point is the Revers Center for Energy, which began with Dan R. Revers T'89 identifying a need for research and business education focused on the energy sector. He funded an initiative in 2012 and provided a permanent endowment four years later. Slaughter sees similar potential in Tuck's other centers, which foster in-depth learning communities around industry segments such as social impact, health care, entrepreneurship, and private equity, and provide a forum for alumni to contribute as speakers, mentors, advisers, and donors. The centers provide a nexus for co-curricular and experiential learning within the Tuck community, which is why another campaign strategy is to provide the means to co-locate all of them in Murdough to create a neighborhood that will also include the Career Development Office. The planned renovations of Murdough and Byrne are especially timely given the broader aims of Dartmouth's West End expansion which proposes to invest $300 million to create a world-class hub of research, teaching, and learning at the end of Tuck Mall.
The project includes an expansion of Thayer School of Engineering and construction of the Arthur L. Irving Institute for Energy and Society. These projects, as well as the co-location of the Dartmouth Computer Science Department within Thayer, will create an interdisciplinary hub for technology, design, engineering, entrepreneurship, and leadership that will enhance Tuck's historic synergies with the greater Dartmouth community.
When it comes to the campaign, Slaughter is confident that Tuck will again show its historic strength, as expressed in the school's traditionally high rate of giving. Tuck alumni give to Tuck Annual Giving at nearly triple the annual giving rate of peer schools.
"Participation at these levels," he says, "is an alumni vote of confidence. It's indicative of the benefits and strength of the education and network and shows that our alumni support the Tuck of today and where we are headed."

Likewise, the strong initial response to the capital campaign has been invigorating. "It's an endorsement from people who care about the school, who have listened to what we are saying about why Tuck exists and where we envision Tuck going tomorrow," Slaughter says. "That's immensely empowering for everyone here."