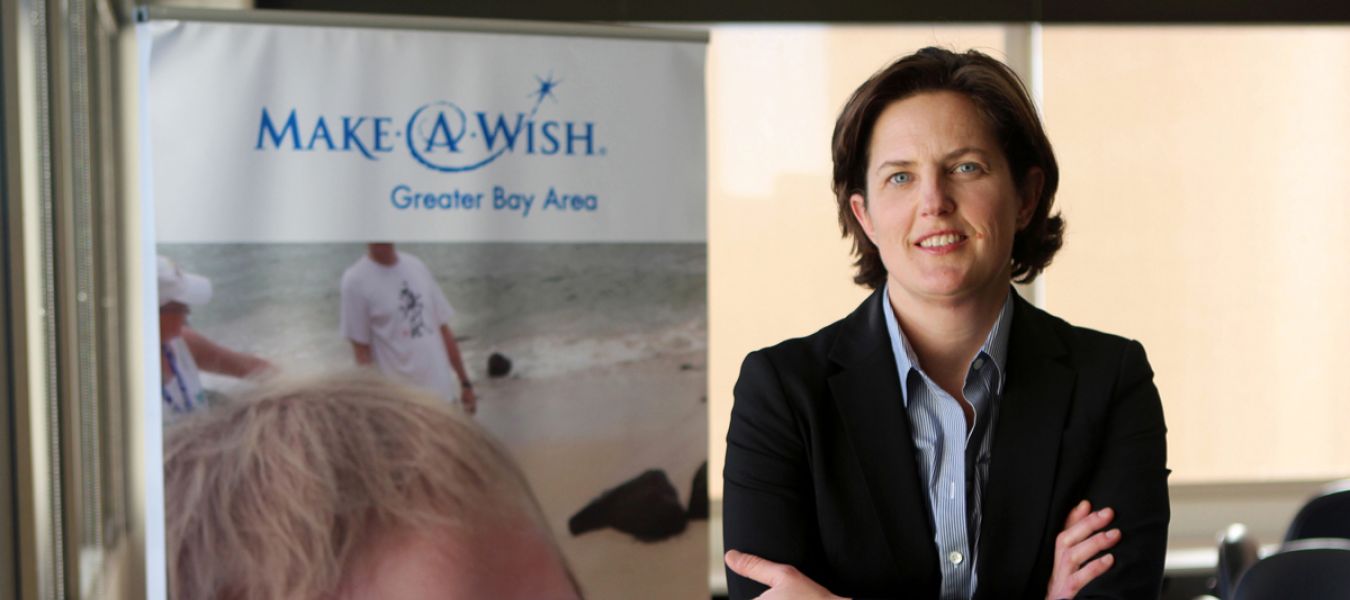 T'99
Jennifer Wilson
Marketing Director, Make-A-Wish Foundation
A lot of wishkids say it was a turning point in their life, that it influenced their decision about what they wanted to be, or caused them to reach out and help others.
Miles Scott was just 20 months old when he was diagnosed with leukemia. In 2013, after years of treatment, the Greater Bay Area chapter of Make-A-Wish asked him what he wanted most in life. A superhero fanatic, five-year-old Miles had a simple answer: to be Batman.
This wasn't something Jennifer Wilson T'99, the marketing director at the San Francisco-based office, had heard before. "I thought, Maybe he wants to meet Batman," she said. "That's a wish we more frequently get."
Wilson doesn't recall wondering how she ended up turning a kindergartner into a caped-crusader. You could say it started after college, when she went to work for KQED, the public television and radio station in San Francisco. After five years there, she wanted to bolster her management skills and eventually return to the nonprofit sector. It took a little longer than she thought. Tuck waitlisted her and then admitted her for the following year. After graduation, Wilson had jobs in the frothy dot-com industry of the early 2000s. Then the market began to implode, and Wilson was laid off at about the same time she learned she was pregnant with her first child. A 10-year job as a full-time mom followed. By 2011, "I was ready to go back to work," she said. She joined Make-A-Wish later that year.
One of the common misperceptions about Make-A-Wish, an international organization with 61 chapters in the U.S., is that it's for children who have a terminal illness. In fact, 80 percent of kids who receive a wish live into adulthood and beat their disorder. That's due in part to advances in treatment of childhood cancers, like leukemia. "But the wish is a very important part of their treatment," Wilson said. "A lot of wishkids say it was a turning point in their life," Wilson explained, "that it influenced their decision about what they wanted to be, or caused them to reach out and help others."

Batkid Rises: A Timeline
February 2013 - Miles Scott makes his wish. "I want to be Batman," he says. The idea: turn San Francisco into Gotham City and pair Miles with an adult Batman to form a crime-fighting duo.
March 12 - Volunteers are enlisted to play Batman and the damsel in distress.
March 19 - San Francisco Chief of Police Greg Suhr agrees to help.
April 3 - San Francisco Mayor Edwin Lee pledges his support.
October 11 - Miles Scott finishes his leukemia treatment and is in kindergarten.
October 23 - Access is granted to Giants Stadium and its Jumbotron so the duo can rescue Giants' mascot, Lou Seal, from the Penguin. Wilson expects a few hundred people to be at City Hall at the end of the day, where Batkid is to receive the key to the city.
October 22 - News of the wish is posted on Facebook. Blog posts and social media mentions follow and Batkid goes viral.
November 4 - Make-A-Wish sets up an online RSVP system to gauge how many people will be at City Hall. Within a week, 8,000 sign up.
November 7 - Someone in New Jersey starts a Batkid Facebook photo project. Thousands of photos are posted from around the world—including the International Space Station.
November 8 - The mayor's office agrees to provide the same infrastructure used when the Giants won the 2012 World Series, with audio and video equipment, a press box, stage, and podium.
November-December - Wilson receives hundreds of press inquiries from around the world.
November 15 - The wish comes true. Batkid and Batman fight crime all over Gotham. People line up four to five deep along the parade route. Twenty thousand gather at City Hall to see Batkid receive the key to the city.
November 15 - President Obama sends a short video greeting: "Way to go Miles, way to save Gotham."