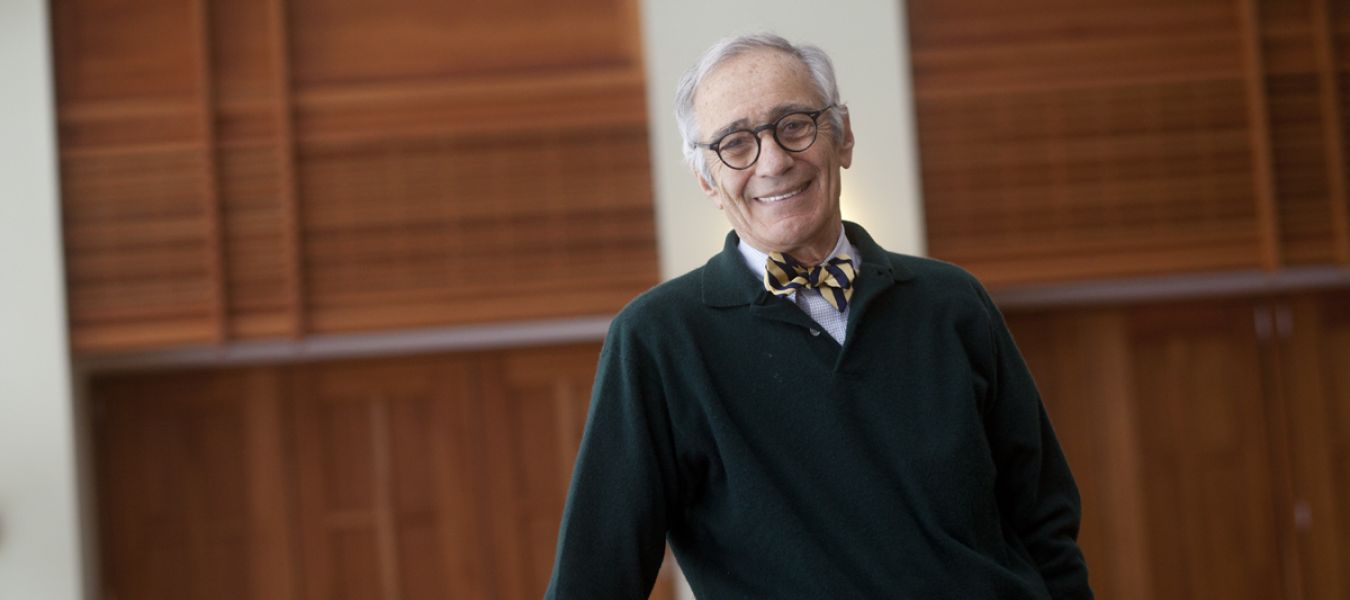 T'60
Alan D. Pesky
Founder & Director, Lee Pesky Learning Center
I have never had more fulfillment in life than I do right now.
When Alan D. Pesky T'60 retired to Sun Valley, Idaho, in 1984, it didn't take him long to realize that he wasn't any good at sitting still. He skied and hiked in the Idaho mountains, took bicycling trips in Vietnam and across the Australian outback, and started a small publishing company, which published the state magazine of Idaho and a magazine for the Sun Valley area. "I'm addicted to burning energy," he says.
The Peskys' middle child, Lee, moved west too. Throughout his childhood Lee had struggled mightily with learning disabilities, but he was bright, and with the help of specialists and plenty of hard work, he was able to graduate college and start his own business.
"When he came out to Idaho he started a chain of bagel stores. He called it the Bucking Bagel—the Eastern bagel with the Western kick," Alan Pesky says, laughing at the memory.
In 1995, when Lee was 30 years old, he rear-ended another driver. Doctors discovered why he had lost control of his car: a massive tumor was growing in his brain.
"Two and a half months after that," Pesky says, "he passed away."
The 10 weeks of Lee's illness were an extraordinary time for Pesky, his wife Wendy, and their two other children. The crisis drew the family closer together and solidified their resolve to honor Lee's memory. The best way to do that, they decided, was to establish an organization to help learning-disabled children.
Pesky was no stranger to cold starts. In 1967 he and four business associates started their own advertising agency, initially operating from a New York hotel room. Thirteen years later they sold the business to Ogilvy & Mather, and Pesky stayed on as a principal at that firm to direct its international expansion. When he left, the agency had 15 offices around the world.
Pesky also had long experience in the nonprofit sector. He's a trustee of his alma mater, Lafayette College, and served on the Board of Overseers at Tuck, where he also established the Alan D. Pesky T'60 Scholarship for students who demonstrate a commitment to human rights. As chairman of the Coalition to Free Soviet Jews, he'd lobbied President Reagan and his secretary of state, George Schultz.
After Lee's death, Pesky directed the entirety of his prodigious energy toward helping others transcend the disability that had challenged Lee. Nothing has consumed him so completely as building the facility that bears his son's name, the Lee Pesky Learning Center.
"God knows I put every bit as much effort, if not more effort, into this work than I did with my partners in building the advertising agency," he says. "And I have never had more fulfillment in life than I do right now."
The Learning Center works to provide all learning-disabled children with the kind of attention that helped Lee overcome his challenges. The organization is nationally known for its efforts in diagnosis, remediation, research, and teacher training.
For the last 13 years, Tuck adjunct professor John Vogel has used the center as a case study in his Entrepreneurship in the Social Sector course. The numbers tell a story of steady growth: from two employees to 32, one location to four, and an annual budget that now exceeds $1.8 million. Pesky, who has been in Vogel's classroom each of those 13 years, stresses another metric for success.
"My wife was once asked what the Lee Pesky Learning Center means to her, and she said 'It means that every child who comes to the center and leaves with a smile on their face leaves with a little bit of Lee in them.'"
Pesky, who celebrated his 80th birthday in December, shows no sign of slowing down. Last year he finished the New York marathon with his daughter. It's a fitting metaphor for the struggle to overcome learning disabilities, which are a lifelong challenge to 20 percent of the population.
"I'll work seven days a week on this," Pesky says, "because there is no finish line in what we're doing."