T'10
Aisha Barry
President, Advanced Sterilization Products (ASP)
I wanted to have a bigger impact; to do something mission-based within developing markets. I knew going to business school was the key ingredient.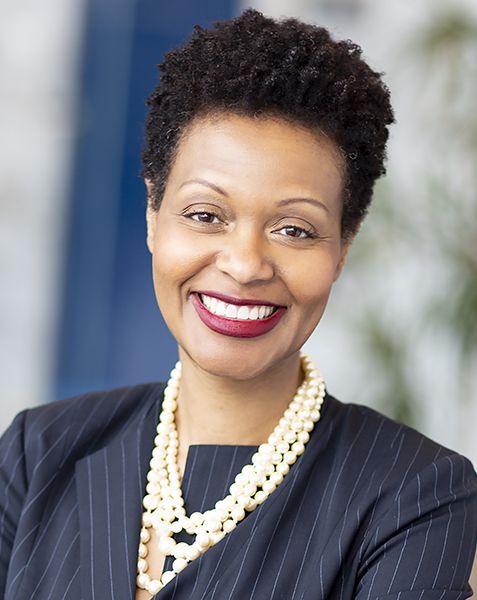 Aisha Barry T'10 matriculated at Tuck when she was 36 years old. She says she was one of the oldest students in her class and around a decade older than many of her peers. She was a single mother at the time and the Tuck community welcomed her and her then 12-year-old daughter. "My peers challenged my paradigms and helped me develop new ones," Barry says.
Prior to Tuck, she'd graduated with a degree in chemical engineering from Ohio State University, then worked for 13 years at Procter & Gamble doing product development and marketing. After being sent to Beijing, China, for a work assignment, she realized she wanted to do something bigger in expanding markets. "I was struggling with the status quo," Barry says. "I wanted to have a bigger impact; to do something mission-based within developing markets. I knew going to business school was the key ingredient."
At Tuck, she got involved with the school's Africa Initiative and was one of the founding leaders of Tuck Association of Diverse Alumni (TADA). After graduating from Tuck in 2010, she got recruited by Deere & Company, where she worked for four and a half years in operations roles.
It took a rheumatoid arthritis diagnosis in 2014 for Barry to pivot her career. She was struggling with the disease, which attacks your joints and organs and left her unable to walk some days. She was also struggling to navigate the complicated health care system. "I wanted to get information and be educated by people who weren't incentivized," she says. "I was waiting six months to see a specialist and it felt like there was nobody I could talk to."
By 2015, Barry decided to change the course of her career to help other people who felt immobilized by the health care system and a disease diagnosis. "I knew I had to be a part of that conversation," she says.
The medical device company Medtronic had been a strong recruiter during Barry's days at Tuck, and several of her fellow Tuck alumni were employed there, so Barry reached out. Although her background wasn't an obvious fit—she'd never worked in the medical technology field—Medtronic hired her. She currently serves as the vice president and general manager of patient management for Medtronic, based in Minneapolis, Minnesota. She works in the cardiac rhythm and heart failure division, where she manages the division's digital assets, including strategy, full operational P&L, research and development, and service operations. She has spearheaded the introduction of app based remote monitoring for patients with implanted cardiac devices.
"When I joined Medtronic, there was lot of patient monitoring with software in the clinic, but a lot of it was fragmented and they didn't know what to do with the data being generated," Barry says. "I have helped create value by leveraging those digital assets. The objective of the business is to help evolve cardiac arrhythmia from a business that just manages a pacemaker to a business that manages patients on their disease journey."
Through her work, she helps monitor over 1.8 million patients, and growing daily, to give them and their families peace of mind while they battle heart disease. She also helps give clinics and over-worked physicians the tools to be more efficient and effective when caring for patients.
"My time at Tuck has allowed me to be a humbler leader," Barry says. "When I took this business over, it was in such a state of disrepair that I think a lot of people wouldn't have done it. Tuck taught me to be people focused—to focus on the opportunity, not the title."