About a year ago, the Tuck faculty voted to approve a broad set of enhancements to Tuck's required first-year curriculum. That curriculum is often referred to on campus simply as "the core," and with good reason. The New Oxford American Dictionary defines "core" as "the central or most important part of something," and Tuck's venerable core curriculum—the integrated courses and programs that occupy much of the first year of the MBA experience, laying a strong foundation for future learning—certainly fits that description. It's a year marked by breadth and intensity, preparing students for their career path and challenging them to safely go beyond their limits and reach new heights of knowledge, skill, and self-awareness.
"We see the core curriculum as a unique part of what makes Tuck, Tuck," says Joe Hall, the senior associate dean for teaching and learning and the David T. McLaughlin D'54, T'55 Clinical Professor. The core is probably what alumni remember most vividly about their time at Tuck.
However, Tuck doesn't stand still, so neither should its curriculum. The school is a dynamic, globally-engaged institution, continually mindful of the evolving needs of its students and the world of business they will lead. In that spirit, Tuck began a multiyear core curriculum review in January of 2018, seeking input from students, faculty, recruiters, alumni, and staff. The theme that came up again and again in the review process was that the refined core curriculum should focus more intentionally on the career journey of students.
The Curriculum Review Committee and Curriculum Implementation Committee translated that feedback into a few principles for the new core, organized around the actual content being taught and the way it is delivered. Broadly speaking, the core teaches students functional expertise, analytical skills, and personal leadership capabilities.
These skills are taught and learned through coursework and experiences that are timely and timeless—melding cutting-edge ideas and concepts with proven frameworks and skills. Students engage with faculty and each other individually and collaboratively in an environment that encourages immersion and reflection, and where there is a close integration between curricular, co-curricular, and career-oriented activities. Importantly, all of this is mapped onto a first-year calendar structured to provide ample time and flexibility for career-related activities such as industry information sessions, leadership training, and internship recruiting in the winter and spring.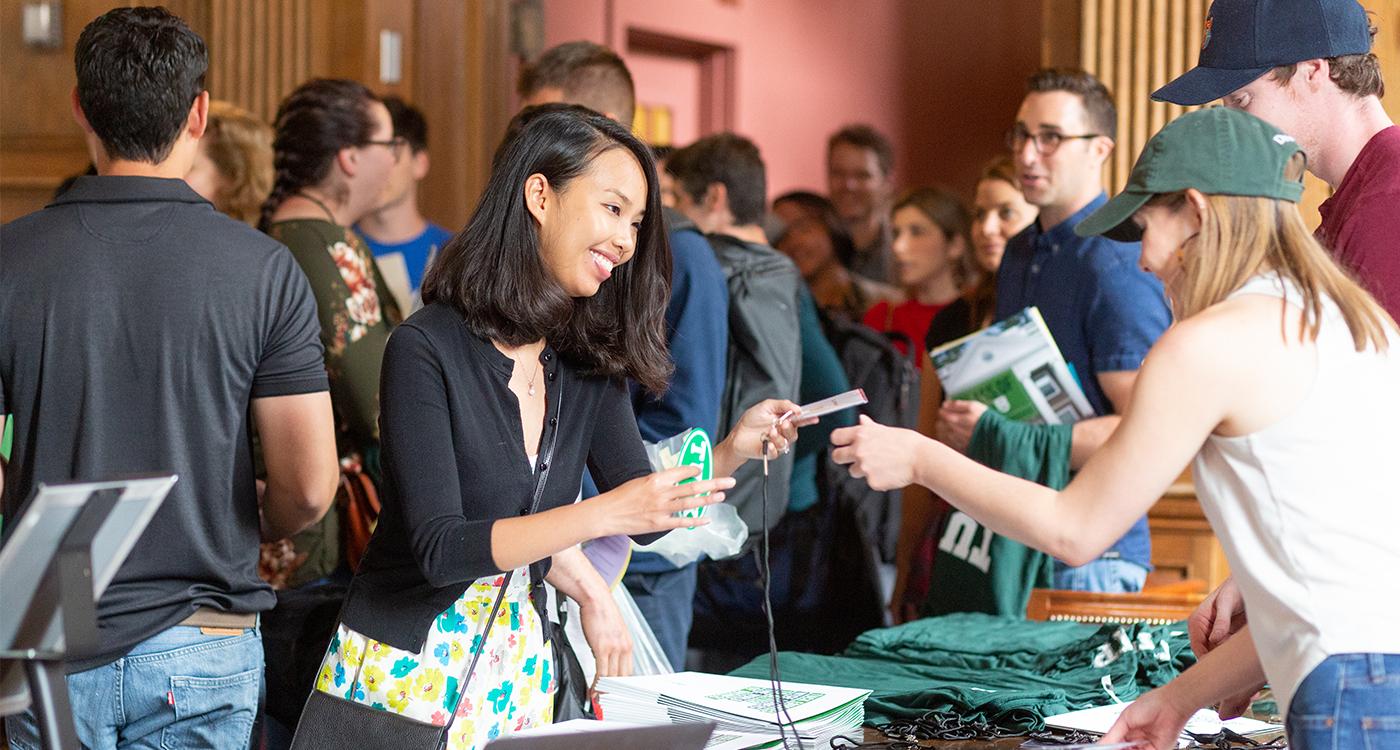 Tuck Launch is a new, expanded orientation program for incoming first-year MBA students that incorporates experiential learning and reflection.
This refined core curriculum began in earnest this summer, with the arrival of the Class of 2021. The fall term started much earlier than in previous years, with international adventure trips, optional programs, and pre-enrollment programs taking place from July 20 to August 9. The core curriculum officially opened on August 10, with the new two-week Tuck Launch, an enhanced orientation program designed around integrated programming, experiential learning, and reflection. The program included four sessions of the new core course Managing People, as well as personal leadership instruction with Syd Finkelstein, the Steven Roth Professor of Management, and presentations and exercises from the Career Services office. Towards the end of the two weeks, there was a half-day exercise with alumni CEOs (current and former) Elyse Allan D'79, T'84, chair of Tuck's Board of Advisors; Thad Hill T'95; Natalia Garcia-Nigaglioni T'07; and Nykia Wright T'09. Russell Wolff D'89, T'94 delivered the keynote speech that concluded orientation.
The orientation is longer than ever before, with the intent of giving students more time to acclimate to the rigors of a full time MBA program and reflect on their career path. The schedule worked well for Sarah Blatt T'21, a former special operations intelligence officer in the United States Army. "I haven't been back to school in almost 12 years," she says, "so having a couple of weeks to sit still in a chair, listen to lectures, and interact with classmates allowed me to exercise that part of my academic self I haven't exercised in a while."
"We try to emphasize that a lot of the concepts in Analytics are about ways of thinking. There might not always be time to make actual calculations, but you can at least have air-tight logic about what data is important to study and why. Data isn't worth anything unless it can impact a decision."
Tuck Launch also allowed Blatt and her classmates the time and structure to contemplate their career journey. In the opening session of the orientation, Dean Matthew Slaughter gave every student a reflection journal. The Career Services staff then hosted small break-out sessions and provided each incoming student with stickers that prompt personal thoughts such as "What Energizes Me," "Professional Accomplishments I Most Value," and "What Co-Workers Would Say About Me," among others. Blatt made use of those prompts, writing a page or two in her journal under each sticker, and she's found these visual reminders helpful in thinking through her goals and priorities. "I've had two internship interviews since Tuck Launch," she says, "and I've used those reflections each time to remind myself what I value and what might be a good fit."
A few days later, when the Class of 2021 began the first term of the fall (Fall A)*, they continued sessions of Managing People, and began Financial Accounting, Management Communications, and Managerial Economics (ManEc). They also started the first module of the new core course Analytics. Taught by two teams (professors James Smith and Robert Shumsky, and Praveen Kopalle and Prasad Vana), the course spans Fall A and B*, merging and re-thinking the previous core courses Statistics and Decision Science. The course curriculum was guided in part by two considerations. First, recruiters and alumni had stressed the importance of students being able to use data to articulate and defend a point of view. Second, the faculty design team sought feedback from the students in the newly formed Data Analytics club. The students expressed enthusiasm for adding certain topics, such as data exploration and visualization, and gave advice on software to use in the class. Ultimately, the course was designed around three themes: using data to describe the world, predict outcomes, and make recommendations.